Brian France discusses possibility of Chase waiver for Tony Stewart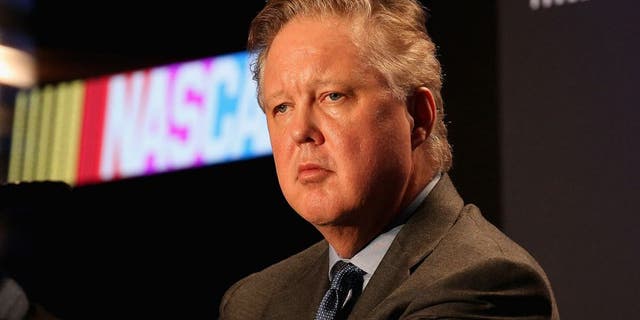 NEWYou can now listen to Fox News articles!
With Tony Stewart sidelined for an indefinite number of races with an injured back, does the three-time Sprint Cup Series champion still have a chance to make NASCAR's Chase in his final season?
NASCAR rules state that a driver must compete in all 26 points-paying regular-season races and be in the top 30 in points to be in the running for one of the 16 playoff slots.
The sanctioning body has a history of lifting the perfect attendance requirement, however, in cases where a driver has been out due to injury or another health-related isssue.
Such an exception -- formally known as a waiver -- was most recently handed down last season when Kyle Busch missed the first 11 Sprint Cup points races after suffering extensive leg and foot injuries in the XFINITY Series opener at Daytona.
Busch ultimately made the Chase by virtue of winning multiple races and climbing into the top 30 in points before the end of the regular season. He also went on to win the championship.
Stewart, who is set to retire at season's end, could theoretically make a championship run of his own if NASCAR doesn't require him to enter all 26 regular-season races to be Chase-eligible.
While nothing is official, it sounds as though Stewart is likely to receive the same kind of waiver that Busch did, provided he returns to his No. 14 Stewart-Haas Racing Chevy before missing too many races.
"I think we're going to treat that just as we did Kyle Busch," NASCAR chairman and CEO Brian France said Wednesday on SiriusXM NASCAR Radio with host Dave Moody. "There obviously is a balance ... you can't come in the race before the Chase starts and win that race and expect to cruise on in for the final 10 races. So there's some balance, but this is the beauty of the Chase.
"We have that ability to make some medical and other important exceptions for things like this. But you still have to compete at a high level over a number of events. We will cross that bridge when we can. I hope for his sake, just like I was hoping for Kyle's, that will be sooner rather than later. And the sooner the better in terms of making a decision on our end."
Unlike Busch, whose injuries were the result of hitting a concrete wall unprotected by SAFER barrier, Stewart's injury is a result of recreational activity -- he suffered a burst fracture of the L1 vertebra when a sand rail he was driving on the West Coast near the California-Arizona border landed wrong.
Stewart was wearing a six-point harness and a helmet at the time of the accident.
Does NASCAR view racing and non-racing-related injuries any differently, in terms of how they affect a driver's ability to get a waiver?
"Oh, I don't know," France, NASCAR's third-generation leader, said on SiriusXM. "All the circumstances are going to be different. Of course, in Kyle's situation in particular, that he hit a barrier where we would have all liked to have had a SAFER barrier a year ago, of course they matter. But in the end we fully intended ... it was always part of the benefit of the Chase that you could arguably be the best in a given season but not make every event, and that's a benefit. These are extraordinary circumstances."
France noted that Stewart's accident wasn't a result of any kind of carelessness on his part, which likely makes him a candidate for a waiver.

"I know Tony's accident was certainly very very unpredictable to him," he said. "We will cross that bridge. He knows and we all know the goal is to get him back racing where he can hopefully get back to his high level of competition, win a race and be in the Chase. I'd like to see nothing more than that."