Breaking down Week 7's biggest game with NFL insider Michael Lombardi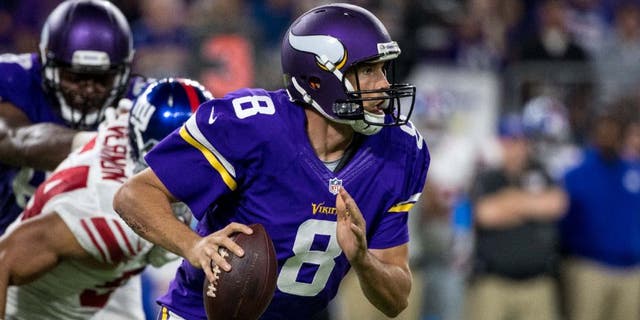 FOX Sports contributor Michael Lombardi is a personnel evaluator by trade who served as the Cleveland Browns general manager in 2013. Lombardi began his career with the San Francisco 49ers organization in 1984. He spent time with the 49ers (1984-86), Browns (1987-95, 2013), Philadelphia Eagles (1997-98), Oakland Raiders (1999-2007) and New England Patriots (2014-15) during his career, earning Super Bowl rings with San Francisco (1985) and New England (2014). Most recently, he served as a special assistant to the Patriots coaching staff during the 2014 and 2015 seasons, working closely with head coach Bill Belichick. Before every big NFL game, he assembles a report that breaks down the matchup from a front office perspective. He shared his 10-point look at Sunday's Vikings vs. Eagles game (FOX, 1 p.m. ET) with us.
1. The Eagles need to switch things up for Sam Bradford. He will know all of his old team's line calls and checks, so Philadelphia will use dummy calls and change its communication.
2. The Vikings played the Chiefs last year and won 16-10. The Eagles are running the same offense, which will help the Vikings, who had a full week to prepare coming off a bye. Minnesota held the Chiefs to 6-of-17 on third down, and the Eagles will have to do a lot better than that.
3. Will Carson Wentz be forced to throw left? Where Wentz wants to throw the ball is like the shot chart in basketball. Wentz loves to throw the ball right inside the numbers, and his accuracy dips when he's forced to throw toward the left sideline.
5. The Vikings are really good at making adjustments with their defense, particularly coming out of halftime. They haven't allowed a third-quarter point all season.
6. It's important for the Vikings to get Bradford a lead. His career numbers while playing with a lead go like this: 61.8 percent completion rate, 4,240 yards, 23 TD passes and 11 interceptions.
7. Getting the lead in this game is equally vital for the Eagles. Philadelphia must force the Vikings to throw the ball more than 40 times so it can utilize its pass rushers.
9. The Vikings rank 31st in the NFL on first down, and that will have to improve for them to win this game. They have made only seven plays between 11 and 20 yards on first down all season.
10. The matchup to keep an eye on is Eagles defensive end Brandon Graham (13 QB hurries) against Vikings left tackle T.J. Clemmings. Last week, the Redskins ran the ball effectively to the left against Philadelphia. Running left will take the pressure off of Cummings to have to pass block.