Braves took major step forward by trading Shelby Miller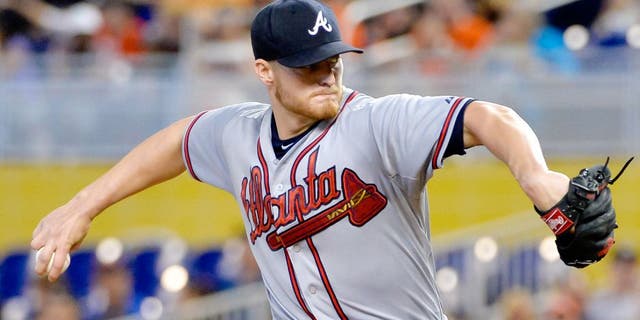 For the past few weeks, the Braves have been fielding calls from teams that wanted to trade for Shelby Miller. And for good reasons. Miller is just 25 years old, is coming off a strong season in which he reminded everyone why he was one of the game's best pitching prospects coming up through the Cardinals organization, and he won't be a free agent until after the 2018 season.
With the price of pitching exploding in free agency, three cost-controlled years of a quality young starter is a valuable asset, and with the Braves in full rebuild mode, trading Miller to acquire players who could be core pieces of their long-term future made a lot of sense.
But when they discussed trading Miller as part of their rebuilding process, they could not have imagined the outcome that resulted Tuesday night. After reportedly talking to the Cubs and Dodgers without securing the kind of impact young talent they were looking for in exchange, they ended up striking a remarkable deal with the Diamondbacks. The trade brings in major-league outfielder Ender Inciarte along with minor-league prospects Dansby Swanson and Aaron Blair.
Except, these aren't just any minor-league prospects. Swanson was the No. 1 overall pick in the draft just six months ago, a shortstop who shows quality offensive skills for a middle infielder. MLB.com currently rates him as the No. 10 prospect in baseball, and that's after collecting just 99 plate appearances in his professional debut this summer. With a reasonable performance as he climbs the minor-league ladder this summer, he'll likely be in the mix to be considered the best prospect in baseball at this time next year.
Blair is the lesser prospect in the deal, but he's not without value. MLB.com ranks him as the 61st-best prospect in baseball, and he split the 2015 season between Double-A and Triple-A, so it wouldn't be at all surprising to see him making starts in Atlanta this summer. While his minor-league numbers have yet to match the stuff, a guy who is close to making his major-league debut with this kind of repertoire is worth acquiring and is not an insignificant piece.
And that's just the minor leaguers. In addition to two guys with upside -- but also plenty of risk, as the bust rate for even elite prospects remains very high -- the Braves also receive Inciarate in the deal. Immediately, Inciarte becomes one of the team's best players and will presumably take over as the Braves' starting center fielder for 2016. And given their internal options, it's not inconceivable that the Braves' upgrade in center field will be larger than their downgrade in the rotation, potentially allowing this trade to actually even make them a better team in the short-term, beyond the obvious long-term value that comes from acquiring Arizona's two best prospects.
Before this trade, the Braves center fielder was likely going to be Michael Bourn, whose body has betrayed him as he's gotten older. He hit just .238/.310/.282 last season, and without his old speed to steal bases and run down flyballs in the gaps, Bourn now projects as essentially a replacement-level player. Inciarte, on the other hand, hit .303/.338/.408 last season, but offense isn't even his strong suit; he's an elite defender who was credited with 29 Defensive Runs Saved in 2015, the second-highest total of any outfielder in baseball. Inciarte is unlikely to match those totals again, but even if we just profile him as a slightly below-average hitter with above-average defensive skills, he projects as roughly a league-average player going forward. And that's a pretty extreme regression. Expecting him to maintain a bit more of his MLB performance the past two years would project him as closer to a player worth about three wins above replacement level.
In other words, swapping Inciarte for Bourn is roughly a two- or three-win upgrade for the Braves. Miller, coincidentally, is projected as about a +2 or +3 WAR pitcher, depending on how strongly you believe in his ability to post an ERA significantly lower than his FIP for the foreseeable future. With roughly average walk and strikeout rates, Miller relies heavily on inducing weak contact, and that's a skill that has significantly more variance than just blowing opposing batters away. If Miller's ability to limit hits on balls on play doesn't last, then he's more of an average innings eater than a high-upside young starter. But he has succeeded in hit prevention long enough that it's likely that a good portion of that is indeed skill, and Arizona can probably expect him to be closer to the +3 WAR level for the next few years.
Both Inciarte and Miller are somewhat high-floor/moderate-ceiling players, as they do enough things well to provide value even if they perform worse next year than they did in 2015, but with interesting enough skills to project as very good pieces if they maintain most of their recent play. Except the Braves have significantly more options for their rotation than they did in center field, so replacing Miller with an above-replacement level starter -- say, Bud Norris, who they signed $2.5 million last week -- will be easier for them than it would have been to find an internal outfield option that let them move Bourn to the bench.
The downgrade from Miller to Norris and the upgrade from Bourn to Inciarte are likely to almost cancel each other out. This deal doesn't actually look to make the Braves worse in 2016, especially since they're saving the $5 million they'd have had to pay Miller in arbitration, and that can be reinvested into making the team better at another spot on the roster. And instead of just controlling Miller for three more years, they now control Inciarte for five more seasons.
So, in summation, the Braves traded three years of a +2 to +3 WAR pitcher for five years of a +2 to +3 WAR center fielder. And for the right to make that swap, they also obtained the top overall pick in last summer's draft and a very interesting young pitcher who might be able to help fill Miller's spot in the rotation later this summer. The closest parallel I can make to this trade would be the Orioles decision to flip Erik Bedard to Seattle in 2008 for a package of young talent that included outfielder Adam Jones and starting pitcher Chris Tillman. Jones quickly established himself as a core piece of the Orioles franchise, Tillman developed into a quality starter and after a few more years of building up the talent base, the Orioles found themselves back in the postseason. Bill Bavasi, architect of the Bedard trade for the Mariners, was fired four months after completing the deal.
The Braves are still likely to struggle for the next year and maybe several years, as this rebuild has taken the franchise down to the bare bones in terms of major-league talent. But in this one trade, the Braves have managed to dramatically improve their franchise's outlook. And in a few years, we might look back on Dec. 8, 2015, as the night Atlanta's rebuild was all worth it.