Braves' Foltynewicz hospitalized with blood clots in arm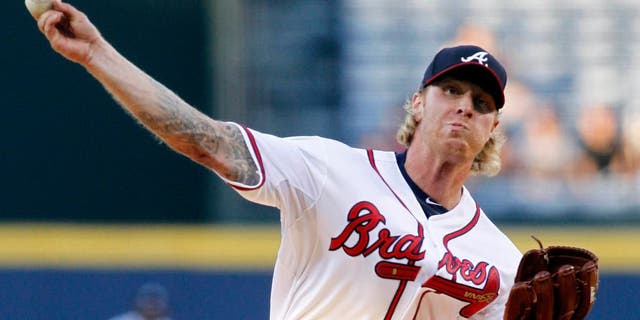 NEWYou can now listen to Fox News articles!
ATLANTA -- Braves right-hander Mike Foltynewicz has been hospitalized because of blood clots in his right arm.
Assistant general manager John Coppolella said Sunday that Foltynewicz was taken to an emergency room on Friday with swelling and redness in his arm. Coppolella said Foltynewicz remained in Piedmont Hospital on Sunday.
The team said Foltynewicz is being monitored and treated with blood thinners.
''Our first and foremost thoughts are just for his health and just that he is OK,'' Coppolella said. He said the team is ''trying to evaluate really where to go from here.''
Foltynewicz is 4-6 with a 5.71 ERA in 15 starts and three relief appearances. His last game was on Aug. 25, and he was placed on the 15-day disabled list with ribs inflammation on Sept. 2.
Coppolella said ''the only thing that we do know'' is that the blood clots are not related to the ribs inflammation.
Atlanta acquired Foltynewicz on Jan. 14 in a trade that sent catcher-outfielder Evan Gattis to the Houston Astros.