Blake Bortles took his lumps as a rookie, expects to see payoff now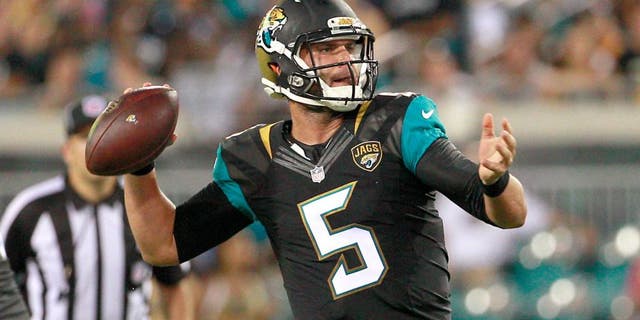 FOX Sports senior NFL writer Alex Marvez's training camp tour made its eighth stop in Jacksonville, Fla. Here are some of the things he learned and observed while visiting Jaguars camp with SiriusXM NFL Radio co-host Gil Brandt. Read his Jaguars report today and check back on Friday for his final stop on the tour:
Aug. 2: Chargers
Aug. 4: Raiders
Aug. 7: Cowboys
Aug. 11: Falcons
Aug. 13: Rams
Aug. 14: Chiefs
Aug: 18: Dolphins
Aug: 19: Jaguars
Aug: 20: Panthers
JACKSONVILLE -- Blake Bortles had a 3-10 record as a starter during his rookie season. He threw more interceptions (17) than touchdown passes (11). He took a physical beating, getting sacked an NFL-high 55 times.
And he would go through it all again because of the net benefits.
"In the big picture and long-term, I think playing as a rookie helped me way more than it hurt me," said Bortles, the first quarterback taken with the No. 3 overall pick in the 2014 draft. "There are a lot of things that go on that you can only learn by going through them.
"You can't sit there and watch it and say, 'I would have done this.' You have no idea until you've been in that situation. That helped a ton. (The game) definitely did start to slow down."
In a perfect world, Bortles wouldn't have taken the field in 2014. But when Chad Henne struggled mightily as Jacksonville opened 0-3, the Jaguars changed their plans and made the switch.
"We just felt offensively we needed some things to take place and go in a direction where it just worked out," Jaguars head coach Gus Bradley said. "(Bortles) came in and started off strong, then went through some struggles and finished stronger. I think it was a great learning opportunity for him."
Bortles tried to build upon his NFL debut by spending offseason time working in California with quarterback guru Tom House. Bortles' goal was to shorten his throwing motion so he could get rid of the football quicker.
"It's probably less than half the time you throw the football you have a perfect pocket and are able to go through perfect mechanics and all that stuff," Bortles said. "You have to be able to improvise and throw off different platforms. But when you do have a pocket, you want to be able to deliver a consistent, accurate ball with good mechanics."
While he should be more comfortable in the pocket, Bradley also expects Bortles to remain a rushing threat. Bortles showed off his wheels in last Friday's preseason opener against Pittsburgh when he scrambled and dived for a four-yard touchdown.
"You say, 'What were you thinking? It's preseason!' But that's him," Bradley said with a smile. "One of his strengths is toughness. He needs to make good, smart decisions but certainly we don't want to take away one of the things that brought him here."
Bortles' next goal is mastering a different offensive system under new Jaguars coordinator Greg Olsen.
"We talk about it all the time," Bortles said. "Once you own this thing, you can focus on a defense and have the answers to the test."
Solving those questions should be easier after what Bortles experienced in 2014.
LOSE THE NEGATIVITY: One of Bradley's biggest challenges in Jacksonville is changing the losing culture. The franchise has won just nine games in the past three seasons and hasn't finished above .500 since 2007.
The Jaguars jumped into free agency to upgrade the roster. But second-year linebacker Telvin Smith said the turnaround will begin with a more positive mental outlook than previous Jaguars squads.
"Here it's just been, 'OK, let's play. Let's get our checks,'" Smith said. "I heard somebody once said, 'This is where careers come to die.' I was like, 'No, whoa! This is my home now.'
"I think the biggest thing is changing your mindset to say we're no longer trying to be average but the best team that's out there. Everybody is really buying into it. You've got to believe it."
SOMETHING TO PROVE: The careers of Kansas City's Eric Fisher and Jacksonville's Luke Joeckel will always remain intertwined because those tackles were the top two overall picks in the 2013 draft.
Largely because of injuries, the duo has struggled to fulfill the high expectations that surrounded them entering the NFL. And like Fisher did earlier this summer on SiriusXM NFL Radio, Joeckel admitted the pressure to produce has taken its toll.
"It's hard sometimes," he said. "Sometimes, you get a little bit caught up in that with the expectations and that stuff. But I'm really trying to keep my focus on keeping a positive mindset through it all."
Because his 2013 rookie campaign ended after only five games because of an ankle injury, the Jaguars are considering this as essentially Joeckel's second NFL season. The 6-foot-6 Joeckel said he gained roughly 13 pounds this offseason and now weighs 314, which should help him better maintain his anchor against bull-rushers.
"The kid is super athletic," new Jaguars center Stefen Wisniewski said. "I don't think I've ever seen anybody who is 6-foot-6 move like him. It's just a matter of developing technique-wise and with the physicality and everything it takes to be a starting left tackle in this league. I expect to see a big jump from Year One to Year Two."
TAKING STOCK: Wisniewski said 22 teams contacted his agent to express interest in signing him as a free agent when he wasn't re-signed by Oakland. Wisniewski's aim for a lucrative multiyear contract didn't come to pass because of offseason shoulder surgery that raised medical red flags. Wisniewski settled upon a one-year, $2.5 million deal with Jacksonville in hopes his stock will rise again in 2016. Now healthy, Wisniewski is competing to secure a starting spot against Luke Bowanko.
BELIEVE IT OR NOT: Jaguars middle linebacker Paul Posluszny said his belief in Bradley was a major reason he agreed to a restructured contract to stay in Jacksonville. Had he refused, there was a chance Posluszny would have gotten released.
"I really think we have the potential to be something really, really special," said Posluzny, who was on pace for a fourth consecutive 100-tackle campaign in Jacksonville before suffering a torn pectoral muscle midway through last season.
"We've struggled the past couple years, but I think the next couple years is when this team can really take off."
Next stop: Carolina Panthers training camp. Alex's analysis of the Panthers will appear Friday at FOXSports.com.