Best Bets: Analysis of the most valuable MLB futures odds on the board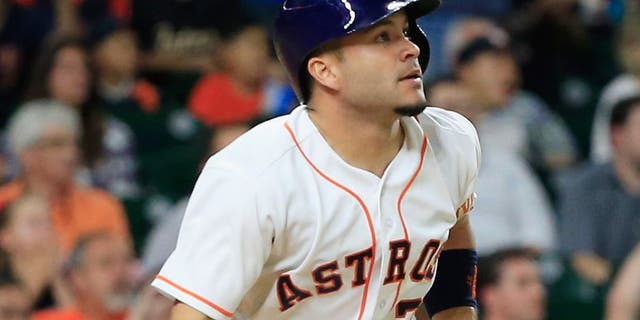 NEWYou can now listen to Fox News articles!
The MLB All-Star break is upon us, which not only marks the proverbial 'half-way' point in the baseball season, but, the time that franchises need to start figuring out if they're going to be 'buyers' or 'sellers' at the fast-approaching trade deadline and if they have a legitimate shot at competing in the World Series.
No one will be keeping a closer eye on MLB front office executive's decisions and transaction rumors more than sportsbook oddsmakers.
Before the madness begins, let's review where every single team opened the season (left column) and where they currently stand (right column) to win their division, pennant, and the World Series title (via Bovada)
BEST BETS:
While everyone's first instinct may be to run and bet on the front-runners, i.e. the Cubs, Nationals, Giants, Rangers, etc... there is no 'value' remaining here. Any price you see associated with these popular division leaders has been completely exhausted by winning, public perception, and wagers already placed -- thus, any bet at this point is going to cost you a premium when it comes to payout time.
With that said, where on this list can we find a 'darkhorse' that's juice is worth the squeeze?
Look no further than the Houston Astros.
The Astros currently sport a 48-41 record -- nothing all that impressive at first glance -- but don't be fooled by this team's slightly-above-average winning percentage and rarely seeing them on a national TV stage.
After starting the season 8-17 during the month of April, the Astros have quietly crept back into contention --€" reeling off 18 wins in their last 24 games. They have a perennial superstar in Carlos Correa. They have a legitimate MVP candidate in Jose Altuve who is currently batting an incredible .341 at the plate. They have a starting rotation featuring Doug Fister (3.55 ERA), Lance McCullers (3.79 ERA), reigning AL Cy Young Award Winner Dallas Keuchel, followed by lights-out all-star closer Will Harris, who has given up only 7 total runs in 39 innings pitched.
Yes, they are trailing the rival Texas Rangers by 5.5 games in the standings --€" but this deficit was cut in half in the weeks leading up to Tuesday's All-Star Game in San Diego.
They may not have the firepower to win the World Series, but, a nine-to-one payout (+900) to win the American League pennant and (+375) to win the AL West is simply too good to pass up.
Furthermore: the good news about the American League is that it feels like anyone can win it. There are no Golden State Warriors or Cleveland Cavaliers to be found, thus, we are forced to consider what is perceived to be the impossible -- after a half century of futility, could the Cleveland Indians actually do it!? Can the city of Cleveland win two major sports titles in the same calendar year?
The short answer: yes.
They are in dire need of a playoff-proven ace and some platoon players to improve their poor fielding percentage, but, they currently rank in the top 10 in almost every major batting statistic, are 6th in the MLB in team ERA, and most-importantly: are playing with house money now that the pro sports championship dark cloud that had been parked over the city of Cleveland for the last 50+ years has been dissolved.
Yes, this matters. The weight of the world is no longer on the Indians' shoulders. All of the demons from the games vs. the Marlins and Yankees during the late 1990's/early 2000's were banished the moment LeBron James got off the plane and hoisted the Larry O'Brien trophy at Cleveland Hopkins International Airport. This is a team that is not only qualified to be considered amongst the league's elite, but, has a little 'destiny' feel to it every time you watch them on TV.
At a very delicious price of (+750), I am indeed signing off on the Indians to win the World Series, as I believe if there is one team who will have no problem mortgaging their future to stock their roster with big bats, specialty position players, and first-class pitchers for just one shot at glory --€" this team is it.
(For clarification: yes, there is no way for both the Astros to win the AL Pennant and the Indians to win the World Series in the same season, however, if either bet wins -- the payout will more than make up for the units lost on covering multiple teams in the same field).
Speaking of teams who have no reservations about mortgaging futures and taking on big contracts, let me introduce you to the underachieving, money-printing Los Angeles Dodgers. As they are currently constructed, this team is not winning anything.
To make things even more bleak: they trail the powerhouse San Francisco Giants by 6.5 games in the NL West standings --€" which means there is a pretty good chance the Dodgers are going to have to survive a one-game sudden death matchup to just make the National League Division Series round of the playoffs.
However, the Dodgers have a Clayton Kershaw and you don't.
Yes, he's currently nursing an injury that put him on the disabled list before the break --€" but that's what happens when you've been carrying the entire franchise on your back for the past four years, and he will return and will likely pick up his Cy Young AND Most Valuable Player campaign right where he left off.
Unfortunately for the Dodgers, there is no option to press pause, scroll down the main menu, click 'settings' and turn off 'arm fatigue' -- thus, Kershaw can't pitch every single day. The team is in urgent need of starting pitching to support their ace, a leadoff batter who can actually get on base/steal bags, and additional competent arms in the bullpen. The good news is: Hyun Jin Ryu is back in the rotation after sitting out the entire 2015 campaign recovering from shoulder surgery and the team's veteran battle-tested leader, Andre Either, is scheduled to return at the beginning of August.
Ever since the McCourts were ousted and Magic Johnson's ownership group assumed control of the team, this franchise has proven they are willing to do just about anything to win -- including the acquisitions of big names with big price tags at the deadline (ahem, Carl Crawford), and that's exactly what I expect to happen here again in 2016 as LA attempts to chase down the arch rival Giants before the regular season ends.
At (+2000), the Dodgers are a long shot ... but at that price, I am absolutely going to throw a line out there, baited with the best player in baseball, to see what I can catch at the trade deadline.
In conclusion, the strategy moving forward for 2016 MLB futures wagering is clear-cut: find teams that are in contention but haven't had their odds beaten down to a pulp, will likely be the most desperate 'buyers' at the deadline who are willing to "risk it all" to acquire a big name immediately, and already have the foundation in place for postseason success whether they are able to pull off a big trade and/or waiver claim before the playoffs start.
May the odds be forever in your favor.
Final Card:
Astros to win AL Pennant (+900), 1 unit
Astros to win AL West (+375), 1 unit
Indians to win World Series (+750), 1 unit
Dodgers to win World Series (+2000), 0.5 units
Pirates to win NL Pennant (+2000), 0.25 units