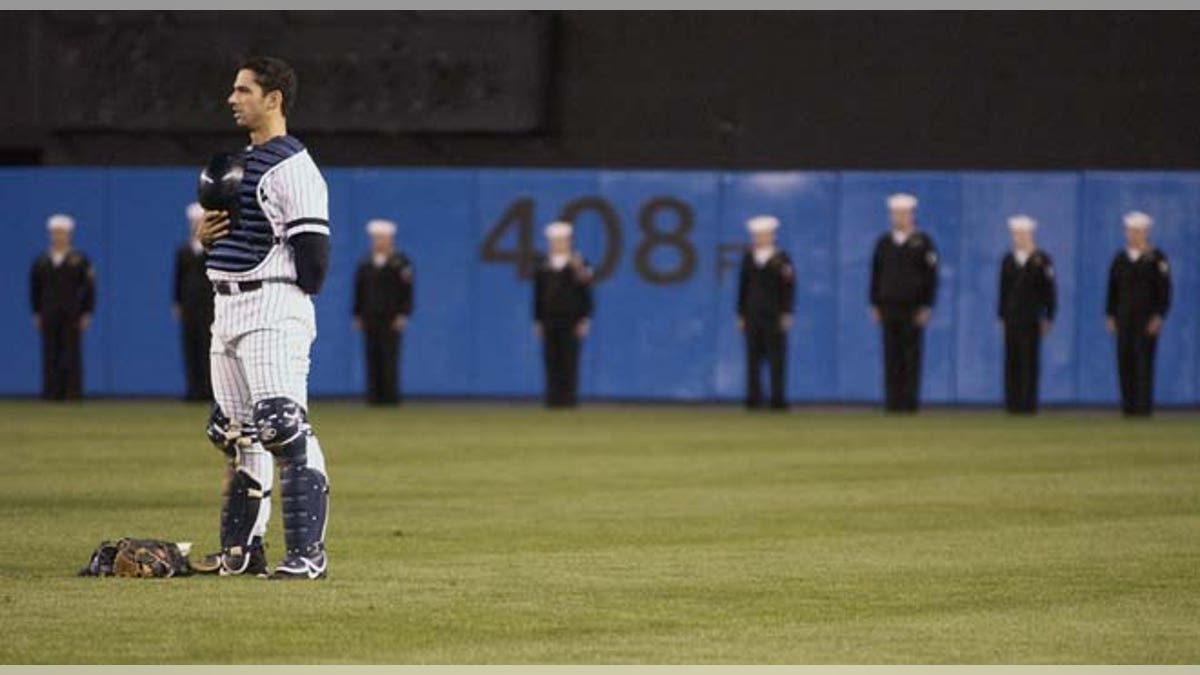 Yankees catcher Jorge Posada will forever remember the morning of September 11, 2001.
His son, Jorge Jr., was two months from his second birthday and hospitalized in Manhattan after suffering a setback from an operation. Junior, now 11 and having underwent his last surgery in June to treat craniosynostosis, just wanted to watch cartoons on the hospital television on that tragic Tuesday morning.
"I was in the hospital with my son," the elder Posada told Fox News Latino. "My son had just finished having his second operation. He had a bad infection in his entire face. The entire operation was a complete failure and we had to do the operation again.
"We were there for almost a month and half," he added. "I remember watching the Twin Towers, the airplanes and everything."
One of three players still on the Yankees from the 2001 season, reliever Mariano Rivera said the day was too beautiful for "an accident" like that to all of a sudden occur on that sunny morning. He saw the madness develop on television and from his Manhattan apartment, saw the second plane hit the South Tower, one of the buildings he had visited many times.
"Those were beautiful buildings. It's sad that there's people that have to cause harm. They enjoy another person's pain," Rivera said.
Posada, Rivera and other players from the Yankees, Mets and all of Major League Baseball were no less shocked than the rest of the world after the attacks. Their job, however trivial the national pastime seemed amid all the chaos and tragedy, was to serve as a distraction and help people gain a sense of normalcy again.
To that end, Rivera and teammates visited the Jacob Javits Convention Center to visit firemen, policemen, EMS workers and families who lost their loved ones.
"It was difficult. What were we going to say?" he said. "We just had to be there for them and simply support them. They appreciated us a lot.
"A lot of them appreciated us for simply being there," he went on. "We weren't looking for that. We just wanted to support them."
Some current Yankees on this year's club were on other teams back then and, from afar, were worried about what was going on in lower Manhattan.
Freddy García thought he was watching a movie when he woke up after having pitched the night before for the Seattle Mariners. He immediately thought about friends he had on the NYPD force and followed up with them.
"It was sad," Garcia said of his visit to Ground Zero, which was arranged by his police officer friends. "They were still pulling out bodies. It still smelled bad. It was a bad experience because you are watching something you don't want to see."
Former Mets second baseman Edgardo Alfonzo sprung to action and assisted at Shea Stadium in the aftermath of the attack. The ballpark's parking lot became a recovery and staging area that provided assistance.
"A lot was done here. Each and everyone of us helped distribute things to people that were in need at the moment and to those that were working there," Alfonzo said. "It was a way for everyone to contribute from their heart. We did it willingly. At that moment the city needed us. Everybody did their part."
"You turn on the television and you see all this tragedy. It was a very sad moment just knowing the people that died and the people that gave their lives to save others."
Andruw Jones, then a centerfielder for the Braves, was in his apartment that morning with the team, which was scheduled to play that night in Atlanta. Jones would get a call from his girlfriend, now his wife, with the horrible news.
Jones, despite his many visits to New York, had never gone to the towers. It was the first time he even heard of the towering skyscrapers.
Jones and the Braves took on the Mets in New York on Sept. 21 in the first game played in New York since the attacks. The Braves had always been a thorn on the Mets' side – but on that night, there was an otherwise storybook ending.
Mike Piazza was facing Braves reliever and Staten Island native Steve Karsay with the Braves leading 2-1 in the eighth inning. Piazza had just one hit in four previous at-bats against Karsay and fell behind 0-1 in the count. The likely Hall of Fame catcher turned a fastball that was supposed to be away and launched it over the centerfield fence for a two-run blast.
The Mets eventually won, 3-2.
"That victory was great for the fans of New York and Mets baseball fans. It gave them something to cheer for," Jones said. "The fans got up and that emotion was back in the game. It was very emotional.
What began with the Piazza home run, continued with the Yankees' thrilling playoff run – from Derek Jeter's "flip" play to the game-tying round-trippers by Tino Martínez and Scott Brosius on back-to-back nights. And of course there was Jeter's 'Mr. November' game-winner in Game 5 of the World Series.
In the end, the Yankees came up short against the Arizona Diamondbacks, losing in Game 7 in the ninth inning with the seemingly invincible Rivera on the mound.
But the healing process, ever so gradually, had begun.
"For me it was a relief because for a moment we were able to take that pain out of their minds," Rivera said. "We brought them to the park so that they could enjoy a game, to have fun at a game.
"I know that for that moment, that pain disappeared," he continued. "It's hard for something like that to disappear. I think that in the games that we played here, we were able to offer that to the city."
Adry Torres, who has covered MLB, NFL, NBA and NCAA basketball games and related events, is a regular contributor to Fox News Latino. He can be reached at elpiloto137@gmail.com or follow him on Twitter: @adrytorresnyc.
Follow us on twitter.com/foxnewslatino
Like us at facebook.com/foxnewslatino