Barry Bonds says Ichiro could easily win the Home Run Derby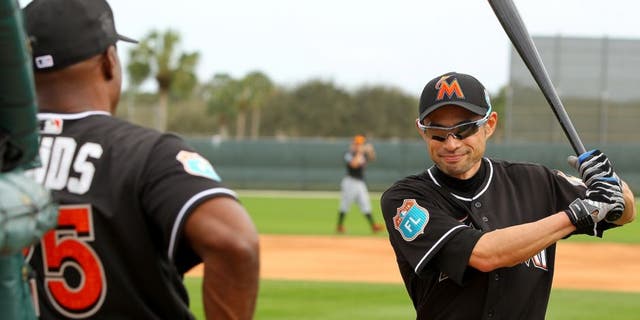 NEWYou can now listen to Fox News articles!
This year's Home Run Derby won't feature the likes of David Ortiz, Mike Trout or Bryce Harper as all three have confirmed they won't be participating. For one reason or another, most sluggers don't like to take part in the competition given the effect it can have on a swing. Not to mention, it's exhausting.
Barry Bonds, the Miami Marlins' hitting coach, has a player in mind who would win the title "easy." That player is Ichiro Suzuki, who has two home runs since the start of 2014. It may sound ludicrous, but Bonds has his reasons.
"He hits more home runs than anyone in batting practice ... every day," Bonds said. "I said, 'You know what? You got to stop hitting all of these home runs.' He said, 'Why?' I said, 'Because you're wasting them all in practice. We want you to hit a home run in a game.'
"I think he hits all of his home runs in batting practice so he can get all his hits."
On a team with Giancarlo Stanton and Marcell Ozuna, each with 17 home runs this season, it's hard to imagine Ichiro hitting more home runs than all of his teammates in batting practice. According to Bonds, though, he does. And he would win the Home Run Derby with ease.
"I would think he'd win it. Easy, hands down," Bonds said.
We'll never see Ichiro in the contest, but if you want to see him slug home runs, batting practice is the place to go apparently.