Barcelona great Xavi Hernández reportedly leaving for Qatari al-Sadd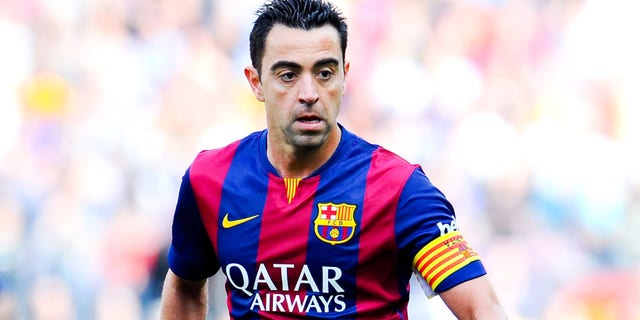 NEWYou can now listen to Fox News articles!
Barcelona legend Xavi Hernández is set to leave the Camp Nou after nearly 17 years with the Spanish league champions.
The midfielder is reportedly announcing his departure from the Blaugrana to join Qatari al-Sadd Sports Club, which may also sign Italian legend Andrea Pirlo from Juventus and Spaniard Sergio García from Espanyol.
While Hernández's contact with Barcelona is still good for one more year, he will not play it out after completing his one-year agreement with coach Luis Enrique, who convinced him to stay for a least one more season last summer.
The 35-year-old will be following in the footsteps of Real Madrid legend Raúl González, who has spoken highly of his experience with al-Sadd.
Barcelona's Andrés Iniesta said during a Facebook and Twitter chat with fans on Tuesday that it has been "a real pleasure and privilege" to have spent his entire career playing alongside Hernández.
"I can't say enough about hi. I can see nobody that can match him both as a player and a person," he said. "The figures, the years, the feelings, his way of doing things are simply indescribable. He is a unique and unrepeatable player who has been fundamental for Barça and the national team.
Hernández began his career with Barcelona at age 11 with the youth academy before making his first team debut against RCD Mallorca on 18 August 1998. Since then he has played more than 700 games, 82 goals and made more than 180 assists for over 50 players.
He will have the chance to end his career with the Blaugrana with a treble as they have qualified for the Copa del Rey final against Athletic Bilbao and the Champions League final against Juventus. They raised the La Liga trophy on Sunday.
Based on reporting by EFE.
Like us on Facebook
Follow us on Twitter & Instagram