Barcelona are still desperately trying to get Neymar's suspension lifted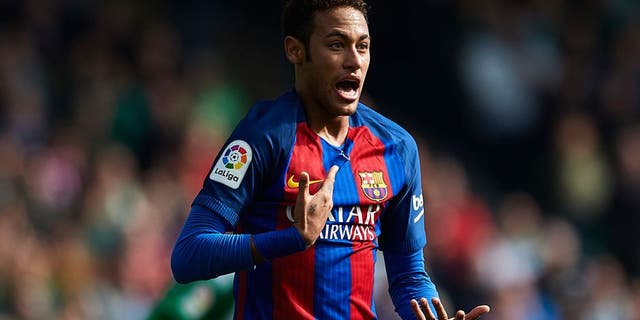 NEWYou can now listen to Fox News articles!
Barcelona are not very good at taking no for an answer.
All signs point to Neymars three-match suspension for taunting a ref standing and the star looks set to miss Sunday's matchvs. Real Madrid, but that doesnt mean Barcelona are giving up hope. Neymar has traveled to Madrid with the team ahead of Sundays El Clasico and the club issued a statement that they are "still waiting for the sports tribunal's resolution to its appeal.
It sure seems like a lost cause, however. Spains Court of Arbitration for Sport was not able to meet to rule on Barcelonas appeal, but they did issue a statement that the suspension was immediately in effect, even if they couldnt rule on the appeal as a committee yet. Barcelona had been hoping that the implementation of the suspension could at least be delayed until after the appeal decision so Neymar could play in El Clasico.
That wasnt enough for Barcelona, and they issued a stern point-by-point statement on Saturday slamming the tribunal's president for issuing a statement despite not having all of its members meet to formally discuss the matter.
"FC Barcelona continues to await the decision of the (tribunal), assuming that the president will not be part of the deliberation and influence the committee with the opinions already expressed publicly, the statement said.
There's been no response to the tribunal, but it's doubtful it will meet before Sunday's match, and it's doubtful the president will feel compelled by Barcelona's harsh statement. Barcelona could always try to field Neymar anyway if they feel their case is strong enough, but they would risk an automatic loss and punishment for defying the suspension.
So, it doesnt look like Neymar will get the green light to play Sundays El Clasico, but that isnt stopping them from desperately trying to find a way to get their star player on the field.
Information from theAssociated Press was used in this report.
MORE FROM FOX SOCCER