Bald eagle lands on Seattle Mariners pitcher James Paxton prior to start of national anthem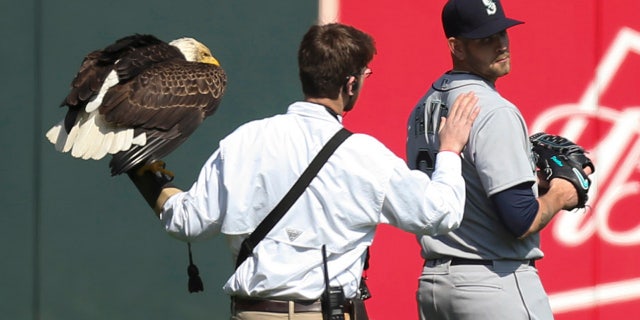 In a confluence of American hallmarks on Thursday night, the nation's pastime met the nation's symbol. Claws and all.
Seattle Mariners pitcher James Paxton was visited by a bald eagle as he warmed up before his start against the Minnesota Twins for the Twins' home opener.
Paxton was standing alone in the outfield prior to the start of the national anthem when a bald eagle, brought in for a flight across a giant American flag during pre-game ceremonies, found a landing spot on the lefty's back.
"I guess the eagle knew I was Canadian. I don't know. But it came for me," Paxton, born in Ladner, Canada, said after the game.
Paxton stayed calm as the bird dug its talons into his back.
"Figured I'm not going to outrun an eagle," Paxton said. "So might as well see what happens."
Paxton tried to dodge and duck the eagle, named Challenger, before a trainer ran out to the field to try and lure the bird away.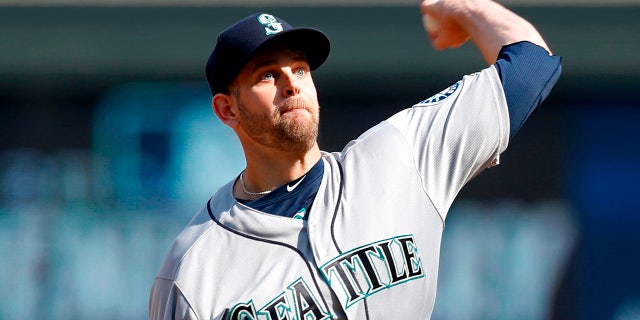 "I kind of ducked it so it wouldn't fly into my face. It was, I think, trying to stand on my back," Paxton said. "And then I thought, 'OK, if I can stand up slowly, maybe it'll just rest on my shoulder. But as I stood up, he kind of fell off my back a little bit and was kind of clawing to try to get back up on my shoulder. But then as I stood straight up, it fell back onto the ground."
Paxton said it wasn't the first time he's seen a bald eagle, but it was the first time it ever tried to land on him. He added he was trying not to panic.
Nonetheless, Paxton still gave the Mariners five strong innings. He struck out seven batters and allowed two runs on four hits. However, the Twins won, 4-2.
The Associated Press contributed to this report.