Bad week for San Diego fans continues as Hoffman falls short of Hall of Fame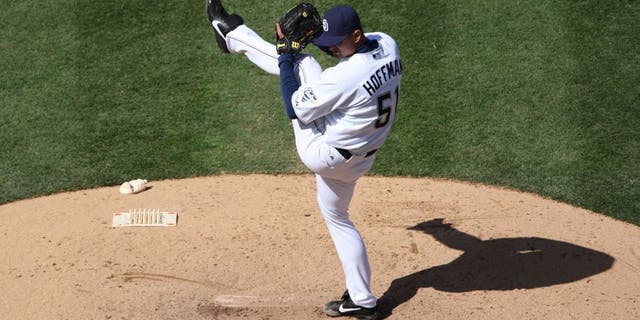 NEWYou can now listen to Fox News articles!
It's been a rough week for San Diego sports fans.
Just last week Chargers fans found out that their beloved football team of 56 years was leaving San Diego for Los Angeles via a Twitter change and a letter. Now one of their most beloved baseball players will have to wait another year to see if he'll make it into baseball's Hall of Fame.
The Baseball Writers' Association of America elected Jeff Bagwell, Tim Raines and Ivan Rodriguez to baseball's Hall of Fame on Wednesday, while San Diego Padres closer Trevor Hoffman fell just five votes shy of joining them. The news irked many Padres fans and even local media, as Hoffman's statistics all but prove he belongs.
Hoffman holds the National League saves record with 601, which is second all-time to Yankees legend Mariano Rivera. Hoffman was also a seven-time MLB All-Star during his career.
But Hoffman handled the news like the professional that he is, tweeting out a congratulations to his colleagues that made it.
Check out some of the reactions from media and fans below.
It should be noted that Hoffman is very likely to be elected to the Hall of Fame in 2018, when the BBWAA votes again.