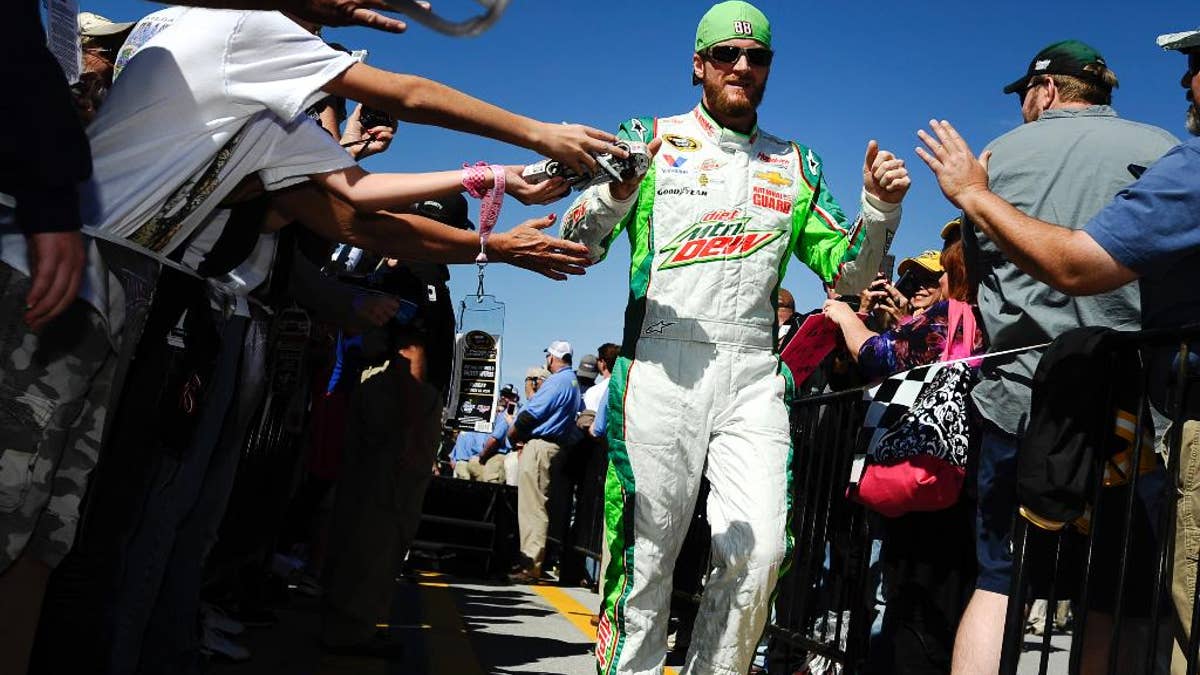 CHARLOTTE, N.C. – Brad Keselowski's refusal to be pushed around on the race track has earned him a few comparisons to the late Dale Earnhardt.
It's a conversation Keselowski will not participate in out of deference to the Hall of Fame seven-time champion.
"Racing in some ways is like music — you can be influenced as a band by another band," he said. "Certainly there is some influence there. But I'm not that band. It's flattering with all the success that (Earnhardt) has had. But I'm not (that) band, I'm just trying to do things my own way, the best way I know how."
Keselowski had a roller-coaster eight days last week after he tangled on and off the track at Charlotte with Denny Hamlin and Matt Kenseth. It earned him a $50,000 fine from NASCAR, and dropped him into a must-win situation Sunday at Talladega.
He then pulled off a stunning rally by winning at the Alabama track to avoid elimination in the Chase for the Sprint Cup championship. Keselowski now goes this weekend to Martinsville Speedway seeking to strengthen his bid for a second Cup title in three years.
Team owner Roger Penske surmised that it's Keselowski's success — the driver has a series-best six wins this season and five poles — that has caused jealousy among his peers. It's that alleged animosity that flared at Charlotte, Penske believes, and he encouraged Keselowski to just move on.
Kenseth, who jumped Keselowski from behind in the garage at Charlotte, insisted he's not jealous of Keselowski.
"I don't agree with things that he says or does at times, but I actually really admire Brad's work ethic, how he got to where he was at. He got here the old-fashioned way, working hard," said Kenseth, noting he used to see Keselowski working on his own cars in the garage as other drivers retreated to their motorhomes. "He works harder than most people work at it and tries harder, and that's a lot of the reason for his success. I'm certainly not jealous of that. I actually admire that part of him."
Hamlin, who tangled on the track after the race with Keselowski and had to be restrained from confronting him, also dismissed Penske's theory.
"There is nobody jealous of Brad," Hamlin said Tuesday. "Nobody wants to be Brad."
Keselowski understands there are mixed feelings about him throughout NASCAR. But he said being the most popular driver was never his goal, and he's always carried himself with the determination and drive to simply make it to NASCAR's top level.
It's meant being outspoken, not giving an inch on the race track and not backing down to a veteran. He makes no apologies for refusing to follow any code, real or imagined.
"Sometimes, with this current setting, you're going to have to ruffle some feathers and not everybody's going to like you," Keselowski said. "I'm comfortable with that, or as comfortable with that as you can be. There's no part of me that's sitting here saying, 'Man, I hope everybody hates me.'"
Four-time series champion Jeff Gordon was the one driver who didn't dismiss the jealousy theory. He was controversial during his dominant early years as fans and drivers were divided on his success. But he thinks Keselowski's own actions have led to some of the negativity directed at the driver.
"I'm sure there is (jealousy)," Gordon said. "I don't have a problem with Brad. I respect Brad. I think he's done a tremendous job."
___
NASCAR CHANGES: NASCAR will cut the maximum number of trucks in Truck Series events from 36 to 32 beginning next season. The maximum of 36 trucks competed at only five of 18 races this year. NASCAR only started 30 trucks at Eldora Speedway, but 34 attempted to qualify.
NASCAR has also announced changes to the qualifying format for both its truck and Xfinity (currently Nationwide) Series for next season, eliminating guaranteed spots for those high in owner points.
The Nationwide Series has a maximum field of 40 cars and allows the top 30 in owner points to be automatically locked in for each every race. Nine spots are based on speed and one spot goes to a past champion. Under the new format, the top 33 speeds in qualifying will make the race, with six provisionals based on owner points and one provisional for a past champion.
The Truck Series has locked in the top 25 in owner points, then 10 spots on speed and one past champion. It will now be the top 27 on speed, plus four provisionals based on owner points and one provisional for a past champion.
The Sprint Cup Series has been using a similar method for the last two years.
NASCAR also announced that the driver names will be placed at the top of the rear windows in both the Xfinity and Trucks Series. The series sponsors will be across the top of the front windshield.
___
RACE OF CHAMPIONS: Kurt Busch and Ryan Hunter-Reay will team together in the 2014 Race Of Champions, to be held Dec. 13-14 at the Bushy Park Circuit in Barbados.
Busch and Hunter-Reay were teammates for Andretti Autosport in this year's Indianapolis 500. Hunter-Reay won the race and is the 2012 IndyCar champion. Busch is NASCAR's 2004 champion. Team USA last won the ROC Nations Cup title in 2002 with Jimmie Johnson, Jeff Gordon and Colin Edwards.
the ROC lineup that has already been announced is nine-time Le Mans 24 Hours winner Tom Kristensen, Formula 1's Romain Grosjean (the reigning ROC Champion of Champions) and Susie Wolff (Williams development driver), Australian V8 Supercar legend Jamie Whincup and 2014 FIA World Rallycross Champion Petter Solberg.
The rest of the ROC 2014 field has yet to be announced.
___
FORCE-CREW CHIEF: John Force has accepted the resignation of crew chief Jimmy Prock.
Ford, the 16-time NHRA Funny Car champion, is currently ranked second in the point standings. He trails Matt Hagan by 36 points with two races left in the NHRA Countdown. Force said Wednesday that Prock told him he was stepping down at the end of the season, and Force decided to accept it immediately.
"A man has to do what a man has to do but I have sponsors that I am signing contracts with that look at JFR as a four-team powerhouse and here I have people not committed to this team, long-term," Force said. "They are willing to walk away from me."
Prock became Force's crew chief in 2013 after a midseason team swap with Robert Hight orchestrated by Force. He helped Force to five consecutive final rounds in the Countdown, including three wins in a row, to clinch Force's 16th Mello Yello Funny Car championship.