Astros' improbable season yields unlikely no-hitter for Fiers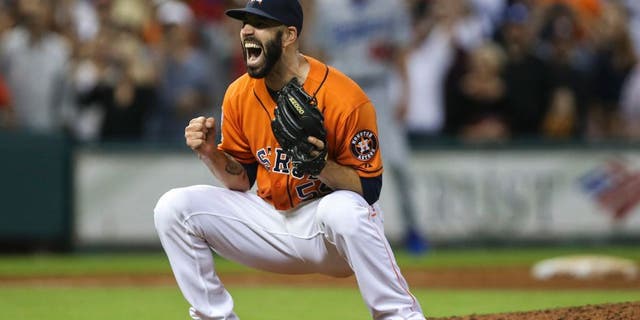 There's something special in the air in Houston this baseball season.
From walk-off hits galore, to holding strong in first place in the AL West as the calendar turns to September; the Houston Astros are lighting a spark that has been absent in the city since 2005 - the team's last taste of October baseball.
Friday night, the storybook season added another chapter as starting pitcher Mike Fiers threw a no-hitter against the Los Angeles Dodgers. The no-no was the first in Minute Maid Park's 16-year history, and the 11th in franchise history.
Interestingly enough, the no-hitter was the first time in Fiers' five-year career he has finished with a complete game, never before pitching into the ninth inning. Throwing 134 pitches, Fiers walked three batters, striking out 10, while retiring the final 21 batters.
"This crowd was going insane and it got me pumped up," Fiers said. "Man, I felt like I was in the first inning. I felt great, probably better than the first inning honestly."
Despite a pitch count that reached 73 pitches after four innings, it seemed unlikely Fiers would be able to go the distance, but for this Astros team, improbable success is commonplace in 2015.
"He was as effective in the last couple innings as he was at any time throughout the game," manager A.J. Hinch said. "I keep track of how many pitches he throws per inning. You look at the seventh and eighth innings, he's got five punchouts in a row with pretty electric stuff... He earned every opportunity to finish that."
Pitching in front of nearly 34,000 fans, the no-no was Fiers' first win in an Astros uniform since coming to Houston as the 'secondary player' with centerfielder Carlos Gomez in a trade from the Milwaukee Brewers on July 30.
"I've gone through a lot of ups and downs in life," Fiers said. "A lot of people have doubted me in life, but a lot of people have stayed by my side. I've got great family and friends, so it feels great to do this for them."
For the Astros, Fiers has been sensational in his three starts for the team, allowing just one run in the timespan before showing his true capabilities Friday night in the 3-0, no-hit, win over the Dodgers.
"This game is all about your playing for your teammates and the guys in the field with you and everyone here," Fiers said. "It's a team win, man, it feels good to perform and do that for this team. I can't explain it."
Fiers' no-no was the first no-hitter thrown by the Astros since 2003, when six Houston pitchers combined to no-hit the Yankees at old Yankee Stadium. It was the first tossed by one Astros pitcher since Darryl Kile accomplished the feat against the Mets in 1993.
Follow Shawn Ramsey on Twitter: @ShawnPRamsey
MORE FROM FOX SPORTS SOUTHWEST:
- PHOTOS: Cowboys Cheerleaders Auditions
- Preseason predictions for 2015 MLB season
- Ranking NFL quarterback salaries
- Oldest player on every NBA team
- College football's highest paid coaches in 2014