Astros Hope Batch Of Prospects Will Help Turn Around Team Next Season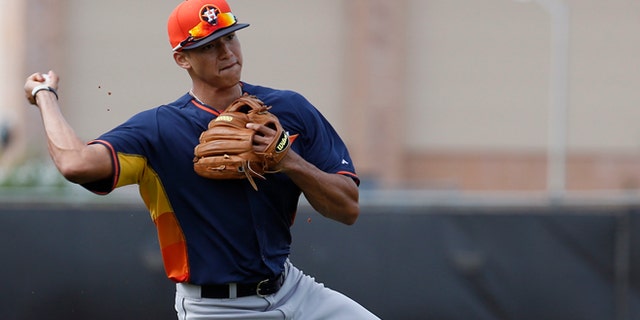 KISSIMMEE, Fla. (AP) – There's an avid fisherman, a drummer and a saxophone player. A fourth loves board games, one enjoys bowling and another proudly says he admires Kanye West.
Described are Carlos Correa, Mike Foltynewicz, Jon Singleton, Mark Appel, Delino DeShields and George Springer.
They're top prospects of the Houston Astros, a group expected to turn around this once-proud franchise and get fans back to the ballpark after three straight 100-loss seasons.
The Astros traded away all of their recognizable players over the past few seasons as they went all-in on a plan to restock their farm system and build from within.
Now after three dreadful seasons, the time is approaching for these prospects to begin contributing to the major league team.
The top among them are 2012 top overall pick Correa, a 19-year-old shortstop, last year's top pick right-hander Appel and Springer, an outfielder who hit 37 homers with 45 stolen bases between Double- and Triple-A last season.
There's no clever way to describe this trio like the fabled Killer B's of Jeff Bagwell, Craig Biggio and Lance Berkman, the longtime former faces of the franchise who wowed fans for years. But general manager Jeff Luhnow, the architect of Houston's rebuilding plan, believes they could become just as loved in Houston.
"I think between Carlos and George and Mark, we've got three guys — hopefully they all three make it and fulfill their potential — but they could all three be the next version of Biggio, Bagwell, Berkman," Luhnow said.
Correa was just 17 when he was drafted out of high school in Puerto Rico. He spent last season in Low-A, where he hit .320 with 86 RBIs, and in big league games this spring he's excelled and homered twice in a recent game. The 6-foot-4, 205-pound Correa is probably a couple of years away from arriving in Houston, but he's already drawn comparisons to Alex Rodriguez.
Correa, who relaxes by fishing with his family, is ready to get to Houston and isn't daunted by the pressure of being a top draft pick.
"It's my dream, it's my goal to get to big leagues and help the Astros be a winning club," he said. "I think about it every single day. When I wake up, when I go to sleep. I want to help them try to be the organization they used to be in the past."
Appel graduated from Stanford before he was drafted by the Astros last year. They think he could be a front of the rotation starter soon, but he'll likely spend most of this season in Double-A.
Appel is the fan of board games and if he weren't playing baseball he'd probably be an architect. His uncle is the dean of the architecture school at Rice University.
He's very religious and said his faith helps him deal with the expectations of being a top prospect.
"I'm not going to say I'm above it," he said. "It is something that you think about. If baseball were to end tomorrow I know that I'd be secure and I know that I'd be able to keep living. Baseball isn't everything to me but that doesn't mean I'm not going to work as hard as I can."
Springer is expected to make his major league debut in 2014. Luhnow expects him to be a fan favorite thanks to his electric play and movie star good looks.
"He has the inherent talent to be a star and yet I could see his face being on the cover of magazines and him being on talk shows and having a really warm personality that's inviting that makes people feel like they really get to know him," Luhnow said.
Springer is shy in his personal life, but has an outgoing persona on the diamond. He's the Kanye West fan — and not just because of his musical talent.
"I just think he's true to himself and you don't see that a lot," he said. "I like that."
Singleton is Houston's first baseman of the future and should also make it to Houston in 2014. The 22-year-old left-handed slugger has struggled with an addiction to marijuana and spent time last season in a rehabilitation center, but says he's on the right track now.
Singleton, who played the saxophone growing up, got off to a tough start this spring, going 0 for 16 before homering on Thursday.
"I really don't put too much pressure on myself when it comes to hitting," Singleton said. "Since I was little, baseball has been a game of fun. If you play hard and have fun, good things will happen."
Another pitcher is the flame-throwing Foltynewicz, who was a drummer in a high school band called Stuck in October. He recently chopped off his wild and flowing rock star locks in favor of a shorter haircut, but is still working on taming his emotions on the mound.
"I kind of get a little out of control out there sometimes with a bad call or something like that," he said. "I've grown up a lot since I've come into pro ball, but I've still got to work out some things."
His fastball has been clocked at over 100 mph and the Astros think he could pitch as a reliever in the majors now, but want to keep him in the minors for a while to mold him into a top starter.
"He's the hardest thrower in our organization and I think when you get a guy with that kind of arm strength, clearly there's going to be a lot of excitement about the player," Luhnow said.
DeShields' father and namesake played 13 years in the majors. The younger DeShields is the bowler of the group and rated as the best baserunner in the organization. It's easy to see why — the 21-year-old can fly.
He's been in big league camp this spring and got fans buzzing when he scored from first on a single in a recent game. He stole 101 bases in 2012 and swiped 51 last season in Single-A.
The eighth overall pick in the 2010 draft, DeShields has recently returned to the outfield after working at second base. Luhnow expects him to start 2014 at Double-A and advance to Triple-A before season's end.
"For me he's a sleeper," Luhnow said. "He's a guy that doesn't get mentioned with those other players, but he's got all the potential in the world to be an impact player given his tool-set and his bloodlines and his work ethic and all the things he brings to the table."
Despite all this up-and-coming talent, Luhnow knows that fans are disenchanted and antsy to see if the rebuilding plan is going to work. He's confident that it will.
"I know we have some work to do to regain the credibility and trust of the fans because of the record at the major league level the last three years," he said. "But that work starts now and the players and the staff know that and are motivated that we're going to start to demonstrate the results at the big league level this year."
Follow us on twitter.com/foxnewslatino
Like us at facebook.com/foxnewslatino