A's Reddick enjoying benefits of renewed focus at the plate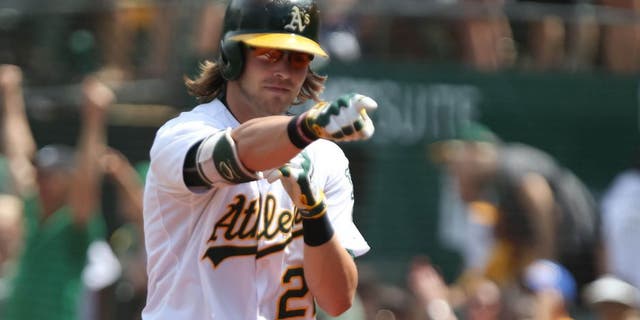 Right fielder Josh Reddick hit 32 home runs for the Oakland Athletics in 2012, his first year with the club - but he also struck out 151 times.
Since then, Reddick has only come close to 100 whiffs one time, when he struck out 86 times in 2013. This is no coincidence, as he recently opened up with MLB.com's Jane Lee about his focused effort to move away from a strikeout-prone slugger to a more contact-driven, OBP-type of hitter.
Entering play Thursday, Reddick is hitting .278/.333/.452 with 15 home runs, 66 RBI, 23 doubles and just 49 strikeouts in 479 plate appearances this season. He even received a co-AL Player of the Week honor back in April thanks to his hot start to the year.
As Reddick told Lee, part of his mental approach began paying off earlier this season: "I knew that I wasn't going to be that middle-of-the-lineup guy right away, so I just made myself be the guy that got on base for the other guys to drive me in, and it really kind of carried over to this year. I was telling myself the whole offseason and Spring Training that I was going to try to be a combined player from 2012 and the end of 2014, and it's actually come around to be that way, it seems like."
His 2015 OPS of .784 is tied with his 2011 OPS as the highest of his career, so the renewed focus is obviously paying off in that regard.
Reddick, 28, also emphasized to Lee that part of the motivation for his mental focus this season has been to extend his career as long as he can by being a more 'complete' player: "I'm not going in there trying to kill the ball every swing. I'm still driving in runs. That's the main thing for me. And runs scored. So I'm satisfied, because it's going to make me a more complete player and last a lot longer in this game, and if it continues to be like this, hopefully I can be one of the top players in the league at some point."
The A's are having a tough 2015, no doubt, but Reddick's individual growth as a player (not to mention his always solid defense) has to be something positive the club can take away from the lost year.