Army veteran Alejandro Villanueva is sole Steelers player to stand outside for national anthem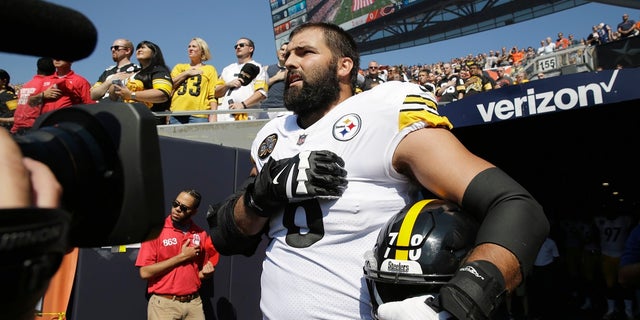 Pittsburgh Steelers player Alejandro Villanueva stood tall on Sunday for the national anthem, even though his teammates were off the field and out of sight.
The 6'9" former Army Ranger, one of the NFL's tallest players, stood outside with his hand over his heart for The Star-Spangled Banner before the game against the Chicago Bears.
The gesture came after President Donald Trump spoke Friday about NFL players who kneel during the national anthem.
"Wouldn't you love to see one of these NFL owners, when somebody disrespects our flag, you'd say, 'Get that son of a b---- off the field right now. Out! He's fired,'" Trump said at a rally in Huntsville, Alabama.
NFL teams, players, and coaches have spoken about his comments. Steelers coach Mike Tomlin had told CBS Sports the team wouldn't take part in the national anthem "to remove ourselves from the circumstance."
"People shouldn't have to choose," Tomlin said. "If a guy wants to go about his normal business and participate in the anthem, he shouldn't be forced to choose sides."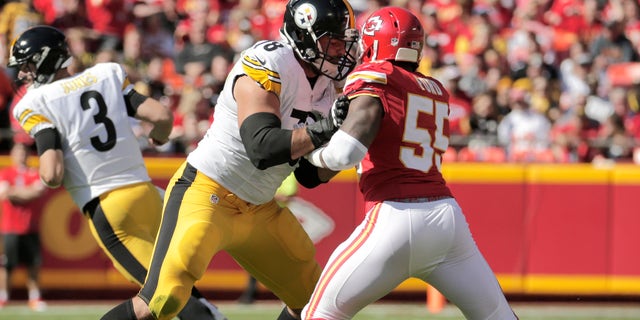 What do we know about Villanueva's education and military career?
Villanueva, 29, played college football at West Point, graduating with a degree in systems engineering, according to the Philadelphia Eagles, who signed him in May 2014 before cutting him in August of that year.
During his military career, Villanueva served three tours in Afghanistan and became an Army Ranger, the team said. He is a recipient of the Bronze Star medal for overseas service and the Bronze Star medal for valor.
The Steelers website says Villanueva originally joined the practice squad in August 2014. His first NFL start took place in October 2015.
What has he said about controversial former San Francisco 49ers quarterback Colin Kaepernick?
"I don't know if the most effective way is to sit down during the national anthem with a country that's providing you freedom, providing you $16 million a year ... when there are black minorities that are dying in Iraq and Afghanistan for less than $20,000 a year," Villanueva told ESPN in 2016. "It's his decision. Obviously he has brought up the issue in a great way. But I think if he encourages other players or other people in the stands to sit down, it's going to send the wrong message."
"I will be the first one to hold hands with Colin Kaepernick and do something about the way minorities are being treated in the United States, the injustice that is happening with police brutality, the justice system, inequalities in pay," the veteran told the outlet. "You can't do it by looking away from the people that are trying to protect our freedom and our country."
The Associated Press contributed to this report.