Arizona Wildcats fire football coach Rich Rodriguez amid hostile workplace claim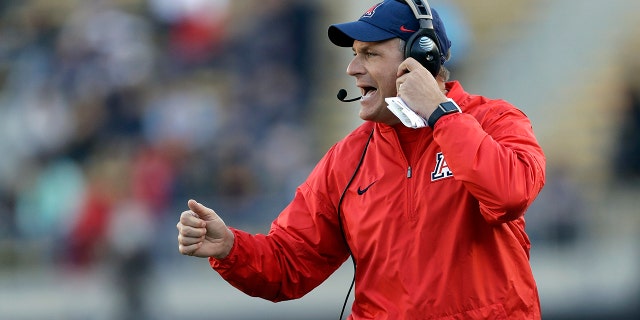 The University of Arizona fired head football coach Rich Rodriguez on Tuesday after allegations that he ran a hostile workplace.
Athletic director Dave Heeke said in a statement the athletics department decided to in a new direction after evaluating the program.
"After conducting a thorough evaluation of our football program and its leadership, both on and off the field, President Robbins and I feel it is in the best interest of the University of Arizona and our athletics department to go in a new direction," Heeke said.
Heeke said the school will find a new coach that the community "can be proud of."
The notice of claim against Rodriguez was filed with the state's attorney general's office last fall by a former athletic department employee, the Tucson Daily Star reported.
The school said in a statement that it had hired an outside law firm to "conduct a comprehensive investigation" last October. The school said the accuser "declined multiple requests from the University to participate in the investigation into her allegations. In addition, she was unwilling to turn over communications that she alleged provided support for her allegations."
The school's investigation, which concluded on Dec. 29, could not verify the woman's claims, USA Today reported. The woman threatened to file a lawsuit against Rodriguez and filed a financial claim with the state's attorney general's office.
Rodriguez said in a statement later Tuesday that he was "deeply disappointed" to learn that he was being bought out by the school. He admitted that the complaint included "one truth" – that he had a "consensual extramarital affair with a woman not affiliated with the University."
Arizona said it fired Rodriguez, who fully cooperated with the investigation, without cause and will "honor the separation terms of his contract." The terms include a $6.3 million buyout, according to USA Today.
Rodriguez had just completed his sixth year at Arizona before being terminated. Rodriguez was 43-39 in six seasons at Arizona, including 3-9 last season.
The Associated Press contributed to this report.