Arizona picked to finish 2nd in Pac-12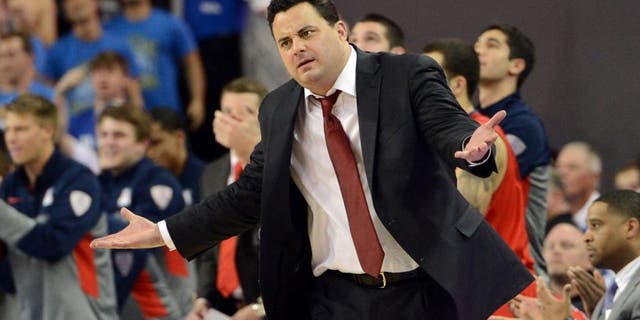 SAN FRANCISCO -- Coaches in the deep-as-ever Pac-12 Conference are determined to continue some serious momentum in men's basketball that was built up during a special March.
A conference-record seven teams reached the 2016 NCAA Tournament.
"The biggest key for us as a league is we all have to take care of business and have great Novembers and Decembers, given our schedules," Colorado coach Tad Boyle said at Pac-12 media day Friday. "We all have different schedules, go to different schools, play in different tournaments. We have to play well and win games in November and December. It will help everybody come January and February, and certainly March."
Defending Pac-12 champion Oregon is picked to repeat as the regular-season conference winner. The Ducks received 23 first-place votes from a panel of 27 media members covering the conference, the Pac-12 announced.
"We're going to have a target on our back. We have to be ready," Oregon guard Tyler Dorsey said.
Coach Dana Altman is eager to see how his team responds to opponents taking their best shot at the Ducks -- in the preseason, during the Pac-12 schedule, in the tournament.
"It will be an adjustment our team will have to make. I'll be interested to see how they handle it," Altman said. "We've always come from the back of the pack. This year the expectations are higher."
Oregon returns four starters from last season's team that won a school-record 31 games and earned a top seed in the NCAA Tournament, led by junior forward Dillon Brooks, who averaged 16.7 points, 5.4 rebounds and 3.1 assists.
"Oregon has all the pieces to be one of college basketball's brightest teams this year," said Arizona coach Sean Miller, whose Wildcats received four first-place votes and were picked second.
UCLA coach Steve Alford wrote a letter to fans after last season's failures "letting them know we care." The Bruins are picked to bounce back and place third in the Pac-12.
"Coach Wooden raised that bar at UCLA," Alford said. "That bar was raised a long time ago in Westwood, by a guy that won a bucket-load of games and a lot of championships and established something that, quite honestly, hasn't been established anywhere else in the country. So when that bar is that way, there's expectations."
California was chosen fourth, followed by Colorado, Washington, USC, Utah, Oregon State, Stanford, Arizona State and Washington State.
"There's great depth to the conference," said Stanford's Jerod Haase, the only first-year coach in the Pac-12.
Commissioner Larry Scott expects to announce next month the conference's plans regarding games played in China. Last year, the Pac-12 began a two-year commitment, opening the season in China with Washington beating Texas. On Nov. 11, Stanford will play Harvard in Shanghai.
"We're in discussions with current partners, and others, about what's next," Scott said. "It's going well."