AP Interview: WNBA president Laurel Richie says league in 'good place' after busy offseason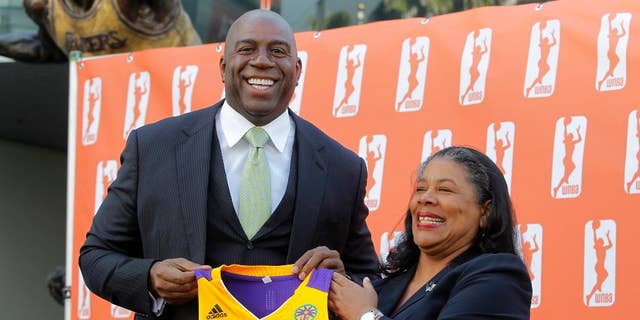 NEWYou can now listen to Fox News articles!
NEW YORK – WNBA President Laurel J. Richie is heading to Minnesota as part of the league's opening weekend and help the Lynx unveil their 2013 championship banner.
Richie is ready for the games to begin after a turbulent offseason.
Richie faced the first major challenges of her presidency, including overseeing negotiations for a new collective bargaining agreement and the sale of the Los Angeles Sparks to a group headed by Magic Johnson.
She said in an interview with The Associated Press that having labor stability for the next eight years may help to attract new franchises. As the league begins its 18th season nearly half the 12 WNBA teams are profitable, there's been a league-wide increase in sponsorship deals and its TV deal with ESPN runs through 2022.
"The league is in a good place right now," Richie said. "After what could have been a rough winter, I'm glad everything came through well and I'm really excited for the season to tipoff this weekend."
The WNBA begins its 18th season Friday night with 10 teams taking the court, including the Sparks.
But there was a brief period of uncertainty about whether the Los Angeles franchise would be around in 2014.
Richie was told in late December by the Sparks' owners that they would no longer be involved with the team. The league faced the possibility of losing the Los Angeles market, but then Johnson's group stepped forward. Whether Johnson eventually becomes part of a Clippers ownership group with that NBA organization apparently about to be sold, Richie knows that Johnson will be a great ambassador for the WNBA and can help her league grow.
"Even I couldn't have imagined that as an outcome," she said of Johnson becoming a WNBA owner. "Magic and his team have been phenomenal. Clearly they love the game of basketball and have deep roots in L.A. That was a very happy day for the WNBA. I would be lying if I didn't say it was also a very happy day for me personally.
"From everything he's told me, he's going to be a very active owner."
While the league may have found a perfect fit with Johnson's group, Richie said there has been interest from the Golden State Warriors in bringing a women's team to the Bay Area. She is confident that WNBA expansion will happen, but isn't sure when.
"There is a point and time when our league will be comprised of more than 12 teams. I can't put a date on that yet, but I know it's in our future," she said. "We want to have conversations with groups like the Warriors. There were some other entities who bubbled up and expressed interest so that when the time is right you're not starting from scratch."
Richie considers her first CBA negotiations a success, not just because a deal was struck in February, but because neither side walked away saying that they won.
The teams gained a 12th player to the roster which created potentially 12 new jobs. The owners gained the ability to offer bonuses for players to stick around in the offseason and not have to play year round. They also have the ability to fine players more for missing WNBA activities because of overseas commitments.
"Collectively we focused on the end game, how do we make moves to strengthen the league," Richie said. "And in order to strengthen the league we need to do things that are good for the teams and good for the players. I think this deal reflects that."
NBA Commissioner Adam Silver agrees that the women's game is in a good place.
"This is a very exciting time for the WNBA — the league is the strongest it's ever been," Silver said. "I look forward to what's in store for this season and beyond."