Anthony 'Rumble' Johnson reveals career after UFC retirement but promises 'I'm finished' fighting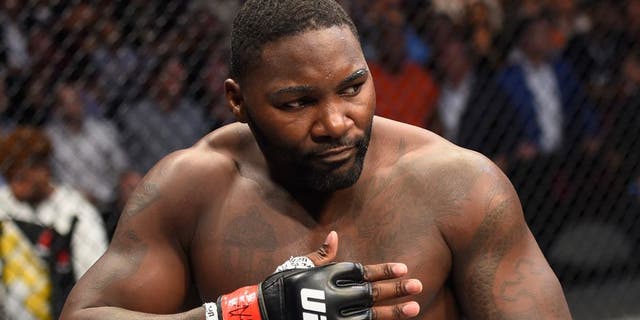 Anthony "Rumble" Johnson had to laugh at some of the rumors about his post fighting career following the announcement about his retirement in April.
Johnson shocked the mixed martial arts world by announcing that he was hanging up his gloves following a second round submission loss to Daniel Cormier at UFC 210 that served as the final fight of his career.
Johnson also hinted at a new career choice that would be revealed at some point down the road, but speculation ran wild about what he was planning to do next including a post fight job with the Los Angeles Rams.
It turns out, Johnson definitely had plans once fighting was done but it has nothing to do with football.
"My friend Paul, he's in cannabis, we're opening up a facility. It's for medical uses," Johnson revealed on "Heated Conversations" with retired WWE superstar Booker T. "We're getting in that way. We've got some good things going on. It's already big. We're just waiting on that law to pass and whenever it passes, we're golden. We're playing our cards right. We're playing by the books so that way there is no issues. We're good to go.
"Like I said, if you can find a job or anything that will help you grow or make even more money without doing near as much as you were doing before, especially if it's causing bodily harm like in your previous job, jump on board for something that's better. That's what I'm doing."
Josh Hedges/Zuffa LLC/Zuffa LLC via Getty Images
Johnson currently resides in Florida a state that has moved towards allowing more use of medical marijuana but the laws are still influx as the rules and regulations are being sorted out following an amendment passing there last year. Of course, Johnson didn't mention if his business would be in Florida, although it would make the most sense.
As far as his fighting career goes, Johnson says getting into a new business wasnt the only reason he walked away from the sport at just 33-years of age.
According to Johnson, concerns about his health and most notable several head injury played a big part in his decision to call it a career following his last fight against Cormier at UFC 210.
"You hear about CTE [chronic traumatic encephalopathy] and all this other stuff, head injuries, and you're harming your body playing football and stuff. This stuff can happen just as fast in mixed martial arts as it can in any other sport cause we're constantly beating on each other. I love myself. A lot of guys don't think about that. They want to get in these battles and just wars and I'm not about that life. I'm going to be honest I was never a fighter," Johnson said.
"Fighting was like natural to me cause I was just so athletic, I caught onto everything really quick. I was never meant to fight. I was meant to do something else, something greater in life. It was just time for me to move on."
Zuffa LLC via Getty Images
Johnson admits that there are certain aspects of fighting that he will miss including spending time with his friends at the gym or on the road getting ready for action. Still, Johnson says there were plenty of reasons to quit in a risk versus reward situation because fighting is dangerous and he was ready to take that possibility out of his personal equation.
"I don't miss getting up in the morning and going to training, that's for sure. I don't miss the pressure of having to watch what I eat and worry about if I say something, the media's going to take it the wrong way and twist it around and things like this. There's a lot of things I won't miss but I'll most definitely miss my guys and I met a lot of great people along the way so I'll miss everybody," Johnson said.
"I left on my own terms. I left on good terms and I left as one of the best fighters ever in the weight class. I think I did my job."
As far as the possibility of a return to action, Johnson remains steadfast that he's fought his last fight and he's leaving mixed martial arts to a younger generation of athletes who can take over in his absence.
While it's only been a month since he retired, Johnson remains resolute in his decision and has no plans to ever put on the gloves again to step back into the Octagon.
"I'm finished," Johnson said. "I do want to see the younger generation take over and watch their success. I want to sit back and be a fan now instead of a fighter.
"I'm not about that life anymore. It was fun while it lasted. I'm happy. I'm honestly happy and I'm moving onto something bigger and better and safer."