Antetokounmpo brothers report for Greek military service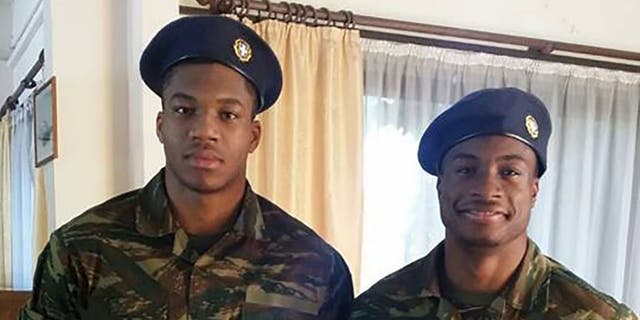 NEWYou can now listen to Fox News articles!
Just a few days after the Greek national team was eliminated from Olympic qualifying, Milwaukee Bucks star Giannis Antetokounmpo is off to represent his country in a different way.
The 6-foot-11 forward and point guard reportedly joined older brother Thanasis Antetokounmpo at a military installation in Avlona -- just north of Athens -- this week to begin their compulsory service, a term that is expected to begin next year.
Greek men between the ages of 19-45 are required to serve at least nine months in the military according to information published by the U.S. embassy in Athens.
The Antetokounmpo brothers are expected to serve just three months due to their status as Greek citizens living abroad, while Greek newspaper Proto Thema reports that the duo will defer their service to next summer due to the upcoming NBA season.
Giannis -- a first-round pick of the Bucks in 2013 -- averaged 16.9 points per season last season, while Thanasis was drafted by the New York Knicks in 2014 and spent last season with the NBA D-League's Westchester Knicks.