Anderson Silva vs. Michael Bisping headlines UFC's return to London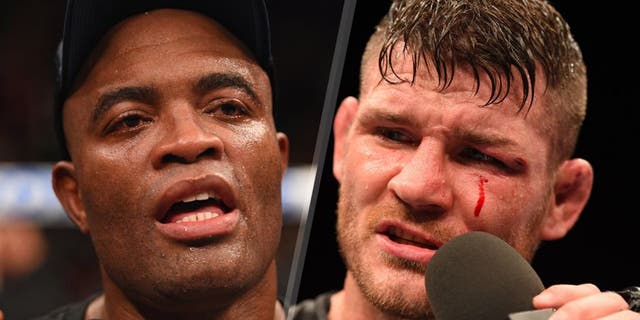 The UFC's return to London just landed a blockbuster main event as former middleweight champion Anderson Silva will face off with Michael Bisping in a five-round battle Feb. 27.
UFC president Dana White announced the matchup on Twitter on Thursday.
Bisping was originally scheduled to meet Gegard Mousasi on the card, but the UFC opted to shift gears and put a fight together that's been talked about for several years.
Silva actually mentioned that his return to the Octagon in 2016 could be against Bisping, but the chatter about the bout died down after the Brit was matched up with Mousasi instead.
Now it appears the UFC has opted to put the two middleweights together in a fight that will now serve as the main event on the UFC Fight Pass card in February.
Back in September when the rumor first surfaced, Bisping was all about the fight after asking to take on Silva for several years while he was still the middleweight champion. Bisping admits his desire to land the fight waned a bit after Silva tested positive for banned substances following his last bout against Nick Diaz at UFC 183, but ultimately it was still a fight he would be interested in because the Brazilian has reached legendary status over the years.
"Anderson is an absolute legend. Of course, the whole thing is a little bit tainted now because of the positive drug test so it's not the burning desire it once was. But that said, it has peaked my interest shall we say," Bisping said.
"I will call the UFC and say, 'Listen if they want to do it, then f--- it, I'm in'."
Bisping will now face Silva in a return to his home country of England for the first time in more than five years since his last appearance in 2010 at UFC 120.
There's no word yet from UFC officials if Mousasi will remain on the card against a different opponent now that Bisping has been booked against Silva.