Analysis: Liverpool, Man City and Man Utd in Key Boxing Day Matches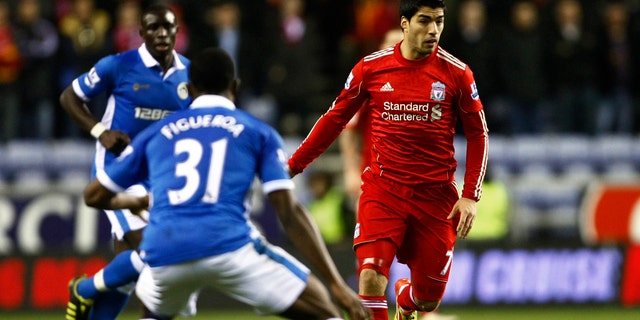 For many, the day after Christmas is spent cleaning up discarded wrapping paper and munching on leftovers. In the UK, however, it's Boxing Day and for fans of England's Premier League it's a day spent watching a full program of matches. As the race for the top of the Premiership heats up, the Boxing Day games this year could prove decisive down the road. Fox News Latino takes a look at three matches that could have major implications as the season progresses.
Liverpool vs. Blackburn Rovers (10:00am EST): The drama surrounding embroiled striker Luis Suárez continues to plague Liverpool as they take the pitch against Blackburn on Monday. The Uruguayan, whose alleged racially charged comments aimed at Manchester United defender Patrice Evra landed him an eight game ban, will take the pitch as his team appeals the ruling. Arguably the Premier League's most creative striker, Suárez is always in the mix and has no problem taking aim at the goal. Despite the controversy and most likely because of his dazzling play, Suárez still has the backing of his team who during a recent match against Wigan donned tee shirts with Suárez's name and image in solidarity.
For their part, the Blackburn squad is deep in the relegation zone at the bottom of the Premiership with manager Steve Kean on the hot seat. While they're scrappy, and have a legitimate talent in the Spanish forward Rochina, they will need to pull out all the stops to beat a determined Suárez and Liverpool.
Manchester United vs. Wigan Athletic (10:00am EST): Coming off a 5-0 stomping against Fulham, Manchester United is back on a roll. Man U manager Sir Alex Ferguson likes to mix and match players so it remains to be seen if Mexican striker Javier "Chicharito" Hernandez will make it on the pitch. He sat out of the match against Fulham, but the game against Wigan could be a good chance for the recently injured star to get some field time. Although on the other hand, the Red Devils have all their talented forwards healthy so it's a toss-up.
Wigan is a young, fast team and how this match turns out depends on how manager Roberto Martínez decides to let his squad play. One idea is to sit back, defend and hope for a draw or a lucky goal. The other is to play up against Man U and attack. If they try to match up and fail, things could get ugly fast for Wigan. Two players on Wigan that Man U will need to watch are the Honduran Maynor Figueroa, who is solid in the air and has a nasty penchant for making moves from a distance, and the big Colombian Hugo Rodallega, who could cause trouble for the ailing Manchester defense.
Also keep an eye out for emerging Victor Moses, a Nigerian who could very well become a superstar in the near future.
Manchester City vs. West Bromwich Albion (10:00am EST): Manchester City needs to beat West Brom to keep their ever-slighting grasp on the top of the Premiership. While playing an away game at West Brom won't be a cakewalk, Man City has at least two top tier international players for every position and barely a weak spot in their whole squad. Man City is always on the attack and if they find a team's weakness they'll exploit it over and over again.
West Brom manager Rory Hodgson, of former Liverpool fame or infamy depending on who you ask, is an old school tactician who players either thrive under or they don't. Luckily for him, the West Brom squad has bought into his system. Even with the team unity, the Baggies will need to play stellar defense and have their hometown fans roaring if they want any chance of beating Man City.
Follow Andrew O'Reilly on Twitter: @aoreilly84
Follow us on twitter.com/foxnewslatino
Like us at facebook.com/foxnewslatino