Suarez Denies Race Comment, Chicharito's Touch, and Higuain's Day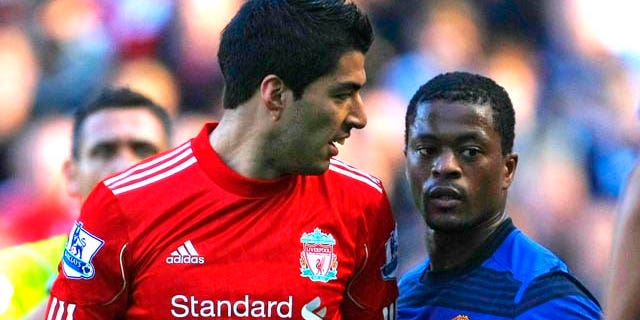 Just call him Mr. Hat-trick because it seems that everything that Argentine striker Gonzalo Higuaín accomplishes these days is in triplicate.
For the third time in four games over the past two weeks, Higuaín registered a hat-trick, in Real Madrid's 4-1 triumph over Real Betis in Spain's La Liga on Saturday.
Higuaín started his amazing streak by recording a hat-trick in Real's 4-0 triumph at Espanyol on Oct. 2 before duplicating the feat in Argentina's 4-1 World Cup qualifying victory over Chile in Buenos Aires, Argentina on Oct. 7 before he was blanked in yet another South American qualifier at Venezuela last Tuesday.
On Saturday, Higuaín accomplished his latest hat-trick in the second half. He struck in the opening minute of the second half. Brazilian star Kaka tallied in the 59th minute for a two-goal advantage, but Jorge Molina cut the lead in half for Betis 10 minutes later. Then Higuaín took center stage again, connecting in the 70th and 73rd minutes. Both goals were set up by Argentine international Angel Di Maria.
"I am happy, very happy for having scored and helped the team," Higuaín told the Associated Press. "A few weeks ago I wasn't playing, but I am in the same form as before, just taking advantage of the opportunities I have. After all the time I had to wait to play, now I am enjoying it even more."
Higuaín, who has eight goals, is second only to fellow Argentine Lionel Messi, who has tallied nine goals for Barcelona. Messi struck twice for Barca in its 3-0 victory over Racing Santander, boosting his goal total in all competitions to 16 goals in 12 matches.
Can Higuaín make it four hat-tricks in five games? The world will find out on Tuesday when Real hosts Lyon (France) at Santiago Bernabeu Stadium in the UEFA Champions League.
England
Javier Hernández
Chicharito is expected to start for Manchester United against Otelul Galati (Romania) in a Group C match in the UEFA Champions League on Tuesday after securing his third goal of the season -- a header in the 81st minute -- that lifted the English Premier League club to a 1-1 draw with Liverpool.
"It was absolutely fantastic," United manager Sir Alex Ferguson told MUTV. "[Defender Martin] Skrtel's got his arms right around him and he's managed to free himself and get the header in. His record of goal scoring is unbelievable, the boy. He's just got that touch."
Hernández was not as impressed. "I scored a goal but it is Manchester United that scored," he said. "It doesn't matter who scored the goals. There are no heroes here."
Hernández and United will host archrival Manchester City at Old Trafford in a battle for first place on Saturday.
Luis Suárez
The Uruguayan striker denied allegations that he racially abused Manchester United defender Patric Evra in Liverpool's tie in the EPL match. Evra, a black French left fullback, told TV station Canal Plus that Suárez hurled racial insults at him. The English Football Association has started an investigation. On his Facebook page Suárez said that he was "upset by the accusations of racism. . . . I can only say that I have always respected and respect everybody. We are all the same."
Spain
Andrés Guardado
Mexican international midfielder Andrés Guardado, regarded as the best player of the match in the opening half, set up both goals in Deportivo's 2-2 draw with Gimnastic in the Second Division. He helped create Salomão's goal in the 30th minute, which gave Deportivo a 1-0 lead. After Gimnastic struck twice to grab a two-goal advantage, Guardado again create a goal -- in the 89th minute. Guardado sent a long cross from Deportivo's end into the penalty area. Colotto headed the ball into the path of Aythami Artiles, who connected on a header of his own from the penalty spot for the equalizer.
France
Mexican international goalkeeper Guillmero Ochoa could not deny Kevin Gameiro, who registered a hat-trick for Paris Saint-German in its 3-1 win over Ajaccio in Ligue 1. Gameiro scored in the second, 59th and 53rd minutes.
Pablo Osvaldo
Argentine native Pablo Osvaldo found the back of the net in the fifth minute behind his fourth goal in six matches to give Roma a 1-0 lead over Lazio. But Lazio equalized as Hernanes converted a penalty kick after a foul in the penalty area.
Esteban Cambiasso
Argentinean Esteban Cambiasso gave Inter an early lead, but Catania rallied in the second half en route to a 2-1 Serie A triumph behind goals from Sergio Almiron and Francesco Lodi.
Sebastian Leto
Yet another Argentine, winger Sebastian Leto struck for a first-half brace to power Panathinaikos to a 3-2 away win over Xanthi. Panathinaikos, which has accrued 10 points in four matches, moved atop the Greek League via goal differential.
Gonzalo Segares, Sebastian Grazzini, Diego Chávez
In a manner of heart-pounding minutes, Costa Rican defender Gonzalo Segares went through agony and ecstasy for the Chicago Fire. He was called for a penalty kick in the 90th minute, but set up both goals, including the game-winner in extratime to give to the Chicago Fire a 2-1 comeback win over D.C. United in Major League Soccer action at RFK Stadium.
"It was a very important win," Segares said. "I think it was a crazy last five minutes, but we're pretty excited that we got the three points and now we focus on Columbus next week."
Canadian international Dwayne De Rosario lifted United into a 1-0 advantage with a penalty kick, his league-best 15th goal, in the 90th minute after referee Jorge González ruled Segares for pulling down Santino Quaranta in the penalty area.
Argentine Sebastian Grazzini started the comeback in the 92nd minute with his fifth goal of the season as his volley beat goalkeeper Bill Hamid to make it 1-1. But Chicago was not interested in a tie. In the 94th minute, Segares sent a cross to Uruguayan Diego Cháves, who tallied his fifth goal of the season and the match-winner.
Marvin Chávez
Honduran midfielder Marvin Chávez scored for FC Dallas in its 2-0 victory over the Vancouver Whitecaps FC at Pizza Hut Park. The win helped Dallas (15-11-7, 52 points) equal the club record for most points in a season, set during the 2006 season.
The Honduran international midfielder was the victim a red card awarded to New York Red Bulls captain and striker and former French international Thierry Henry in Sporting Kansas City's 2-0 MLS home win. The Red Bulls were reduced to 10 men in the 28th minute when Henry was given a red card by referee Kevin Stott for violent conduct after colliding Espinoza, who was on the ground, from behind. "I remember we were fighting for the ball and it went to my right a little bit so I slide tackled and played it," Espinoza was quoted by MLSSoccer.com. "All of a sudden, I just felt a knee in my shoulder. I thought someone just ran through me."
World Cup qualifying
Guatemala advanced to the semifinal round of CONCACAF World Cup qualifying without even playing. The Central Americans (4-0-0, 12 points) booked a spot in the U.S. and Jamaica semifinal group after Grenada and St. Vincent and the Grenadines played to a 1-1 Group D draw in St. George's Grenada on Saturday. They are assured of finishing atop the group with two matches left.
Michael Lewis, who has covered international soccer for three decades, can be reached at SoccerWriter516@aol.com.
Follow us on twitter.com/foxnewslatino
Like us at facebook.com/foxnewslatino