Soccer Round-Up: Liverpool's Luis Suarez Uses His Head, UANL Tigres Rule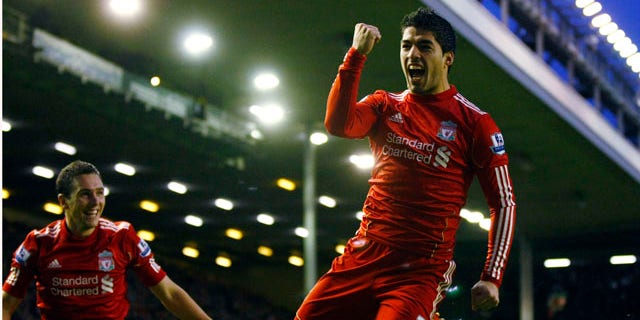 For the past two months, Uruguayan star Luis Suárez has found himself in the headlines for the wrong reasons.
Not for his goal-scoring prowess, but rather some negative news in terms of not one, but charges against him.
Suárez was charged by the English Football Association with using racist language towards Manchester United's Patrice Evra last month and improper conduct for raising his middle finger at Fulham fans last Monday.
So, imagine how relieved he was for making some news for something he accomplished on the pitch and not off of it on Saturday.
Suárez scored the lone goal of Liverpool's 1-0 win over Queens Park Rangers in the English Premier League. The victory snapped a string of four consecutive home ties. The last time the Reds won at Anfield was a 2-1 triumph over Wolverhampton on Sept. 24.
It also was Suárez's first goal since a 2-0 away win at Everton on Oct. 1.
"The headlines don't matter, do they?" Liverpool manager Ken Dalglish said. "But there'll be nice headlines for him tomorrow. He scored with a header, which doesn't happen too often, and he played really well."
QPR manager Neil Warnock was just as impressed. "I think Suárez looked amazing today," he said. "Oh to manage him."
Suárez worked his magic in the 47th minute. Scotland international Charlie Adam started the sequence with a poor corner that was headed back to him. Adam then sent the ball back into the penalty area as Suárez headed home from six yards past goalkeeper Radnek Cerny.
"It was good to see Luis on the scoresheet because the chances have been coming for him, but he's just not been able to get them into the back of the net," Adam said. "But like all top strikers, they always wait for their time."
Added QPR defender Bradley Orr: "He is unplayable. He's so strong, I didn't realize how strong he was for a small player. I love him. I'm a big Liverpool fan and to be on the same pitch as him was a pleasure."
Argentine Max Rodríguez returned to the Liverpool lineup and while he did not score, enjoyed an active game. He was denied by Cerny in what was regarded as the keeper's best save of the opening half. Suárez set up the midfielder in the 61st minute, but Rodríguez's close-range attempt was blocked. Seven minutes later, Cerny stopped Rodríguez yet again with another impressive save.

Mexico

Tigres UANL is at the top of the Mexican soccer world. The club captured its first championship in 29 years and third overall, recording a 3-1 victory over Santos Laguna in the second leg of the Apertura final on Sunday. Tigres clinched the final series on aggregate goals, 4-1 after it registered a 1-0 first-leg triumph in Torreon on Thursday.
Brazilian Daininho scored one goal and set up another for Tigres while Héctor Mancilla and substitute Alan Pulido added goals.
"This is something hard to describe," Tigres midfielder Damián Alvarez told reporters. "We carried the burden of the club's history of not being able to get a title and now we feel privileged, this moment is unforgettable for us."
Santos found itself playing with 10 men in the 13th minute after former Mexican international goalkeeper Oswaldo Sánchez was sent off for bringing down Danilinho in the penalty area.
The Clausura begins on Jan. 6.

England

Carlos Tevez

Manchester City turned down an offer by AC Milan to loan out the Argentine striker. Milan CEO Adriano Galliani said City wanted to sell the international. "Manchester City want us to buy Tevez definitively and we have suggested that we sign the player on loan, with an option to purchase," Galliani told Italian media. "We're not changing our position." Tevez fell out of favor with coach Roberto Mancini. Galliani said he hoped that the EPL club would change its minds. "It's going to be a long negotiation," he said. Milan hopes to sign Tevez during the January transfer window. "Anything can happen in the transfer market," he added.

Javier Hernandez

Chicharito did not play for Manchester United last week due to a sprained left ankle he suffered in a 1-0 win at Aston Villa on Dec. 3. So, how did ManU fare without the Mexican goal-scoring machine? Well, it was mixed results, which included a devastating loss and elimination from the UEFA Champions League. On Wednesday, United crashed out of the Champions League thanks to a stunning 2-0 defeat to FC Basle (Switzerland) on Wednesday. It was only the third time in 17 years that ManU ailed to reach the knockout round.

"We were careless. We let ourselves down badly," United manager Sir Alex Ferguson said. "Now we have to deal with the disappointment. . . . It is a loss because it is the best tournament in the world. It is a marvelous tournament. Now we are in a competition I have never been in with Manchester United. It does mean Sundays right through and Thursday-Sunday matches. That has to be dealt with. That is our penalty for not qualifying tonight."

On Saturday, the Red Devils rolled to a 4-1 triumph over Wolverhamtpon as Wayne Rooney, who broke a personal eight-game scoreless drought, and Nani each finished with two goals. The win lifted United with two points of Manchester City, which visits Chelsea on Monday. Surely, Sir Alex would have traded that win for a victory in the Champions League.

Spain

Marco Ruben

Ruben, an Argentine, scored in the 72nd minute to help Villarreal avoid a loss and settle for a 1-1 draw with 10-man Real Sociedad. The tie snapped a four-game losing streak in La Liga and the Champions League.

Andrés Guardado

Guardado could be too good for the Spanish Second Division. The Mexican international midfielder was at his offensive best on Saturday, creating the first goal and scoring the second one in Deportivo La Coruña's 3-1 win over Numancia.

Guardado, who was dangerous for most of the game, creating chances for his teammates, did just that for Lessard in the 14th minute. After Numancia lost the ball at midfield, Guardado launched a counterattack down the right flank. He sent a cross to Alex Bergantiños at the edge of the penalty area. Bergantinos sent a pass to Valderon, who set up Lassad's seventh goal,.

The Mexican lifted Deportivo La Coruña into a two-goal advantage in the 33rd minute. Guardado took advantage of Jaio's header clearance and fired a shot that hit one post and traveled past goalkeeper Edu Navarro for his sixth goal.

Radamel Falcao

The Colombian tallied for Atletico Madrid in its 4-2 loss at Espanyol. After the hosts grabbed a 3-0 advantage, Falcao found the back of the net in the 32nd minute. However, Sergio García restored the three-goal in the 54th minute before AM's Arda Turan closed out the scoring in the 83rd minute.

Italy

Rodrigo Palacio

Palacio, an Argentine, scored late in the second half to help boost Genoa to a 2-0 victory over Siena. After Marco Rossi gave the winners a 1-0 lead in the 56th minute, Palacio gave the visitors some breathing room in stoppage time scoring into an empty net as he dribbled past goalkeeper Zeljko Brkic.

Diego Pérez

The Uruguayan defensive midfielder set up Alessandro Diamanti in third-place Bologna's 2-2 home draw with A.C. Milan. Pérez passed to Diamnati, who ran around Thiago Silva before he launched a hard shot that sailed past goalkeeper Marco Amelia for the equalizing goal.

Germany

Adrian Ramos

Ramos, a Colombian international, headed home a goal to tie the game in the 25th minute. However, it wasn't enough for Hertha Berlin, which ran its winless streak to five games (0-4-1) with a 2-1 loss to Schalke 04.

Juan Pizzaro

The Peruvian striker scored one goal and set up another for Werder Bremen in its 4-1 drubbing of VfL Wolfsburg. Pizzaro made it 2-0 in the 45th minute and turned playmaker as he set up Mark Arnautovic for fifth-place Bremen's third goal in the second half.

France

Renato Civelli

Civelli, an Argentine, set up Eric Mouloungui's tying goal in the 21st minute of struggling Nice's 2-1 loss to Auxerre, which escaped the relegation zone. Civelli passed to Mouloungui, who, with his back to the goal, turned quickly and fired a shot into the top right corner.

Javier Pastore

The Argentine did not find the back of the net again in Paris Saint Germain's 1-0 victory over Sochaux, but he came close to setting up a goal by French international striker Kevin Gameiro. Pastore sent his teammate a backheel pass that Gameiro fired over the crossbar. Gameiro scored his ninth goal of the season and first in two months earlier in the match.

Guillermo Ochoa

His last-place club Ajaccio, only moments away from only its second win of the Ligue 1 season, the Mexican international goalkeeper allowed a goal deep into stoppage time in a 2-2 draw at Nancy. Daniel Niculae tallied three minutes into added time for Nancy. Ochoa was credited with two saves.

Argentina

Juan Sebastian Verón

Verón, 36, a former Argentine international midfielder who starred for Manchester United and Chelsea, said that he will delay his retirement from Estudiantes for a minimum of six months. Verón reportedly said he was staying after pressure from his teammates not to call it a career.

Michael Lewis, who has covered international soccer for more than three decades, can be reached at SoccerWriter516@aol.com.
Follow us on twitter.com/foxnewslatino
Like us at facebook.com/foxnewslatino