Allen, No. 14 Aggies beat No. 21 Bulldogs to remain undefeated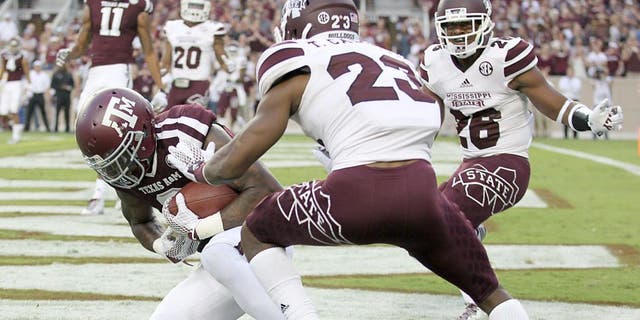 NEWYou can now listen to Fox News articles!
COLLEGE STATION, Texas -- Kyle Allen threw for 322 yards and two touchdowns to help No. 14 Texas A&M remain undefeated with a 30-17 win over No. 21 Mississippi State on Saturday night.
The Aggies (5-0, 2-0 Southeastern Conference) led by 14 at halftime. They didn't score a touchdown in the second half, but added two field goals and forced two turnovers to secure the victory.
Dak Prescott capped a 68-yard drive with a 5-yard touchdown run that got Mississippi State (3-2, 1-2) within 27-17 with about 12 1/2 minutes remaining.
A 30-yard field goal by Taylor Bertolet pushed the lead to 30-17 midway through the fourth quarter.
Allen threw touchdown passes of 1 and 29 yards in the first quarter and Tra Carson ran for a score in the second to help A&M to the win.
Prescott threw for 210 yards and ran for 96 more.
Myles Garrett had seven tackles, two tackles for losses, including a sack, forced a fumble and batted down a pass to lead A&M's defense. He has 7 1/2 sacks this season.
Allen had to work for more than half of the game without starting receiver Ricky Seals-Jones, who was ejected for targeting midway through the second quarter.
The 6-foot-5, 240-pound Seals-Jones leveled 5-11 safety Brandon Bryant with a hit to the head on a passing play by A&M. As he left the field, Seals-Jones jumped around in front of the crowd waving his arms and received a loud ovation.
Seals-Jones took to Twitter late in the game, retweeting a tweet that questioned the call on his hit and included a video of it.
Prescott extended his streak of passes without an interception to 225. The nation's longest such streak almost came to an end early in the fourth quarter when Garrett tipped one of his passes at the line and Brandon Williams came just short of grabbing it.
Fred Ross had 11 receptions for 103 yards for his third career 100-yard receiving game for Mississippi State.
De'Runnya Wilson caught a 17-yard pass on third down on the first drive of the second half. But Donovan Wilson stripped the ball and recovered it for the Aggies.
Texas A&M's offense stalled on the ensuing drive and the Aggies settled for a 24-yard field goal that made it 27-10.
The Bulldogs were driving again on their next possession when Garrett tackled Aeris Williams, causing a fumble which A&M recovered on its own 3.
Daeshon Hall added a sack for the Aggies to give him five this season when he shed a blocker and took down Prescott for a five yard loss in the second quarter.
Texas A&M capped their first drive with a 1-yard touchdown reception by Seals-Jones on fourth down to make it 7-0.
A 38-yard field goal by Westin Graves cut the lead to 7-3.
The Aggies extended the lead to 14-3 when Allen connected with Damion Ratley on a 29-yard touchdown pass with about three minutes left in the first quarter.
A 55-yard field goal by Taylor Bertolet made it 17-3 early in the second. It was the longest field goal by an Aggie since Terence Kitchens hit one from 62 yards in 1999. Bertolet missed a 49-yard attempt about two minutes before halftime.
Malik Dear scored on a 52-yard run to cut the lead to 17-10 about 12 minutes before halftime. Dear went untouched at the line and simply pushed away Armani Watts when he tried to tackle him near the 5 yard line on the run.
The 1-yard touchdown run by Carson extended Texas A&M's lead to 24-10 just before halftime.