All eyes on Carson Palmer as Cardinals look to take next step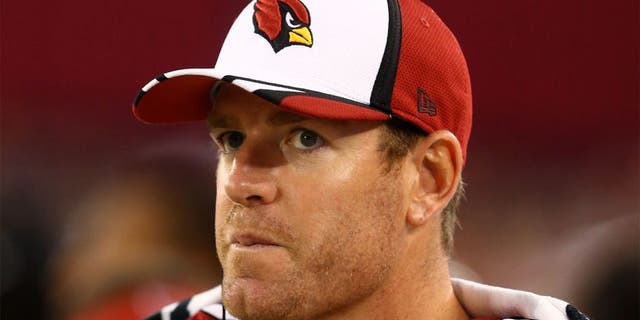 GLENDALE, Ariz. -- The first sentence when talk turns to expectations for the Arizona Cardinals invariably includes the words Carson and Palmer.
His 2014 season began as Palmer's most promising since those heady days shortly after the Cincinnati Bengals made him the No. 1 overall pick in the draft in 2003. Surrounded by talent, with a firm grasp of an offensive scheme he loved, that team success that had eluded him for so long was happening.
Then he slipped on some loose turf and tore his left ACL. Palmer's season was over. When backup Drew Stanton also went down with a knee injury, the Cardinals went from 9-1 to 11-5, finishing with a wild-card loss at Carolina. Not many teams succeed in the playoffs without their two best quarterbacks.
All eyes will be on Palmer when the team begins training camp workouts Saturday at University of Phoenix Stadium. His rehabilitation went exceptionally well, by all accounts.
But Palmer is entering his 13th season in the NFL. He will turn 36 before this season ends. He's a smart guy, well aware that there's not much sand left in the top of that NFL career hourglass.
"You only get so many opportunities," Palmer said. "If you're lucky enough to get to play as long as I have, it takes you until you know you're getting to the end that you realize how small that window is and how few opportunities you're going to have."
The Cardinals were 6-0 when Palmer started last season. In his last 15 starts, a period that encompasses the time after he finally began grasping the intricacies of coach Bruce Arians' offense, Arizona is 13-2.
Here are some things to consider as the team begins camp:
GROUND GRIEF: The Cardinals were among the NFL's worst running teams last season. Andre Ellington, bothered most of the season with a foot injury, returns healthy, and he should get some relief in the form of rookie David Johnson, the Northern Iowa running back drafted in the third round.
Arizona's top free agent acquisition, left guard Mike Iupati, is one of the best run-blocking linemen in the NFL. If Jonathan Cooper can shake off his long, slow return from a leg injury, there might actually be some holes for backs to run through.
PASS RUSH: An improved pass rush is a stated goal for the Cardinals, who often had to rely on a dizzying array of stunts and blitzes to put pressure on the opposition. Outsider linebacker Alex Okafor came on strong late last season and there are a number of others vying for time at OLB, including free agent signee LaMarr Woodley and second-round draft pick Markus Golden. Arizona expects even further leadership and improvement from Pro Bowl defensive end Calais Campbell.
INSIDE LINEBACKER: General manager Steve Keim is adept at finding older players with something to prove, and he has another one in inside linebacker Sean Weatherspoon. Kevin Minter, slowed by injuries, needs to show he still can be the player the Cardinals envisioned when they drafted him in the second round in 2013. And remember Darryl Washington? Once maybe the fastest and one of the NFL's best at his position, he has yet to be reinstated from his suspension of at least a year for violating the league's substance abuse policy. Once that's resolved, he faces more punishment from the NFL over a domestic violence case.
COMPETITION: Center and nose tackle are up for grabs in camp. Free agent A.Q. Shipley and Ted Larsen are the center candidates, newcomer Corey Peters and Alameda Ta'amu the nose tackles.
BOWLES OVER: Todd Bowles is gone after building a reputation as an innovative defensive coordinator. After winning the AP's inaugural Assistant Coach of the Year award, Bowles is head coach of the Jets. Arians stayed in house, not wanting to disrupt the scheme that had been so successful. The choice was James Bettcher, just 34 years old and promoted from outside linebackers coach. He has coached in the NFL for four years.