Aggies Hope To Rediscover Offensive Rhythm Against Western Carolina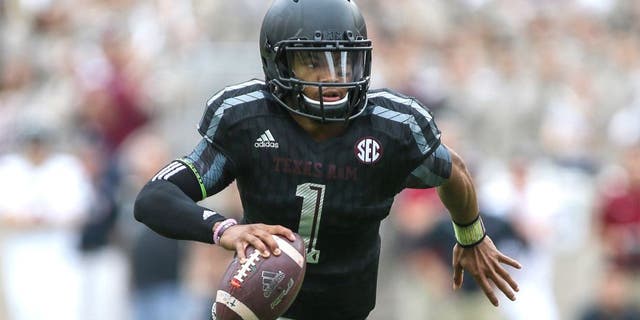 COLLEGE STATION, Texas (AP) -- Texas A&M has lost three of its last four games and is struggling to regain its footing on offense.
The Aggies will get a good chance to do that on Saturday when they take a break from Southeastern Conference play to host Western Carolina, an FCS team, in the first meeting between these schools.
Texas A&M is coming off a loss to Auburn where they turned the ball over three times and allowed more than 300 yards rushing. Coach Kevin Sumlin knows they've got to clean up their play if they hope to turn things around.
"Like most teams in America, when we limit turnovers and penalties, we have won," Sumlin said. "When we haven't, we haven't won. Turnover ratio becomes a complete team statistic, ability to get turnovers and to protect ball on offense."
Freshman quarterback Kyler Murray was responsible for all three turnovers in that loss by throwing three interceptions in his second career start. His status for Saturday's game is up in the air after he left that game after taking a hard hit to the head.
Sumlin won't say exactly what's wrong with him, but did acknowledge that he might not be ready and the team could start either Kyle Allen or Jake Hubenak in his place.
"We will see where Kyler is from a physical standpoint," Sumlin said. "If he's in place where he's practiced, he needs reps, needs to be able to do that, and is ready to go, he'll be the starter. If not we'll make decision later on in week."
Murray earned the starting job after a tough stretch by Allen that got him benched. Murray was great in his first start, throwing for 223 yards and a touchdown and running for 156 yards and another score in a win over South Carolina. He threw for just 105 yards in the loss for Auburn while struggling with the turnovers before leaving with his injury in the second half.
The Catamounts are coming off a win over Furman that improved them to 5-0 at home this season.
"You want to create an environment where it's tough to come play at your house -- and we're getting ready to go into one of the premier teams that has a lot of experience with that," Western Carolina coach Mark Speir said. "A lot of their traditions are built on the 12th man and the great tradition it is, and I think everybody tries to build that 12th man mentality at home."
Some things to know about the Western Carolina-Texas A&M game.
HOMECOMING
Western Carolina quarterback Troy Mitchell will return to his home state on Saturday. Mitchell, who grew up in nearby Houston, is the school's all-time leader in total offense with 8,891 yards in his career. He earned Southern Conference player of the week honors this week after throwing for 305 yards and three touchdowns and running for 55 yards and two more scores against Furman.
Sumlin knew about him when he was in high school but admitted this week that he didn't recruit him -- but probably should have.
"He's one of greatest players in their history at quarterback," Sumlin said. "Will be excited to come in here. Probably have a lot of people here. He's an exciting player."
STOPPING THE RUN
Texas A&M's defense is focused on shoring up its run defense after giving up a season-high 311 yards rushing last week. But it certainly wasn't the first time the unit has struggled in that area and the Aggies rank 115th in the nation by allowing 218.3 yards rushing a game. They've allowed more than 230 yards rushing in each of the last four games.
NEWSOME'S WORK
Western Carolina running back Detrez Newsome could be a problem for an A&M defense struggling to stop the run. Newsome has 857 yards rushing with eight touchdowns this season. He's coming off a big game where he rushed for 184 yards.
PILING UP TACKLES
Texas A&M free safety Armani Watts leads the Aggies and is fourth in the SEC with 88 tackles. He had 13 tackles last week for his fifth game this season with at least 10 tackles. His best game came against Mississippi when he piled up a career-high 20 tackles, which were the second-most in school history for a defensive back. He's 12 tackles away from becoming the first A&M player to reach 100 tackles since 2010
MORE FROM FOX SPORTS SOUTHWEST:
- PHOTOS: Cowboys Cheerleaders Auditions
- Ranking NFL quarterback salaries
- Highest paid player on every NFL team