After settling on Lambert, UGA ditches no-huddle offense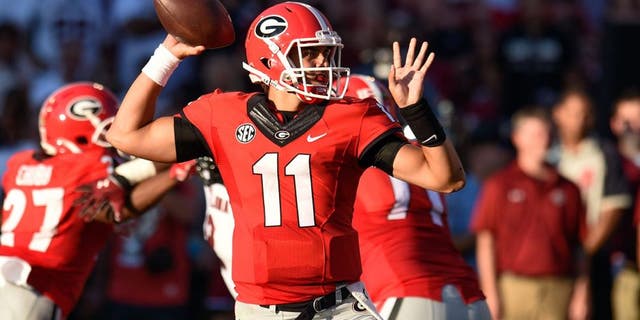 The Dawgs appears to have finally settled on Lambert as the starter. Dale Zanine USA TODAY Sports
The roller coaster that has been Georgia's quarterback competition appears to be at an end following the Auburn game, in which Greyson Lambert took every snap behind center. The Bulldogs only scored one offensive touchdown in the game, but they did not turn the ball over and allowed the defense to control the game in the 20-13 road win.
"I keep saying it: I'm here to do whatever I can to help the team win," said Lambert following Wednesday's practice "As a competitor, I want to play. But my mindset had to shift to approach it a little bit different (when he was benched). Then I said, 'what can I do from this position in order to help the team?'"
Head coach Mark Richt was able impressed with how the transfer quarterback handled his mid-season demotion.
"All of our QBs have had playing time and had it taken away or whatever have all kept their focus and have been working hard and not been crying or moping around," Richt said. "They know it may come around again. I thought Greyson handled very well."
One change made to the offense after Lambert was inserted back into the lineup was to ditch the no-huddle offense. The switch appears to have paid off so far.
"The last two games we've huddled," Richt said. "If you're no-huddling and you're scoring, it's good stuff. But if you're no-huddling and you're not getting first downs and you're not putting points on the board, you probably should huddle."
Lambert believes the change has made not only himself but the overall offense better.
"Huddling was what we did at Virginia actually. So moving back and shifting back to that is a pretty easy transition," Lambert said. "It kind of allows us to communicate a little bit better, whether it's the play or shifts and motions."
With two games and a bowl remaining, don't be surprised if only Lambert takes every meaningful snap for Georgia to close out the season. After a long, up-and-down season, the Bulldogs appear to have finally settled on their man.
MORE NEWS: Want stories delivered to you? Sign up for our College Football newsletters.