AFC North early scouting report: Players to watch in New Year's Eve bowl games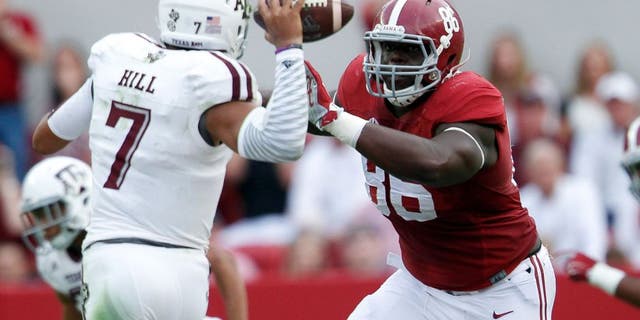 College football aficionados will undoubtedly be tuning into the Orange Bowl and Cotton Bowl on Thursday, but NFL fans have plenty of reasons to watch before bringing in the New Year, especially those of teams that are already thinking about the 2016 draft.
Here are the prospects to watch from Clemson, Oklahoma, Alabama and Michigan State:
Connor Cook, QB, Michigan State: 6'4, 220 pounds
Big Ten Quarterback of the Year is a three-year starter who has already won two Big Ten championships, a Rose Bowl and a Cotton Bowl. Lightly recruited out of northeast Ohio in high school, but has developed into the winningest quarterback in Michigan State history. Cook injured his throwing shoulder late in the season but says he is healthy for Alabama. Good size and mobility for the pros. Sometimes lets mechanics lapse and is known to make the occasional head-scratching decision. He has above-average arm strength and can put the ball into a small window but sometimes trusts his arm too much. Has played in a pro-style offense with a lot of responsibilities but has a career completion percentage of 57.8. Has shown a heavy tendency to rely on No. 1 receiver each of the last two years.
Potential fits: Hmm, a top-flight prospect in a pro-style offense from northeast Ohio. Could it be a homecoming or will Cleveland stick with Johnny Football?
A'Shawn Robinson, DL, Alabama: 6'4, 312 lbs.
Another likely top NFL pick if he decides to come out, the 2015 consensus All-American has 129 career tackles from the defensive tackle position in three seasons, nine sacks, 22 tackles-for-loss. May be the best run stuffer in the nation, but is also versatile enough to play defensive end in a 3-4 system.
Potential fits: There isn't a team in the NFL that wouldn't want a dynamic presence up front like Robinson. Every team in the AFC North could find a place for him, but only the Browns and Ravens have a high enough draft slot to get him.
Derrick Henry, RB, Alabama: 6'3, 242 lbs.
The 2015 Heisman Trophy winner and consensus All-American did it all in his first season as the starting running back for the Crimson Tide with 1,986 rushing yards and 23 touchdowns. The junior has not declared for the draft, but would be a top prospect if he does decide to come out.
Potential fits: The Browns were cursed the last time they took a running back from Alabama (Trent Richardson) so it's hard to envision them using a top-five pick on another. The Ravens could also use a bellcow to carry the load.
Aaron Burbridge, WR, Michigan State: 6'1, 208 lbs.
Four-year contributor blossomed into the Big Ten Receiver of the Year in his first season as a full-time starter. Caught 80 passes for 1,219 yards and seven touchdowns, averaging 15.2 yards per catch.
Has good size and strength. Always regarded as a pretty good athlete who arrived with great expectations but took time to develop.
Showed the ability to high-point the ball and make acrobatic, tough catches against tight coverage this season.
Potential fits: The Bengals may need to restock at receiver with both Marvin Jones and Mohamed Sanu likely to hit the free agent market. The Ravens need more depth at receiver after first-round pick Breshad Perriman missed the entire season. The Browns have done virtually nothing at the receiver position over the last two drafts despite having little talent at the position. Last year's fourth-round pick, Vince Mayle didn't even make the team out of camp.
Jayron Kearse, S, Clemson: 6'5, 220 lbs.
The total package at safety, Kearse is a two-year starter who was named an all-ACC first-teamer after compiling 52 tackles and a career-best 6.5 tackles for a loss. Kearse has good speed and can deliver a hit when he meets his target.
Potential fits: The Steelers are still looking for Troy Polamalu's heir apparent and need help in the secondary. Cincinnati's two starting safeties will have their contracts expire after the season although Reggie Nelson may be coming off his best season. The Browns may need a replacement for Tashaun Gipson, who will be looking for a big payday this offseason.
Eric Striker, DE/OLB, Oklahoma: 6'0, 220 lbs.
A first-team All-Big 12 selection and honorable mention for the league's Player of the Year, Striker recorded 61 tackles with 16 for a loss, 7.5 sacks and three forced fumbles. Striker is a dynamic athlete, but his 6-foot, 221-pound frame makes him a tweener between 3-4 outside linebacker, safety and 4-3 outside linebacker. There's some suggestion that he isn't a fit for all NFL defenses and that his size and skills might not transfer to the next level.