Advanced stats will probably love Michigan in 2016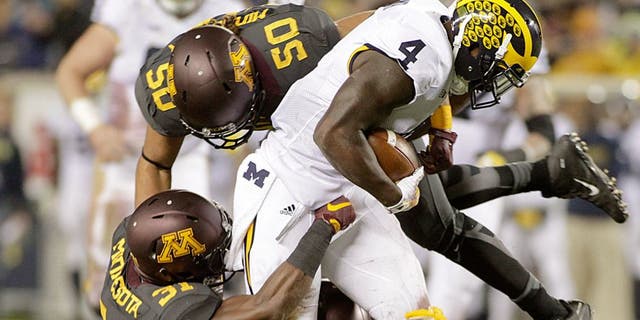 Michigan might be destined to be designated the Big Ten football favorite in 2016.
The drumbeat started when the 2015 season was barely over as writers including our Stewart Mandel tabbed the Wolverines among the early top 10 teams for next season.
Monday SBNation released early projected rankings for Football Outsiders S&P+ with Michigan the highest-rated Big Ten team.
The Wolverines are sixth nationally in projected S&P+, a figure derived from combining ratings of returning players, recent success and recent recruiting history.
Ohio State is next from the Big Ten at No. 14 with Michigan State No. 22, Nebraska 26th and Penn State 28th.
In the final actual S&P+ rankings from 2015, Ohio State was the highest-rated Big Ten team at No. 3 in the nation. Michigan was sixth with Michigan State 13th.
Michigan finished behind the Buckeyes and Spartans in the conference division standings, but the Wolverines are scheduled to lose only nine starters while Ohio State has lost 16 and Michigan State lost 12, including quarterback Connor Cook.