A Sharks fan rained popcorn on the Oilers bench as San Jose was eliminated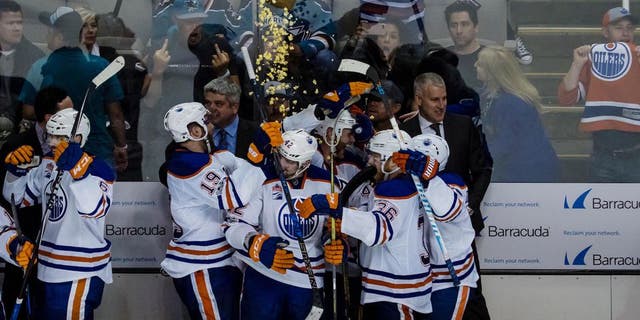 NEWYou can now listen to Fox News articles!
Not only did the Edmonton Oilers wrap up their series with the San Jose Sharks on Saturday night, they also got free snacks!
After Connor McDavid buried an empty-net goal to ice the gamein the closing seconds, a fan (presumably one who was in attendance to root for the Sharks) rained popcorn on the Oilers bench as they celebrated the series-clincher.
Understandably, someOilers players looked a bit caught off-guard but they weren't about to let a salty fan throwing salty treats ruin their joy. After all, it was Edmonton's first playoff series win since 2006.
I'm sure some people will say it was a classless gesture from the fan responsible, but how mad can you be about getting treated to complimentary popcorn after a big win? Seems like an added bonus. It's certainly better than someone trying to steal your equipment, that's for sure.