80-foot monster wave gives Brazilian surfer world record, judges say
Brazilian surfer Rodrigo Koxa rode the biggest wave ever last November in the waters off Portugal, judges announced Saturday at an awards show.
Koxa surfed an 80-foot monster wave in the waters off Nazare, one of the country's most popular seaside resorts, on Nov. 8.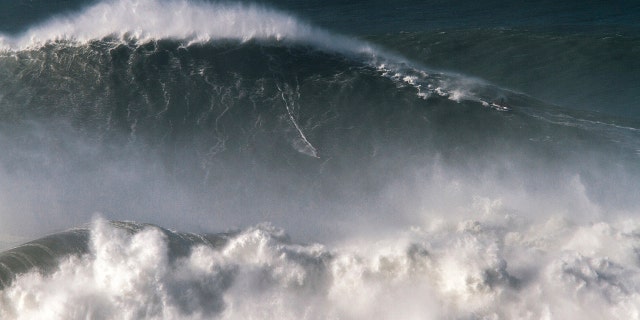 Judges at the Big Wave Awards in Santa Monica, Calif., officially announced Saturday that Koxa's ride was a record. He now holds the Guinness World Record for biggest wave surfed, the World Surf League said.
Koxa called the honor a "dream come true."
The Portuguese city of Nazare is located on the Atlantic coast between Lisbon and Porto.
The popular surfing spot is known for its high waves, produced by the underwater Nazare Canyon, the BBC notes.
The canyon produces interference between the incoming waves, which tends to make them much larger and much more dangerous.
Garrett McNamara, an American, held the previous record of 78 feet, which was also recorded in Nazare.
The Associated Press contributed to this report.