8 position players whose health could make or break their teams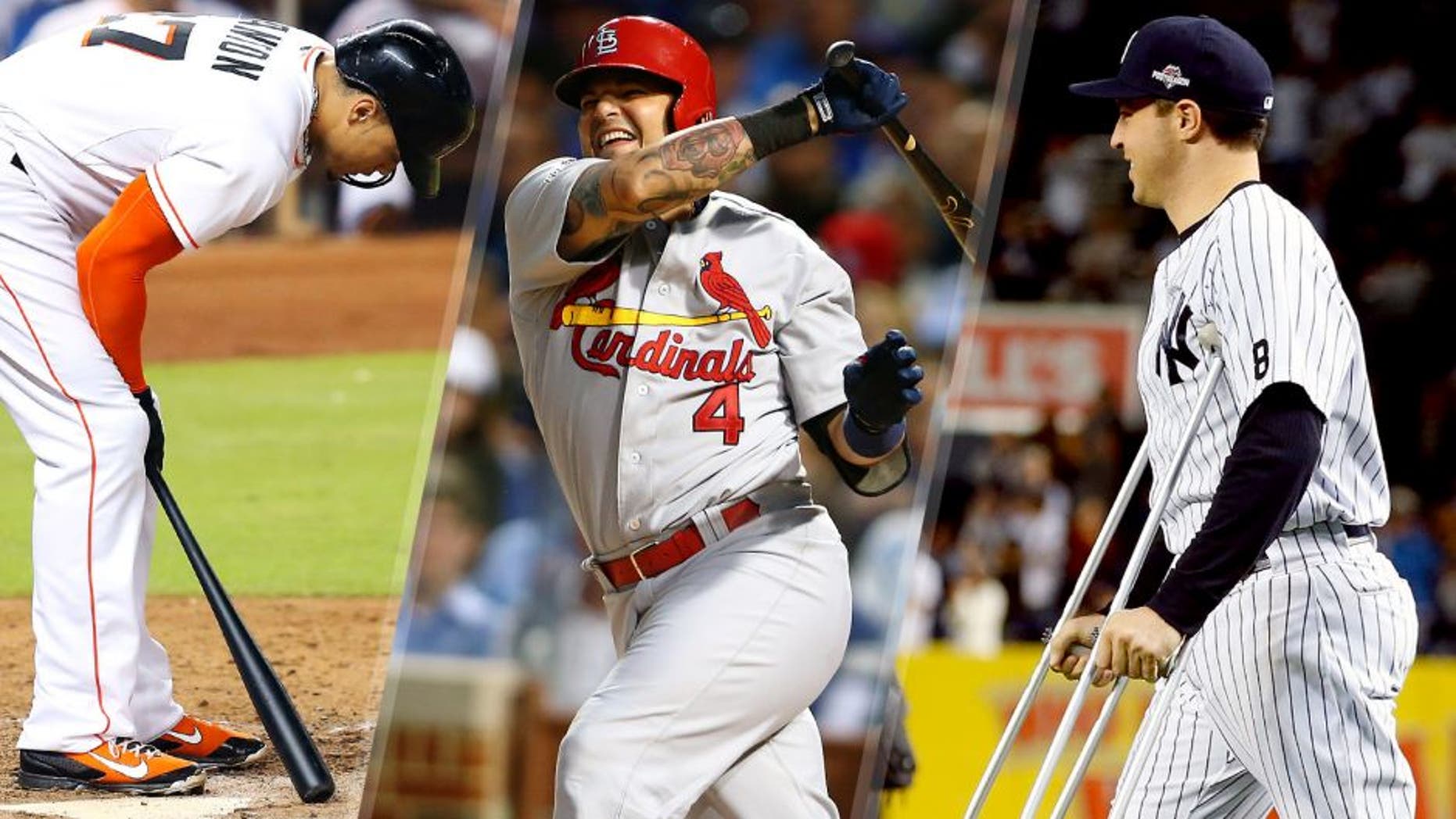 With position players due to report this week -- the ones who aren't already in camp, anyway -- the health of many stars who missed large chunks of last season and/or had surgery during the offseason will be a hot topic.
And that is especially true for these would-be contenders, all of whom will keep one eye on the training room and one on the field this spring. The recoveries that could shape their seasons:
Yadier Molina, C, Cardinals. The heart and soul of the Cardinals, Molina is the equivalent of having a coach on the field. He is vital to the success of the pitching staff and, despite a decline at the plate, still is a key contributor to the lineup. The timing of his thumb injury couldn't have been worse, as he missed the final two weeks of the 2015 regular season before returning at far less than 100 percent in the NLDS. Two surgeries later, Molina's status for the start of the season is in question.
Giancarlo Stanton, RF, Marlins. Few players mean as much to a team's success as Stanton, who never has played in more than 145 games in a season and has failed to top 125 games in three of the past four years. He was limited to 74 games in 2015 thanks to a broken hamate bone in his left hand that ended his season on June 26. Miami is a strong sleeper candidate this season, but only if Stanton can stay in the lineup.
Michael Brantley, LF, Indians. After shoulder surgery in November, Brantley is highly unlikely to be ready in April. And even May looks dicey. As Cleveland's best offensive player and a strong defensive outfielder, Brantley will be sorely missed. And keep in mind that the Indians needed outfield help even before Brantley went under the knife. That help didn't arrive in the offseason, and a slow start without Brantley would be damaging.
Albert Pujols, 1B, Angels. After offseason surgery on his right foot, Pujols is looking doubtful for Opening Day. The big question is how much time he will miss after that; anything more than a couple weeks will be costly considering he blasted 40 homers last season. Pujols has missed only eight games over the past two seasons combined, but Los Angeles' lineup already is a couple of bats short even with him in it. At age 36, the three-time MVP figures to be used more often at DH in an attempt to keep him as healthy as possible.
Mark Teixeira, 1B, Yankees. Teixeira was in the midst of an outstanding season when he fouled a pitch off his right leg on Aug. 17. What initially was projected as a day-to-day injury eventually was diagnosed to be a fractured shin. He played in just two more games -- none after Aug. 26 -- and New York sorely missed his bat. Heading into spring training, Teixeira is healthy and the Yankees need him to stay that way with backup Greg Bird out for the season after shoulder surgery.
Yasiel Puig, RF, Dodgers. Not only did he play in only 79 games last season, he was unproductive and exasperating. Puig missed five weeks early in the season with a hamstring injury, then was sidelined by another hammy issue for five more weeks late in the season. He returned in time for the postseason but went hitless in six at-bats. At the Dodgers' request, Puig has trimmed down and seemingly is embracing his fresh start. Now he must prove it on the field.
Hunter Pence, RF, Giants. Pence played all 162 games in 2013 and 2014 but was limited to just 52 games last season. He missed all of April while recovering from a fractured left wrist, then missed most of June with tendinitis in the same wrist. He didn't play after Aug. 17 because of a strained oblique. But the emotional leader is fully healthy this spring as San Francisco pursues another even-year World Series title.
Jung Ho Kang, 3B, Pirates. His strong rookie season came to a painful end on a takeout slide at second base on Sept. 17. Kang suffered a knee injury that required surgery -- and a recovery timetable of 6-8 months. Already fielding grounders in camp, Kang appears to be making good progress. However, the Pirates aren't going to rush him, which means the disabled list is possible even if Kang gets some playing time during spring training.