5 things you need to know about the Eldora Dirt Derby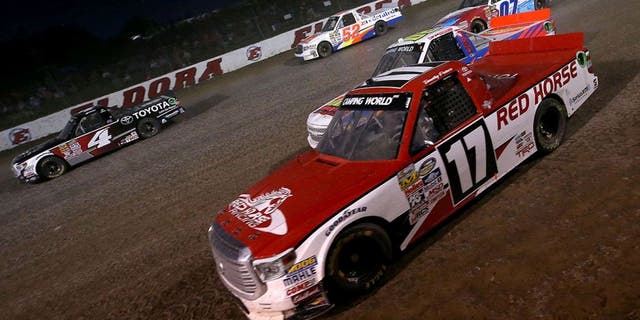 NEWYou can now listen to Fox News articles!
The NASCAR Camping World Truck Series is getting ready for Wednesday night's Aspen Dental Eldora Dirt Derby at Eldora Speedway in Rossburg, Ohio.
Live coverage of qualifying begins at 5 p.m. ET on FS1, with race coverage beginning at 8:30 p.m. ET.
Here are five things you need to know in preparation for the Eldora Dirt Derby:
The format -- With the one-off dirt race for the Truck Series comes completely different format.
The main event for the Dirt Derby will be 150 laps divided into three segments of 40, 50 and 60 laps. There will be two competition caution breaks at Lap 40 and Lap 90.
Two-lap, single-truck qualifying runs will determine starting lineups for the five qualifying races. The top-five trucks in two-lap qualifying will start on the pole for their respective qualifying races.
Each of the qualifying races are 10 laps and only green-flag laps count. The top-five finishers of each race will transfer to the main event. Twenty-five trucks in total will earn spots in the main event after completion of the qualifying races.
A last-chance qualifying race will consist of 15 laps, as the top-two finishers transfer to the main event and will start in 26th and 27th.
Positions 28th-31st will going to the highest-ranking eligible trucks in owners' points who haven't already earned spots through qualifying. The 32nd and final starting spot will go to an eligible past series champion or assigned by owners' points.
There will also be no caution clock for this event.
Townley sidelined -- As he continues treatment for a possible concussion, John Wes Townley will not compete at Eldora. Brady Boswell will take his place behind the wheel of the No. 05 Athenian Motorsports Chevrolet.
Townley suffered his injury during the Camping World Truck Series race at Gateway Motorsports Park near St. Louis on June 25, when he wrecked twice and got into a fight with Spencer Gallagher after the second incident.
According to his team, Townley will be re-evaluated next Monday to gain medicial clearance to compete at Pocono Raceway.
Byron looking to make history -- After winning four races in the Truck Series so far this season, rookie William Byron will break a record with a win on Wednesday night.
Byron, driver of the No. 9 Kyle Busch Motorsports Toyota, is currently tied with Kurt Busch for most wins as a rookie, a feat achieved by Busch in 2000.
It will be an even more impressive achievement if Byron can obtain sole possession of the rookie wins record, as he's never raced on dirt.
Dirt experts could steal the show -- Camping World Truck Series drivers Rico Abreu and Christopher Bell know a thing or two about how to get around Eldora Speedway.
Both drivers cut their teeth on dirt tracks throughout the country, while they also competed in the Kings Royal sprint car race at Eldora over the weekend. Abreu finished second in the A-Main, while Bell placed 21st after a late-race wreck.
Bell, the defending winner of the event, also won a regional 410 sprint car event at Fremont Speedway in Fremont, Ohio on July 9.
Kyle Larson is entered in the event as well, who followed the dirt-racing paths of Tony Stewart and Jeff Gordon on his way to the NASCAR Sprint Cup Series. Larson is also scheduled to run the Knoxville National at Knoxville Raceway in August.
Tony Stewart's house -- Tony Stewart, owner of Eldora Speedway, is a busy man this week after flying directly from Sunday's race at New Hampshire Motor Speedway to the Rossburg, Ohio dirt track.
Stewart is hard at work getting the track ready to go for Wednesday night.
"A lot of the stuff that we do for the race track side, at least from my role, is done in the middle of the night," Stewart said. "When everybody else is either finishing at the bar or coming home from the bar, I'm still working. We'll do what we have to. I've got a great staff there."