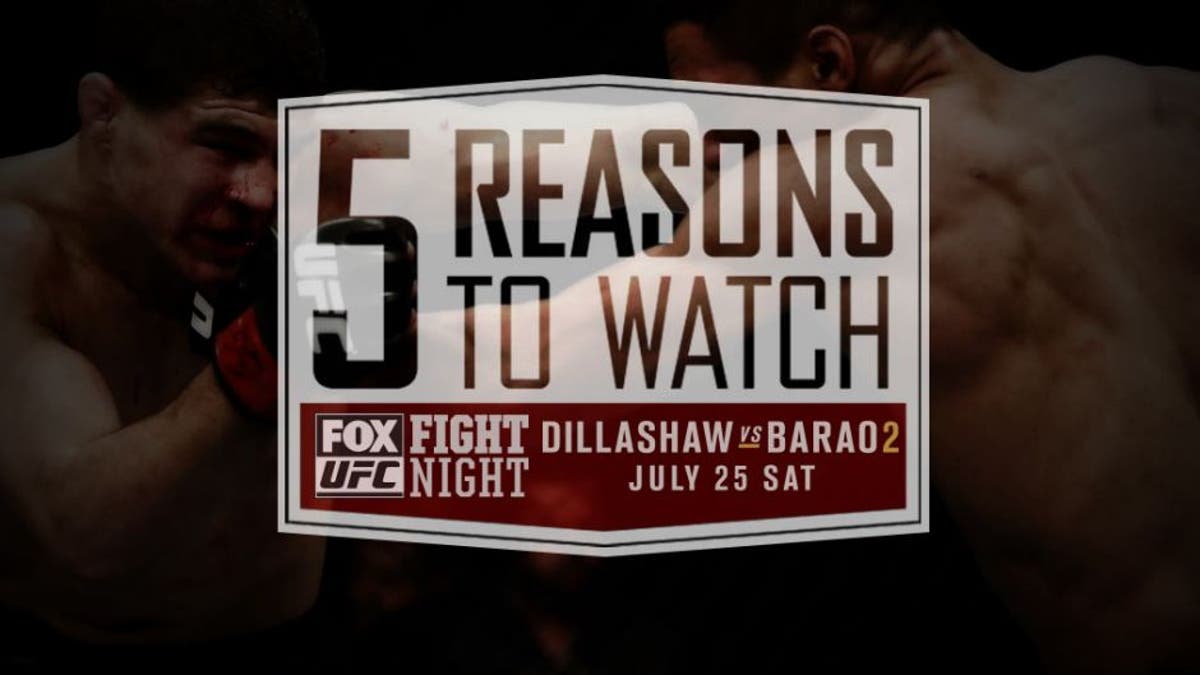 On Saturday, the bantamweight title will go up for grabs as champion T.J. Dillashaw (12-2) looks to defend his title for a second time while facing the man he beat for the belt, Renan Barao (35-2, 1 NC).
These two fighters have been linked to each other for more than a year after Dillashaw pulled off a shocking upset to dethrone Barao in May 2014 at UFC 173.
Now, Barao is looking for revenge and to regain the title he lost as he faces Dillashaw in the main event of FOX UFC Fight Night from Chicago on Saturday night.
Also on the card, former Strikeforce champion Miesha Tate (16-5) will attempt to take one more step toward a third fight with Ronda Rousey when she faces upstart contender Jessica Eye (11-2, 1 NC) in a bout that could determine the next contender at 135 pounds in the women's division.
With a stacked main card, including a championship bout, there are plenty of reasons to watch UFC Fight Night on Saturday, with coverage beginning at 6 p.m. on FOX.
A Rematch That Has to Happen
For the better part of nine years, Barao was undefeated and quickly rising up the ranks of the best pound-for-pound fighters in all of combat sports. The Brazilian bantamweight mauled the competition in the UFC and WEC while defending his championship multiple times against fighters who just couldn't match his power and speed on the feet or on the ground.
Then Dillashaw came along and destroyed the mythos surrounding Barao's invincibility with a five-round drubbing of the now former champion to take the title.
The two bantamweights were supposed to settle the score once again in August 2014, but a nasty weight cut left Barao depleted and doctors wouldn't allow him to continue after he passed out while trying to get down to the 135-pound mark.
Fast forward nearly a year later, after both Dillashaw and Barao fought and defeated different opponents before injuries delayed the rematch by a few more months, and the two best fighters in the world at 135 pounds are finally ready to put this rivalry to bed on Saturday night.
The bantamweight division has sorely needed a championship pairing such as this, and now Dillashaw and Barao will fight again for the title of 135-pound king.
The Real Deal or a One-Hit Wonder?
The last time Dillashaw walked into a fight with Barao, he did so as a massive underdog. Dillashaw was one fight removed from a split-decision loss to Raphael Assuncao and just didn't seem like he was ready for a challenge as big as Barao in only his eighth UFC fight since joining the promotion via "The Ultimate Fighter."
Dillashaw proceeded to prove just about everybody wrong by decimating Barao with a knockdown in the first round and then repeating that kind of dominance throughout the rest of the fight before mercifully putting an end to the Brazilian in the fifth and final round.
It was called one of the biggest upsets in UFC history at the time, but now, nearly a year later, Dillashaw will enter the rematch as a solid favorite to beat Barao again.
This rematch is bigger than any fight Dillashaw has ever had during his career -- even bigger than the first title fight with Barao -- because this is his chance to solidify his reign and prove the first performance was no fluke. Dillashaw is extremely talented and has a ton of potential, but with a second win over Barao, he solidifies that he's no one-hit wonder.
Dillashaw wants to be the future of the bantamweight division, and two victories over a fighter like Barao would put him well on his way.
Eyeing a Title Shot or a Rivalry Reborn
The women's bantamweight division will get a new No. 1 contender on Saturday night when Tate faces Eye, likely to see who gets the next crack at Rousey later this year.
Tate has gone 3-0 since her last encounter with Rousey, knocking off two top-10 fighters along the way with decision victories over both Liz Carmouche and Sara McMann. Tate remains the only fighter to take Rousey past the first round, and she has stated numerous times that she is the person best suited to stop "Rowdy" from going undefeated during her career.
On the other side of the Octagon stands Cleveland's own Eye, who is fresh off a win over Leslie Smith which ended after the Ohio native nearly ripped off her opponent's ear with punches. Eye is a punishing striker with fast hands and good power. If she can stop Tate's takedowns, Eye could make this a very long or very short evening for the former Strikeforce champion.
Eye still hasn't had the chance to face Rousey in the Octagon, so this is her golden opportunity to not only beat a former champion like Tate, but also to finally reach the pinnacle and fight for a UFC title for the first time.
The stakes don't get any bigger than this, and Tate vs. Eye might just be the most talked about fight when this night is over.
Expect Something Bad to Happen
The featured fight on the card between lightweights Edson Barboza (15-3) and Paul Felder (10-0) is almost guaranteed to be a barnburner -- even if it doesn't go past the first round.
Barboza is one of the nastiest strikers in the UFC with a versatile arsenal of weapons, including the most vicious leg kicks in the sport. Barboza has finished two opponents by simply battering their legs to the point where they no longer could stand.
Barboza also is responsible for the wheel kick knockout of Terry Etim, which may go down as one of the greatest finishes in UFC history.
Felder is no slouch when it comes to knockouts after finishing 70 percent of his opponents on the feet. Felder is an undefeated prospect who might just be the next big thing at 155 pounds, and he has no shortage of highlights either, especially considering the way he crumbled Danny Castillo in his last fight with a spinning back fist in the second round.
Maybe the best indication of this fight ending by knockout is the fact that Barboza and Felder combine to average just over one takedown per 15 minutes in the cage. Neither is known for trying to out-wrestle an opponent, so chances are Barboza and Felder are going to be gunning for the finish on the feet and won't stop until one (or both) of them walks out of the United Center with a $50,000 bonus check.
Bonus Baby Back on FOX
Speaking of bonuses, the ultimate bonus winner is also back in action this weekend as Joe Lauzon (24-11) takes on Takanori Gomi (35-10, 1 NC) in the opening bout of the main card airing live on FOX.
Lauzon is the all-time leader in post-fight bonuses, pulling in 13 over the course of his UFC career. Lauzon has won Submission of the Night six times, Knockout of the Night on one occasion and Fight of the Night six times. He's never gone more than two fights during his UFC career without earning a bonus, so chances are Lauzon will find a way to win another this weekend in his fight with Gomi.
Lauzon rarely has been involved in a boring fight and while he doesn't win them all, he always makes it exciting. There's a reason this is the third time he's been a featured fight on the main card for a show on FOX.
Don't miss a minute of the action for this weekend's FOX UFC Fight Night: Dillashaw vs. Barao 2 card with our schedule and viewing guide.