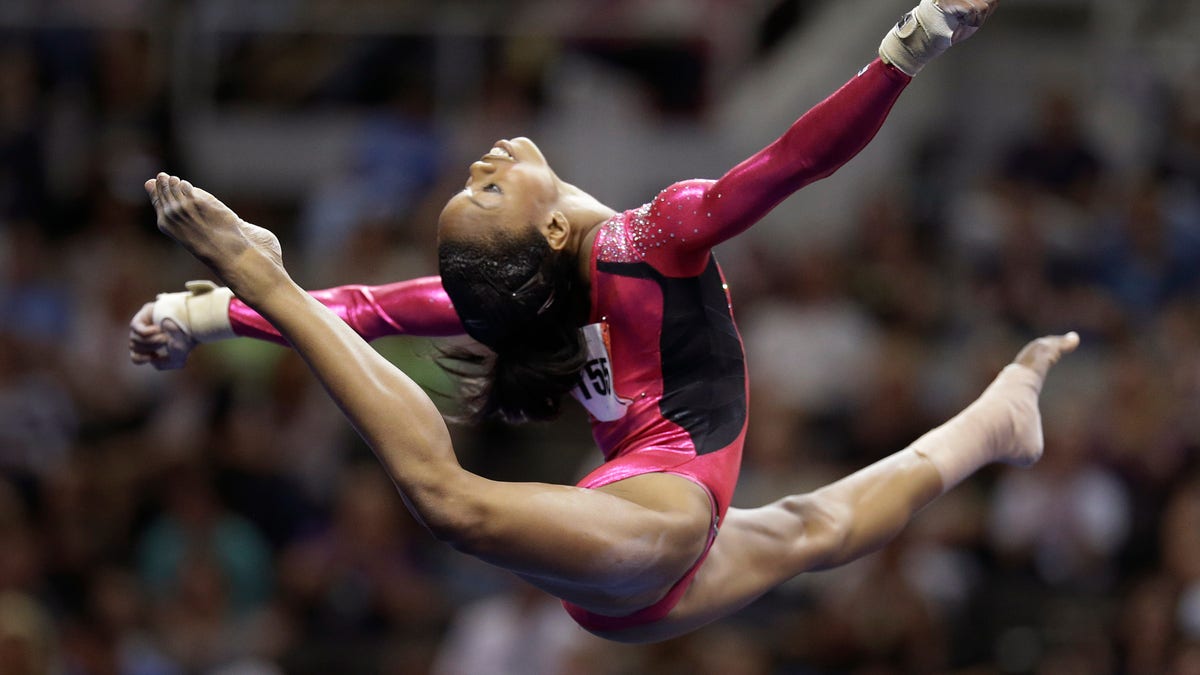 With a whopping 59 medals in international gymnastics competition since 2001, the U.S. women are on a run not seen since the breakup of the Soviet Union.
They won the world title in 2003, 2007 and 2011 and have produced four of the last six all-around champions. At last year's world championships, the Americans claimed half of the six titles available, and there could be a similar gold rush in the London Olympics.
The American women have won only one Olympic team title, way back in 1996. They have gone to the last two Olympics as the world champion, only to come up a step short on the podium. They have every reason to believe, however, that London will be different.
"Every year, we get so much stronger," reigning world champion Jordyn Wieber said. "We did so good at the worlds, but I think this team is even stronger than that. I'm really excited that we have a lot of potential to win the gold medal in London."
The U.S. looks stronger from top to bottom than rivals Russia, Romania and China, the defending Olympic champion.
The stars are Wieber and Gabby Douglas, whose dazzling rise in the last six months has made for a compelling -- and surprising -- rivalry. Wieber is powerful and unflappable, with no real weaknesses. She beat then-world champion Aliya Mustafina of Russia in her very first competition as a senior, and has lost only two all-around competitions since 2008, both to American teammates.
"She reminds me very much of Nadia, to be honest," Bela Karolyi said. "This is the first one that is closest to her. The body and the mind. That fight, that strong performance. When she's in trouble, she never gives up."
Douglas combines vivacious personality and gorgeous lines, a gymnast who makes everything look effortless and light. After making last year's world team on the strength of her acrobatic uneven bars routine -- U.S. women's coordinator Martha Karolyi has dubbed her the "Flying Squirrel" -- Douglas emerged as an all-around threat at the American Cup. That's where she beat Wieber, though her scores didn't count because she was competing as an alternate.
Douglas beat Wieber at the U.S. trials, and the results are sure to motivate both as each tries to become the third straight American to win the Olympic all-around title.
"It pushes us to do greater and better things," Douglas said. "You just see, `Oh, she did that routine. I've got to do it better.' It kind of gets us into that mindset. That's when the show really starts to begin."
Russia appeared unbeatable in 2010, with Mustafina running roughshod over the world championships. She led Russia to the team title, its first at a major international competition since the Unified Team won at the Barcelona Games, claimed the all-around title and won silvers on vault, uneven bars and floor exercise. Add in inaugural Youth Olympic Games champion Viktoria Komova, and it's no wonder organizers at the O2 Arena were keeping a Russian flag and national anthem handy.
But injuries have left Russia a hobbled mess. Mustafina blew out her knee at the 2011 European championships, and has shown only flashes of her ruthless brilliance since returning to competition last autumn. She scored an eye-popping 15.833 on uneven bars at this year's European team finals, but that came after she botched all three of her events in the preliminaries.
Komova has been slowed by a nagging ankle injury and inconsistency, falling off the balance beam at the Europeans just as she did at the worlds. Anastasia Sidorova, a member of the European team, is out with a back injury. Anna Dementyeva, who won the 2011 European title after Mustafina was injured, has been struggling to adjust to a growth spurt.
Despite those pink "2012 champion" T-shirts the Chinese wore at last year's worlds, they are also in a bit of disarray. A distant third at the worlds, they have since lost captain Cheng Fei to a torn Achilles, and have been unable to settle on their fifth team member.
Then there's Romania. Written off after poor performances in Beijing and the last two worlds, the Romanians jumped back into contention with a surprise win at the Europeans. They are bolstered by the return of triple Olympic gold medalist Catalina Ponor and the emergence of Larisa Iordache, the latest Romanian to be crowned the "New Nadia." But they also have consistency issues, and are scrambling to try and match the Americans' difficulty.
On the men's side, London may bring an end to the Chinese dynasty.
China has been on top of men's gymnastics for much of this century, winning five straight world titles as well as the gold medals at the Sydney and Beijing Olympics. For much of that time, the Chinese had the meet won simply by getting off the bus. They were that much better than everyone else and not only did the competition know it, they freely admitted it.
But China looked -- dare we say it? -- vulnerable in winning the world title last autumn. The Chinese finished qualifying behind Japan and the U.S., the first time since the Athens Olympics they had finished anywhere but first in any phase of a major competition. The reduction in team size, from six to five, will hurt China most, putting more of an emphasis on all-arounders, something the Chinese lack.
"It will be extremely hard for us to defend the team event title this time," Chen Yibing, the Olympic gold medalist and four-time world champion on still rings, said in a May story in China Daily. "We lack the all-around talent now, so everybody has to dig deeper and try to make up for each other's weak event."
Or pass the torch to somebody else.
Silver medalists in Beijing -- albeit very distant ones -- and runner-up at the last four world championships, the Japanese are led by the otherworldly Kohei Uchimura. Stylish and precise, Uchimura has dominated men's gymnastics so thoroughly since Beijing the debate is no longer whether he belongs on the list of the sport's greatest, but where. First? Third? Eighth? Does he get bonus points for that fabulous Beatles-like mop top?
Uchimura has won three straight world titles, and even his rivals -- though that term is used loosely -- acknowledge they're chasing silver and bronze unless something stunning happens. Uchimura, however, insists he doesn't care about upgrading his all-around silver from Beijing. It's the gold in the team competition that consumes him.
"I'm fed up with being second in the team event," he said this spring. "The team is a special event, and winning it is in many ways more rewarding than the individual event."
That's how the U.S. men feel, too.
The Americans have been insisting for years they can make a run at gold and, for the first time since 1984, they might just have the goods to back up the big talk. The Japanese sure seem to think so, sending a scouting party to this month's U.S. Olympic trials.
"I think this is clearly one of the best teams we've ever, ever fielded," said Peter Vidmar, a leader of the 1984 U.S. gold-medal team who is now chairman of the board at USA Gymnastics
It starts with talent. Jonathan Horton has two medals from the Beijing Olympics, and Danell Leyva gave the U.S. men their first world title since 2003 last autumn with his gold on parallel bars. John Orozco, Leyva and Horton had three of the top five qualifying scores at the worlds on their way to the bronze medal. Jake Dalton, also a member of that world team, has the precise lines and polished elegance that international judges love.
And the lone newcomer, Sam Mikulak, might wind up being the best of them.
"I don't think we've toned down how crazy our gymnastics is, but I think we've made it look better," Horton said. "We've really polished and cleaned everything up. We've fixed the rhythm of our gymnastics. It's minor details that have made big differences for us."
The sentimental favorite in London will be the British, naturally.
Four years ago Britain was barely an afterthought in gymnastics, with Louis Smith giving the team its first medal in nearly 100 years with his bronze on pommel horse. But the British have become a budding powerhouse since then, making regular appearances on the podium at the worlds and qualifying full men's and women's teams to an Olympics for the first time since 1984. This spring, the men won their first European title.
There's been such a dramatic shift in their fortunes that not only could the British win multiple medals in London, led by Smith and three-time world champion Beth Tweddle, it will be a disappointment if they don't.
"I'm not sure anyone ever expected such rapid development, and it's such a positive thing for everyone involved in the sport," Smith said. "Now we have a chance to really show how far we've come."