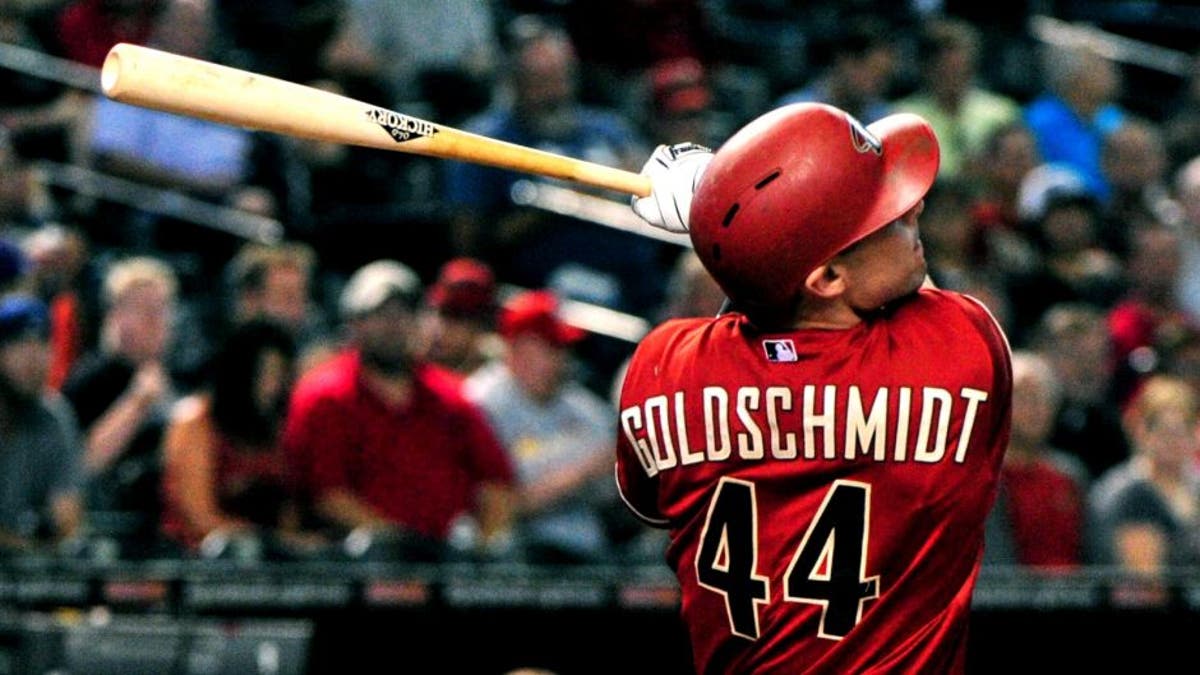 The D-backs are all in for 2016 after signing Zack Greinke and trading for Shelby Miller. Will their gambit work? We doubt it, but at least they'll be more fun to watch. And they still have Paul Goldschmidt, dammit!
(Note: When a player's fantasy draft status is mentioned - e.g., "he's an SP4" - the number is based on 12-team mixed leagues. ADP references are from NFBC drafts.)
ALSO SEE: TEAM PREVIEWS ARCHIVE
Key additions: RP Tyler Clippard, SP Zack Greinke, SP Shelby Miller, 2B/SS Jean Segura
Key losses: SP Chase Anderson, SP Jeremy Hellickson, RP David Hernandez, OF Ender Inciarte, C Jarrod Saltalamacchia, SS Dansby Swanson
Projected Lineup
1. A.J. Pollock CF
2. David Peralta RF
3. Paul Goldschmidt 1B
4. Yasmany Tomas LF
5. Welington Castillo C
6. Jake Lamb 3B
7. Chris Owings 2B
8. Nick Ahmed/Jean Segura SS
Pollock was a breakout star last season, and is worth the investment of an early second-round pick ... Peralta's first year as an MLB regular was solid, but his .368 BABIP and .312 BA are probably heading for a bit of a decline. We've got him as a high-end OF4 ... We've got Goldschmidt ranked third overall behind Mike Trout and Bryce Harper, but we know some smart people who would pick him first ... Tomas is being drafted as an OF5 by people who think his power will show up after a disappointing 2015. We're not sure why that's supposed to happen to such an undisciplined, whiff-happy hitter ... We like Castillo's power and would draft him soon after the top 12 catchers are gone, but bad BAs need to be accounted for when constructing the rest of your roster ... Lamb is known more for his glove than his bat, and while he should improve, he's not worthy of a standard mixed-league pick ... Owings probably gets another shot at second base, as GM Dave Stewart said recently that Segura will play mostly at shortstop during spring training. Even if Owings' stats are somewhere in between his 2014-15 numbers, he's not an attractive guy to own outside of NL-only leagues ... You want Segura to win the SS competition, because at least he can hit some and swipe 20-25 bases. The poor-hitting Ahmed's glove might give him the nod, though.
Projected Rotation
1. Zack Greinke
2. Shelby Miller
3. Patrick Corbin
4. Rubby De La Rosa
5. Robbie Ray
CL: Brad Ziegler
Greinke had a terrific 2015, but aside from his BABIP and HR/FB rates - both of which are often associated with luck - his peripheral numbers were close to career norms. That means he's probably due for a one-run ERA rise before accounting for a home park that's less pitcher-friendly. This doesn't mean we dislike Greinke. In fact, we rank him at SP7, which is his ADP. We just don't want you expecting another sub-2.00 ERA ... Miller was acquired from the Braves for a big prospect package, and he had a decent season outside of his somewhat unlucky 6-17 record. If he pitches like he did last year, he'll have a better record but probably with a 3.50-plus ERA. We've got Miller as an SP5, lower than his ADP ... Corbin made 16 starts last season after missing 2014 due to Tommy John surgery. He struck out more batters, walked fewer and threw harder than he did pre-surgery. As an SP5, he's a very interesting guy to target ... You'd think a guy who throws as hard as De La Rosa would miss more bats. We don't have him ranked for standard mixed leaguers, but our friend Eno Sarris of FanGraphs thinks he's an interesting breakout candidate ... Ray is an interesting southpaw who pitched well (3.52 ERA) in his first big-league season. His control isn't so good, which is why some projections have the ERA closer to 4.00 ... So many ground balls from Ziegler, but so few swings and misses. As the old saying goes, possession is nine-tenths of the law, and Ziegler has this job. However, his average fastball velocity last season was 83.9 mph, and he's going to start getting pummeled at some point. Tyler Clippard and Daniel Hudson loom as replacements, and there's a bit of sleeper buzz around minor-league closer Silvino Bracho as well. Hudson is the replacement pick here.
Sleeper: Corbin looked good enough last season to make us think he's a good value at his Round 17 ADP.
Top Prospects
Archie Bradley, SP - Injuries cut Bradley's 2014 and 2015 seasons short, and caused him to look bad when he did pitch. Heck, he even got hit in the face by a line drive last April. Bradley was wild in the minors, but was also on the short list of blue-chip pitching prospects. He's still just 23, and ranked as baseball's No. 72 prospect by MLB.com. The D-backs' website says he'll have a chance to win a rotation spot, but that seems unlikely for now.
Braden Shipley, SP - Shipley had a 3.50 ERA at Double A last season, but was better in the second half, with a 68/19 strikeout-to-walk ratio and a 2.66 ERA in 84 2/3 innings. He could come quickly in many organizations, but the D-backs' staff is crowded. Maybe he'll get traded, like their other good prospects.