2013 preview: Oakland Raiders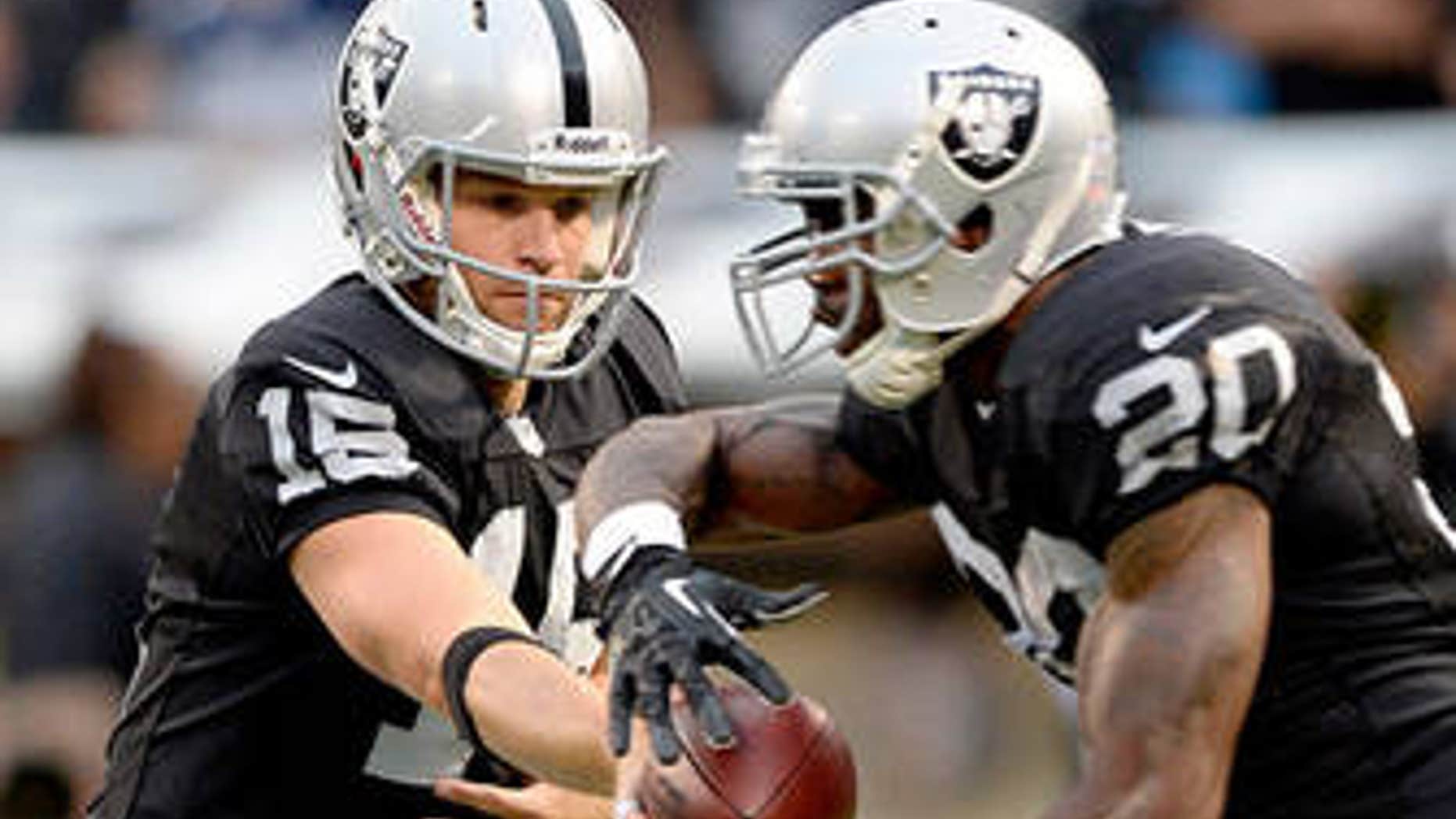 OAKLAND RAIDERS
2012 Record: 4-12. Missed the playoffs.
What is the position battle to watch?
The Oakland Raiders kicked off training camp with four quarterbacks on their roster that had a combined total of three career NFL starts. Matt Flynn's two starts and Terrelle Pryor's one easily made for the least experienced roster of quarterbacks to enter the 2013 campaign. With 21 starts -- all coming from Kevin Kolb -- the Bills were the next most inexperienced team, but the difference of 18 games is more than an entire season of additional starts.
Flynn started the first three games of the preseason and Pryor started the final week, but neither were able to create any distance between the other. During his three starts, Flynn completed 19 of his 27 passing attempts for 180 yards but threw only one touchdown compared to two interceptions. Pryor faired no better. He was a combined 17 of 32 for 221 yards and also threw just one touchdown compared to two interceptions, although he did add a rushing touchdown and another 131 yards on the ground.
I'm assuming that Flynn will get the Week 1 nod, but will be on a very short leash. When the season comes to an end, I predict that each quarterback will have started about half of the games as they volley back and forth throughout the duration of the 16-game schedule.
As they say, when you have two starting quarterbacks, you really have none.
What is the team's biggest asset?
Darren McFadden is quite obviously this team's best asset and most explosive player but his production fell off tremendously last year as he once again missed multiple games due to injury. In his five-year career, McFadden has played in an average of just 11.4 games per season and has never been healthy enough to appear in more than 13 games in any one season.
Forget the games he missed, even when he was healthy enough to play, his production maxed out in 2010 and has been on the decline ever since. During the 2010 season, the fourth-overall pick rushed for a career high 1,157 yards and seven touchdowns. In 2011, he ran for 614 yards and four touchdowns and then 707 yards and a measly two touchdowns in 2012.
McFadden is still the team's best player, but they will need more than the 3.3 yards per rush average he posted in 2012 for this team to remain competitive. The roster just isn't good enough for anyone else to pick up the slack on a consistent basis.
Which rookie stands the best chance to succeed?
I'm not sure how successful he will actually be, but the simple fact that D.J. Hayden is even playing in the NFL is a success in itself. Hayden, the 12th overall pick, is lucky to be alive after he colliding with a teammate during a practice that tore the inferior vena cava in his heart. The injury, most commonly sustained in high velocity car crashes, has a mortality rate of over 95 percent due to the massive amount of blood loss.
Just four months later, Hayden became the Raiders' first-round draft pick and was the second cornerback selected in the draft. The Raiders have a long history of first-round busts including Rolando McClain, JaMarcus Russell and Fabian Washington. In fact, Hayden and McFadden are the only first-round picks selected by the Raiders since 2001 that are still even on the roster. There are obvious questions about Hayden's ability to bounce back from his near death experience, but his career is already a success in my book.
What is the team's biggest addition/loss from the previous season?
The Raiders lost Michael Huff in free-agency to the Baltimore Ravens, but his replacement is a familiar name in Oakland.
Charles Woodson gives the fan base a player to rally around and as a future Hall of Famer, he will provide a certain level of leadership and mentorship to a roster that is in desperate need of a proven winner. Woodson's on-field abilities have eroded a little with age, but his ability to coach up players like Hayden will be invaluable. Don't get me wrong, he will still make some spectacular plays this season, but it isn't going to show up in the wins and losses this year.
Where do you predict the team will finish in the division?
There are three teams that are fighting it out for the worst team in football and they are the Jets, Jaguars and Raiders. If I had to bet, this is what you will be hearing next April, "With the first pick of the 2014 NFL Draft, the Oakland Raiders select ... "