10 years ago today, Leo Messi mirrored Diego Maradona to score his greatest ever goal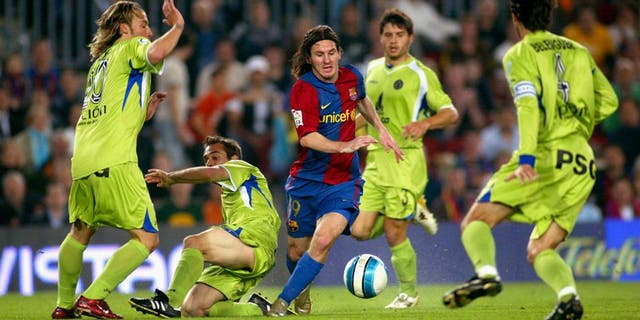 NEWYou can now listen to Fox News articles!
Even at 19 years old, the world already knew Lionel Messi was destined for greatness. He was breaking scoring records left and right in the youth team, Ronaldinho had taken him under his wing, and he'd made his first-team debut for Barcelona at just 16 years of age.
The Maradona comparisons were inevitable from the start for Messi. A diminutive left-footed Argentine attacking player with stardust in his boots, fearless on the ball, with unmatched technical skills? How was henot the new Diego?
And then he scoredTHAT goal.
Just about 21 years after Maradona's incredible solo goal against England in the 1986 World Cup, young Lionel Messi embarked on an eerily similar run, from nearly the exact same spot as his compatriot.
Seemingly trapped on the touchline by two defenders, inside his own half, Messi wriggled past the first defender, nutmegging the second as he squeezed free of the pressure. He raced over the halfway line, bursting past Getafe's midfield to confront their terrified backline. A cut to his left, then an immediate chop back to his right, and three more would-be defenders are left in the dust, and he's through on goal.
The goalkeeper rushes out to the penalty spot to close Messi down, and the little Argentine opens his body, feinting subtly to send the hapless keeper to the floor, then phase-shifts past him with ridiculous ease. He completely ignores his senior teammate Samuel Eto'o, wide open on the six-yard-line, and then breaks his right foot out of the plastic wrap to finish off the move, sending Barcelona's crowd into raptures.
It all happens in a matter of seconds.
For a full decade since that goal, we've seen Lionel Messi do the impossible over and over, and it's become almost normal. But on that day, we didn't know young Messi to be an extraterrestrial. We just knew he was destined for greatness.
And then he ascended into the pantheon.