Couple who bought 'American Horror Story' mansion sues seller, alleging nobody told them home's history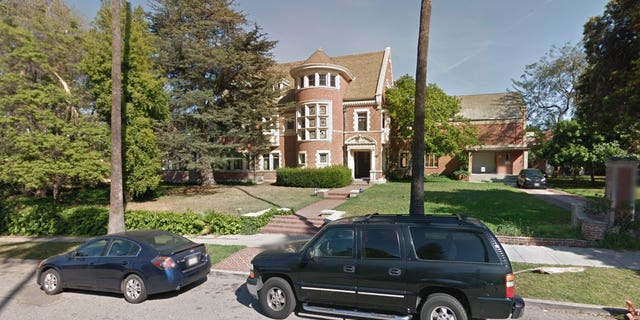 The owners of a large Victorian mansion in Los Angeles are suing the people who sold them the estate, claiming the sellers never disclosed that the home served as the infamous "Murder House" from the first season of "American Horror Story."
Dr. Ernst R. von Schwarz and Pier Angela Oakenfold filed the lawsuit on Feb. 7 in the Superior Court of California, naming the former owner and Coldwell Banker real estate agents who handled the sale of the Rosenheim Mansion in Mid City, L.A., as defendants.
TAYLOR SWIFT CAN'T STOP BUYING HOMES ON THIS ONE NYC BLOCK
According to von Schwarz and Oakenfold, who purchased the home for $3.2 million in early 2015, seller Elizabeth Axelrod, along with Coldwell Banker employees Stephen John Apelian and Joyce Bowman Rey, neglected to disclose that the home was heavily featured on "American Horror Story," The Wrap reports. As a result, they claim they were cheated into buying a house that has since been targeted by "hundreds" of trespassers and uninvited visitors.
"Unbeknownst to the plaintiffs, and not disclosed by Defendants, hundreds of fans of the TV show would come to the property, trespass, attempt to break in, and created a significant nuisance not only for the Seller, but for the neighbors as well," reads the lawsuit, per The Wrap.
Von Schwarz and Oakenfold are reportedly seeking damages of up to $3 million for "fraudulent concealment."
HARVEY WEINSTEIN SELLS HIS HAMPTONS MANSION AT A LOSS
The house itself, which was designed by architect Alfred Rosenheim, was originally built in 1902, and contains details including Tiffany stained glass and Italian brickwork, according to Atlas Obscura.
More recently, however, the Rosenheim Mansion was heavily featured throughout the first season of FX's "American Horror Story," where it was depicted as a haunted mansion that housed the spirits of those who died within.
FOLLOW US ON FACEBOOK FOR MORE FOX LIFESTYLE NEWS
Prior to the 2011 season of "American Horror Story," the Rosenheim mansion had also been featured on such shows as "Alfred Hitchcock Presents," "Buffy the Vampire Slayer" and "Law & Order SVU," reports Atlas Obscura.