Wyoming GOP office set on fire in apparent arson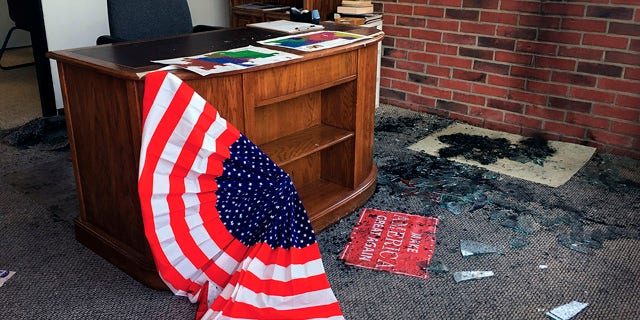 Authorities in Wyoming said Thursday that a fire at a local Republican Party headquarters was being investigated as arson.
The fire early Thursday morning in a first-floor office at the Albany County Republican headquarters caused minor damage and no injuries, according to the Laramie Police Department.
Albany County GOP chairman Ben McKay told the Laramie Boomerang newspaper that a "Make America Great Again" sign was hanging in a window that was broken during the incident.
Police spokesman Steve Morgan told the Associated Press that agents from the federal Bureau of Alcohol, Tobacco, Firearms and Explosives are assisting because of the possibility of a political motive.
Morgan added Thursday afternoon there were no suspects yet. He declined further comment.
The Associated Press contributed to this report.