With ObamaCare overhaul sidelined, can Tom Price go it alone?
With Republicans' ObamaCare overhaul sidelined on Capitol Hill, the Trump administration is vowing to use its full legal authority to "immediately" help Americans and mitigate the health care law's "harmful effects."
That means that as congressional Republicans regroup on strategy for pursuing future legislation, it will fall to Health and Human Services Secretary Tom Price and other administration officials to pursue changes to the Affordable Care Act for now. These potential changes would not be as sweeping as those contained in the failed GOP legislation, but range from cutting government costs to providing relief from certain requirements to customers and insurers.
"Secretary Price is, and always will be, focused on patients," agency spokeswoman Alleigh Marre told Fox News on Wednesday. "He and the HHS team will continue to pursue actions to mitigate the ACA's harmful effects and protect patients."
"The department … is committed to doing everything in our power to provide relief immediately."
Though President Trump has threatened to let ObamaCare "implode" on its own, his administration has several options to try to improve the 2010 law absent new legislation – and already has used one.
Trump signed an executive order in January directing federal agencies to easy some of ObamaCare's regulatory burdens -- resulting in the IRS processing tax refunds for Americans who violated the law and failed to provide the agency with proof of insurance.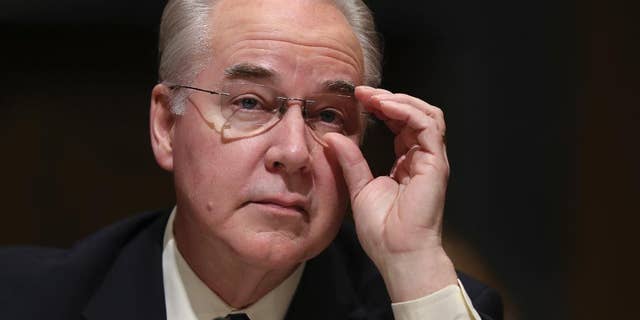 Additional options for the HHS secretary include tweaking what types of coverage insurers are required to offer, pulling back on the mandate to buy insurance and cutting federal subsidies that help low- and middle-income customers afford ObamaCare coverage – which likely would prompt a backlash.
Price largely declined Wednesday during a Capitol Hill budget hearing to say exactly what the administration might do on such issues.
"Do you support a mandate for insurance coverage for [opioid] treatment?" asked Massachusetts Democratic Rep. Katherine Clark. "Can you answer me specifically, yes or no?"
Price responded by saying the administration "believes every single American needs to have access to the kind of coverage they want … not what the government wants them to buy."
He made clear that ObamaCare states "1,442 times" that the HHS secretary shall or may make regulatory changes to lower the cost of insurance.
However, Price also declined to discuss the subsidies, citing a pending lawsuit, or talk about whether the administration would cut advertising for ObamaCare signup dates, like it did in January, saying the decision was made before he was confirmed as secretary.
Essentially every Republican elected to Washington for the past seven years has campaigned on repealing and replacing ObamaCare, many of whose roughly 11 million customers face increasing premium costs with fewer coverage options.
However, the overhaul bill crafted by House Speaker Paul Ryan and his leadership team didn't even have enough support last week in the GOP-led chamber to get a final vote, amid concerns that it could – at least in the short-term – lead to higher premiums for vulnerable Americans while also keeping controversial elements of the original law in place.
Trump and Ryan said in the immediate aftermath that they wanted to move ahead on tax reform and other big-ticket items. And while they have more recently hinted about another try on the horizon, HHS has made clear for weeks that it intends to make changes on its own.
"The department … is committed to doing everything in our power to provide relief immediately," the agency says on its website. "Within what the law allows, HHS is taking action … We are going through every page of regulations and guidance related to the Affordable Care Act to determine whether they work for patients."
Still, Marre acknowledged Wednesday that HHS has limitations, saying ObamaCare is "fundamentally flawed, failing and cannot be fixed through administrative action."
The House bill was largely defeated by the Republican Party's most conservative wing, whose members largely kept Ryan from getting the minimum 216 votes, as well as Washington groups Club for Growth and Heritage Action for America.
"Secretary Price should do everything he can," Dan Holler, Heritage Action vice president, said Wednesday. "But because the rule making process is cumbersome, temporary and often highly litigated, it is no substitute for actually repealing ObamaCare and delivering on the promise of driving down costs."