White House puts Syria onus on Putin after Russian president pressures US in op-ed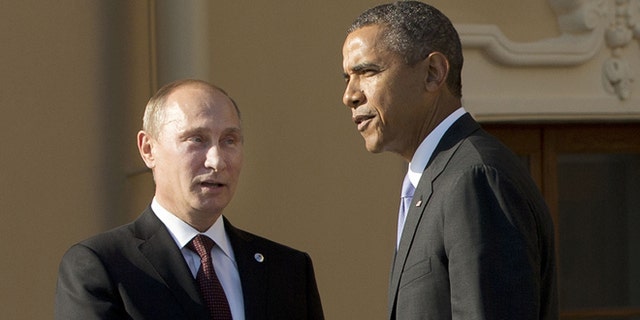 NEWYou can now listen to Fox News articles!
Secretary of State John Kerry arrived in Geneva Thursday for talks with his Russian counterpart as the White House attempted to put the onus on Russian President Vladimir Putin to resolve the ongoing crisis over chemical weapons use by Syrian President Bashar al-Assad.
Meanwhile, Russian Foreign Minister Sergey Lavrov was quoted by Reuters as telling students in Kazakhstan that he was "certain that there's a chance for peace in Syria."
Putin earlier stepped up his pressure on the Obama administration to abandon the threat of military action against Syria, taking to the pages of Thursday's print edition of The New York Times to suggest such a move would be "pointless."
Late Wednesday, a senior administration official responded to the op-ed, telling Fox News, "President Putin has invested his credibility in transferring Assad's chemical weapons to international control, and ultimately destroying them. The world will note whether Russia can follow through on that commitment."
With the U.S. now waiting on Moscow to call the next move in the crisis, Putin took his case directly to the American people, saying a strike would only escalate the war in Syria and could potentially spread the conflict beyond its borders.
"A strike would increase violence and unleash a new wave of terrorism," Putin writes. "It could undermine multilateral efforts to resolve the Iranian nuclear problem and the Israeli-Palestinian conflict and further destabilize the Middle East and North Africa. It could throw the entire system of international law and order out of balance."
Putin argues that while no one disputes sarin gas was used in Syria, the attack was carried out by the opposition forces, who he says used the gas in the deadly attack to provoke international intervention.
Putin also chides the U.S. for what he says is its reliance on "brute force" in Iraq, Libya and Afghanistan, saying its "alarming that military intervention in internal conflicts in foreign countries has become commonplace for the United States. "
"We must stop using the language of force and return to the path of civilized diplomatic and political settlement," he writes.
In a nationally televised address to the American people Tuesday, Obama announced he has asked Congress to halt any votes on military action amid talks on the proposal, though he said it was too early to say whether the Russian offer would succeed and did not take the military option off of the table.
Obama said the U.S. and its allies are seeking to work with Russia and China to present a resolution to the U.N. Security Council requiring Assad to give up his chemical weapons and ultimately destroy them.
Putin writes he decided to write the editorial because he feels there is "insufficient communication between our societies," but says his "working and personal relationship with President Obama is marked by growing trust" that he appreciates.
He calls on the U.S. to continue discussions to avoid force in Syria, saying if the Americans and Russians are able to work together it will open the door for cooperation on other critical issues in the future.
Putin's editorial was released just hours after the White House tried to pin the success or failure of a diplomatic option to secure Syria's chemical weapons on Russia rather than the U.S. ahead of Kerry's trip.
White House spokesman Jay Carney declined to put a deadline on diplomatic efforts to resolve the standoff but said that bringing Syria's chemical weapons stockpile under international control "obviously will take some time."
"Russia is now putting its prestige on the line," he said. Asked whether U.S. prestige also was on the line, Carney said: "The United States leads in these situations. And it's not always popular and it's not always comfortable."
On a different diplomatic front, the five permanent members of the U.N. Security Council met today at Russia's U.N. mission to consider goals for a new resolution requiring Syria's chemical weapons to be dismantled.
The Associated Press contributed to this report