White House Calls on Senate Dems to Nix Proposed $50B Fund for Bank Failures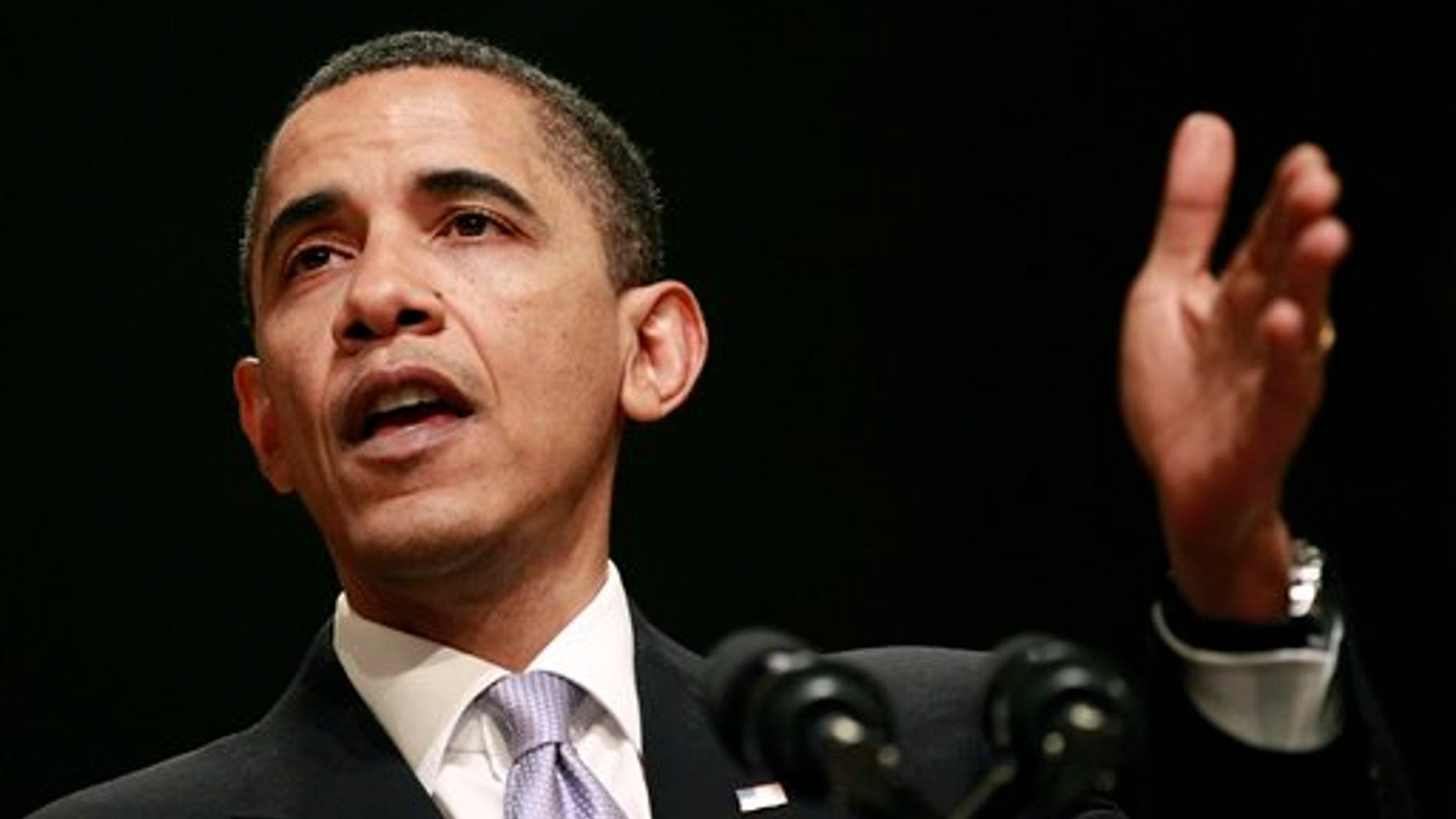 The Obama administration told Senate Democrats Friday to drop a proposed $50 billion fund designed to finance the liquidation of a big financial institution facing collapse, a victory for Senate Republicans opposed to government-supervised and government-funded corporate bailouts.
"The fund was not in our original proposal we announced almost a year ago and we don't feel it is an essential part of final legislation," a senior administration source told Fox. "The President will only sign a bill if it passes the test of putting an end to bailouts."
President Obama also issued a veto threat on regulatory reform, saying he will reject legislation that "does not bring the derivatives market under control in some sort of regulatory framework."
The Senate Republican leader, Mitch McConnell of Kentucky, offered mute praise for the administration's formal dismissal of a so-called bailout fund.
"I appreciate the Obama administration's recognition of the need to substantively improve this bill," McConnell said from Louisville. "And I hope we can work with them to close the remaining bailout loopholes that put American taxpayers on the hook for financial institutions that become 'too big to fail.'"
The administration has never been a fan of the bailout reserve fund, a mechanism in both the House-passed bill and legislation passed out of the Senate Banking Committee. The House passed it as a populist move to tax big financial firms up front in case there is a need to finance a liquidation. Sen. Chris Dodd, D-Conn., included a version of the fund in the Senate bill.
Treasury Secretary Geithner testified before the House Financial Services Committee on Oct. 26, 2009, that big Wall Street firms should finance liquidations after they happen (through what's called an ex-post fund), not build up a rainy day fund (known as an ex-ante fund) in case a failure occurs.
"Such an ex-post funding mechanism has several advantages over an ex-ante fund," Geithner said. "Most notably, it would generate less moral hazard because a standing fund would create expectations that the government would step in to protect shareholders and creditors from losses. In essence, a standing fund would be viewed as a form of insurance for those stakeholders."
The Senate is moving toward floor debate on its massive regulation bill, but many of its components remain subject to negotiation and the administration's call to drop a pre-set bailout fund changes the political dynamic.
The move takes away a key Republican line of criticism and may improve prospects for a bipartisan compromise.
In fact, opposition to that fund served as the basis of a letter all 41 Senate Republicans sent to Senate Majority Leader Harry Reid today appealing for bipartisan negotiations and implying a GOP-led filibuster if Democrats press ahead on their own.
"We are confident that the Senate can overcome political tensions and provide a bipartisan approach to financial reform this year," the letter said.
Reid's spokesman, Jim Manley, had no reaction to administration's opposition to Dodd's bailout fund or it's possible influence on future regulatory reform negotiations.
Treasury Secretary Tim Geithner met today with GOP Sens. Richard Shelby of Alabama, ranking member of the Banking Committee, Richard Lugar of Indiana and Orrin Hatch of Utah as part of his member-by-member negotiating push. Geithner met Thursday with Senate Republicans Judd Gregg of New Hampshire and newly minted Massachusetts Republican Scott Brown. He meets with Sen. Susan Collins of Maine on Monday.
Obama issued his veto threat over derivatives during a meeting with his President's Economic Recovery Advisory Board (PERAB).
"The derivatives market where a lot of big, risky financial bets by companies like AIG (American International Group) took place, there are literally trillions of dollars sloshing around this market that basically changes hands under the cover of darkness," Obama said. "When things go wrong, as they did at AIG, they can bring down the entire economy and that's why we've got to bring more transparency and oversight when it comes to derivatives and bring them into a framework in which everybody knows exactly what's going on because we can't afford another AIG."
Sen. Blanche Lincoln, D-Ark., introduced new legislation calling for tougher regulation of derivatives trade than the Banking Committee bill. Lincoln, chair of the Agriculture Committee, said a committee vote will occur next week. Her legislation has no Republican support.
Over-the-counter derivatives -- contracts between two parties on the future price of another financial instrument such as swaps or forward rate agreements -- are traded with no regulation and little or no visibility. The market is estimated to be $605 trillion per year.
European nations have called on Obama to toughen regulation of derivatives, seeing them as a significant cause of the global financial meltdown.
Under Lincoln's legislation, Wall Street firms that are registered and act as banks (such as Goldman Sachs or JPMorgan Chase) would need to separate derivatives trading from bank operations in order to remain eligible for federal bank protections. Lincoln also wants the vast majority of derivatives trades to move through a capital clearinghouse that requires both buyer and seller to prove they have enough capital to cover potential loses.
Jamie Dimon, chief executive of JPMorgan, told analysts on a conference call Thursday that existing regulatory proposals -- less aggressive than Lincoln's bill -- would cost his firm "$700 million to a couple billion dollars."
Lincoln's approach is also tougher than White House recommendations. The White House declined to comment on Lincoln's bill.