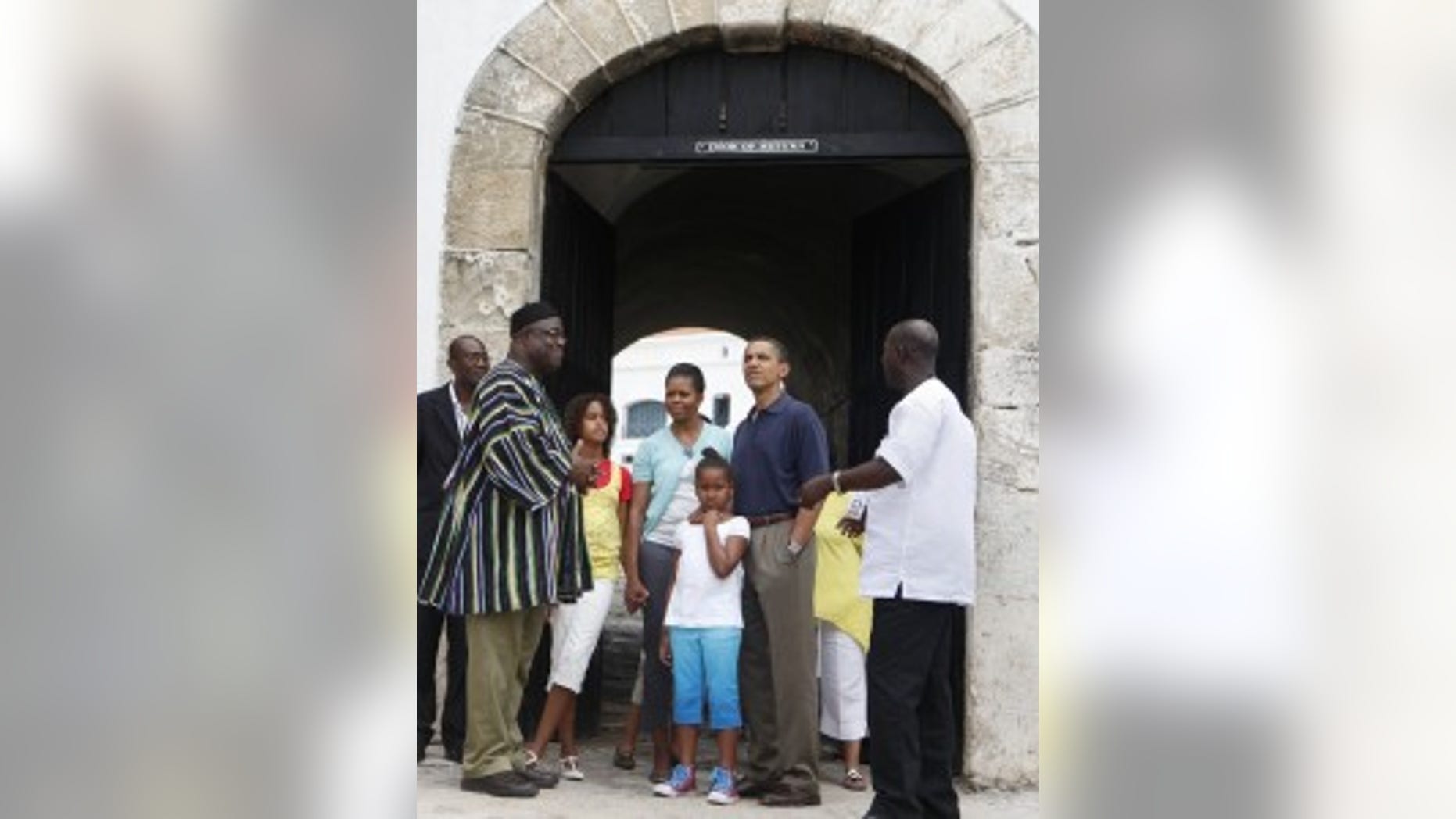 President Obama and his family wrapped up their visit abroad stopping at Cape Coast in Ghana, pausing at the 'door of no return' to take stock of the African slave trade that the President said is where the history of African-Americans began.
"As painful as it is, I think it helps to teach all of us that we have to do what we can to fight against the kinds of evils that sadly still exist in our world," the President said. "Not just on this continent, but in every corner of the globe."
Obama and his wife Michelle and children Sasha and Malia, as well as Michelle's mother Marion Robinson, walked through the 'door of no return' during a guided tour of Cape Coast, one of the last places Africans passed through on their way to be sold into slavery in America. Obama himself is not descended of slaves, but his wife Michelle is, and its reported her family originally came from West Africa, perhaps passing through Cape Coast themselves. After the tour, the President and Michelle Obama unveiled a plaque outside the male slave dungeons that states: "This plaque was unveiled by President Barack Obama and the First Lady Michelle Obama of the United States of America on the occasion of their visit to the Cape Coast Castle on the 11th day of July 2009." While Obama acknowledged the anguish suffered at Cape Coast, he chose to use his words to focus on overcoming the past.
"Symbolically, to be able to come back with my family, with Michelle and our children and see the portal through which the Diaspora began but also to be able to come back here in celebration with the people of Ghana for the extraordinary progress we made because of the courage of so many black and white to abolish slavery and ultimately win civil rights for all people I think is a source of hope," Obama said. "It reminds us that as bad as history can be its also possible to overcome."
The President spent time walking and talking with his children, explaining what they were seeing, including the 16 cannons that once protected the fortress and the ocean out-stretched before them that once carried slaves to the shores of America. The girls have had quite the "summer camp" experience, as the President and his wife elected to bring their children along this summer for an educational summer experience at Camp Obama. This week alone, they met Russian President Medvedev and went on a tour of the Kremlin, toured Rome with their mother and grandmother and finished the week here. But Obama did not want the girls to end their summer without some lessons about life.
"I think it was particularly important for Malia and Sasha who are growing up in such a blessed way to be reminded history can take very cruel turns," Obama said. "And hopefully one of the things that was imparted to them during this trip is their sense of obligation to fight oppression and cruelty wherever it appears. And that any group of people who are degrading another group of people have to be fought against with whatever tools we have available to us."
The Obama's head back to Washington Saturday.