What Are the Odds? Deficit Panel Proposals Face Uphill Climb in Congress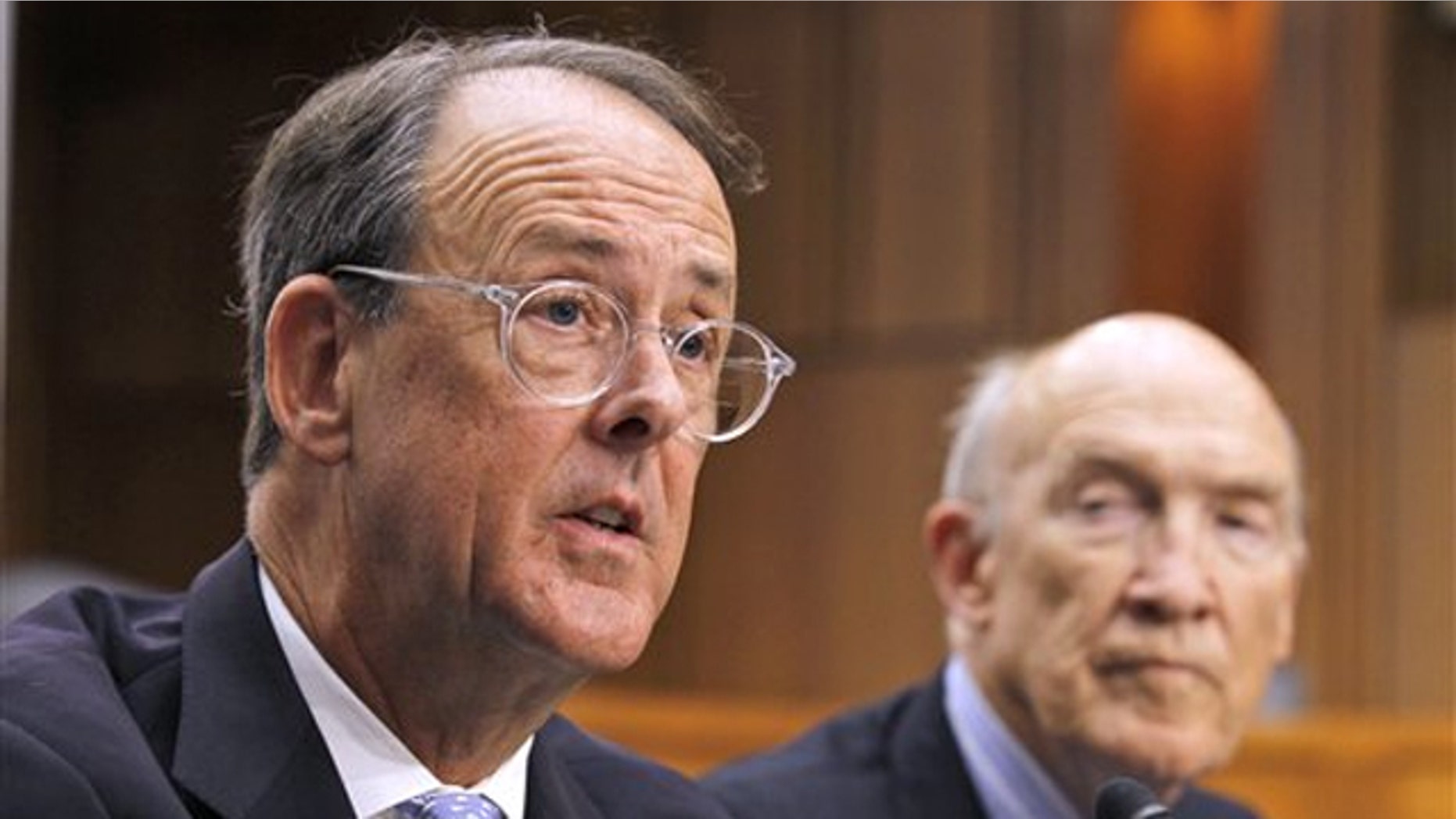 The co-chairmen of the president's deficit commission are urging politicians not to "wimp out" as they roll out dozens of recommendations aimed at slicing trillions from the long-term deficit and stabilizing the national debt.
But with a herd of sacred cows being brought out for slaughter, interest groups for months have lined up to decry parts of the plan. A vote is set for Friday and there are already doubts that the document can win the 14-vote supermajority on the 18-member panel it needs to advance to Congress in one piece.
That leaves the question of what, if any, proposals and ideas lawmakers might draw from in the next Congress, where incoming Republicans are vowing to focus on fiscal discipline. Sen. Kent Conrad, D-N.D., said Wednesday that even if the report does not clear the commission, chaired by Erskine Bowles and former Sen. Alan Simpson, the panel has "moved the ball forward" -- the Budget Committee chairman suggested he would advance some kind of budget-tightening proposal next year.
FoxNews.com takes a look at some of the key, and in many cases controversial, proposals contained in the 59-page report, and the chances they have at coming up for a vote in some form next year.
Discretionary Spending Freeze -- Good Chance 
Given that lawmakers on both sides of the aisle have talked about imposing some kind of freeze or limit on discretionary spending, it would seem likely that the commission's call for a federal spending reality check would find friends in Congress.
The commission's recommendation is more severe than others on the table, calling for a spending freeze in 2012, pre-2008 crisis levels in 2013 and subsequently a cap on growth to half of inflation all the way through 2020. That's about 17 percent less than what President Obama has requested.
Maybe that goes too far for some members. The Center on Budget and Policy Priorities argues that limits of that magnitude would significantly impair the government's ability to function. But Obama, as a starting point, has already called for a three-year freeze on nonsecurity discretionary spending. Republicans want discretionary limits and so do Blue Dog Democrats, who said in a statement Wednesday that "elements" of the commission proposal "deserve real consideration."
That makes a vote in the House, to be led next year by Republican Speaker-Designate John Boehner, more likely than in the Senate. Rep. Paul Ryan, R-Wis., who is poised to take over the House Budget Committee, praised the spending limits on Wednesday as "pretty good."
Cap on War Spending -- Low Chance 
Though calls for discretionary spending cuts often ignore the Defense Department, the commission report calls for requiring the president to proposal an annual limit for war spending.
This proposal would break out the so-called "Overseas Contingency Operations" for the current wars into a separate category with a limit of its own, as well as impose a "general security spending cap."
But with new security threats emerging out of Iran, North Korea and terror cells around the world -- and dozens of Republicans soon entering the House - the current budget-tightening led by Defense Secretary Robert Gates might be all lawmakers can stand.
"I don't know how you do that, and I can't imagine Republicans agreeing to that," said Michael Tanner, senior fellow with the Cato Institute, when asked about the war spending cap.
Federal Pay Freeze -- Good Chance 
Obama cleared the way for this kind of proposal on Monday when he called for a two-year freeze on federal civilian pay. Though it earned him a backlash from unions and Democratic lawmakers who represent districts heavy with federal workers, the commission gives him some backup. The report goes further, calling for a three-year pay freeze for federal workers as well as a three-year pay freeze for members of Congress.
It's unclear whether legislation will fall somewhere in the middle, but Republicans have already indicated they'll back the president on a federal freeze.
Change to Mortgage Interest Deduction -- Low Chance 
The commission proposes a host of changes to the tax system, some of which might find their way into proposals next year.
But one item that probably won't be in any bill, Tanner said, is a cut to the mortgage deduction.
"You're talking about something that's really sacrosanct," he said. "It might be dumb economics but ..."
Tanner said the mortgage issue would make a great "30-second attack ad" against anyone who votes for it. He predicted the commission's tax proposal as a whole would fade as lawmakers continue to push their own ideas for tax reform.
The interest deduction provides a big incentive, built into the U.S. tax code, for Americans to buy property. The proposal does not eliminate it, but caps the applicable mortgage at $500,000 as opposed to $1 million and only applies it to primary residences.
The proposal includes several other tax changes, including a call to cut and simplify income tax rates.
Gas Tax Hike -- No Chance 
At a time when Washington is in lockstep agreement about the need to shield the middle class from a tax increase, the idea of raising the gas tax is a tough sell.
The commission, calling for Congress to fully fund the Transportation Trust Fund, recommends bumping up the federal gas tax by 15 cents per gallon between 2013 and 2015.
Ron Haskins, a senior fellow with the Brookings Institution, gave the idea a precisely "zero percent" chance of passing.
"Anything that's a new tax or a big expansion of an old tax ... I think has a very low probability," he said.
Social Security Overhaul -- Low Chance 
They don't call it the third rail for nothin'. Though the commission calls for Social Security changes merely to make the system solvent, not reduce the deficit, interest groups have raised alarm for months about the possibility of beneficiaries taking a hit. Liberal advocacy group Demos swiftly issued a statement Wednesday morning saying the plan "slashes Social Security at a time when fewer Americans can count on a secure retirement."
Under the plan, the retirement age would gradually increase to 68 by 2050 and 69 by 2075. The benefit formula would change, cost-of-living adjustments would not be as large and the cap on income taxed for the program would rise.
Haskins called the proposals "totally reasonable" and said lawmakers could very well introduce some of the elements in the form of a bill. But as for an actual floor vote on sweeping changes to Social Security, he gave it about a 30 percent chance.
Medicare Overhaul -- Low Chance 
Part of the problem with making Medicare changes, while necessary to stabilize the federal budget, is that Republicans demonized the idea of any cuts to the elderly during the health care overhaul debate.
Some elements of the commission's Medicare plan could come up for a vote, like a repeal of the so-called CLASS Act -- Republicans have long railed against the long-term care program and could use the report as justification to advance a repeal.
But the report also calls for a change in the deductible structure and other reforms, which would either be decried as too much or too little or too dangerous.
Besides, Ryan has been pushing a plan of his own and made his disappointment with the commission's proposal known Wednesday.
"My primary concern with this plan is health care," Ryan said. "I do not believe that this sufficiently fixes the health care problem and guess what? Our debt problem is the health care problem."
Simpson and Bowles argue that policymakers are going to have to confront these issues and still expressed hope Wednesday that the commission would approve the entire package, sending the whole thing to Congress. Bowles said voters are telling him "not to wimp out."