Walter Reed plans to furlough thousands; soldier advocacy groups worry about care despite assurances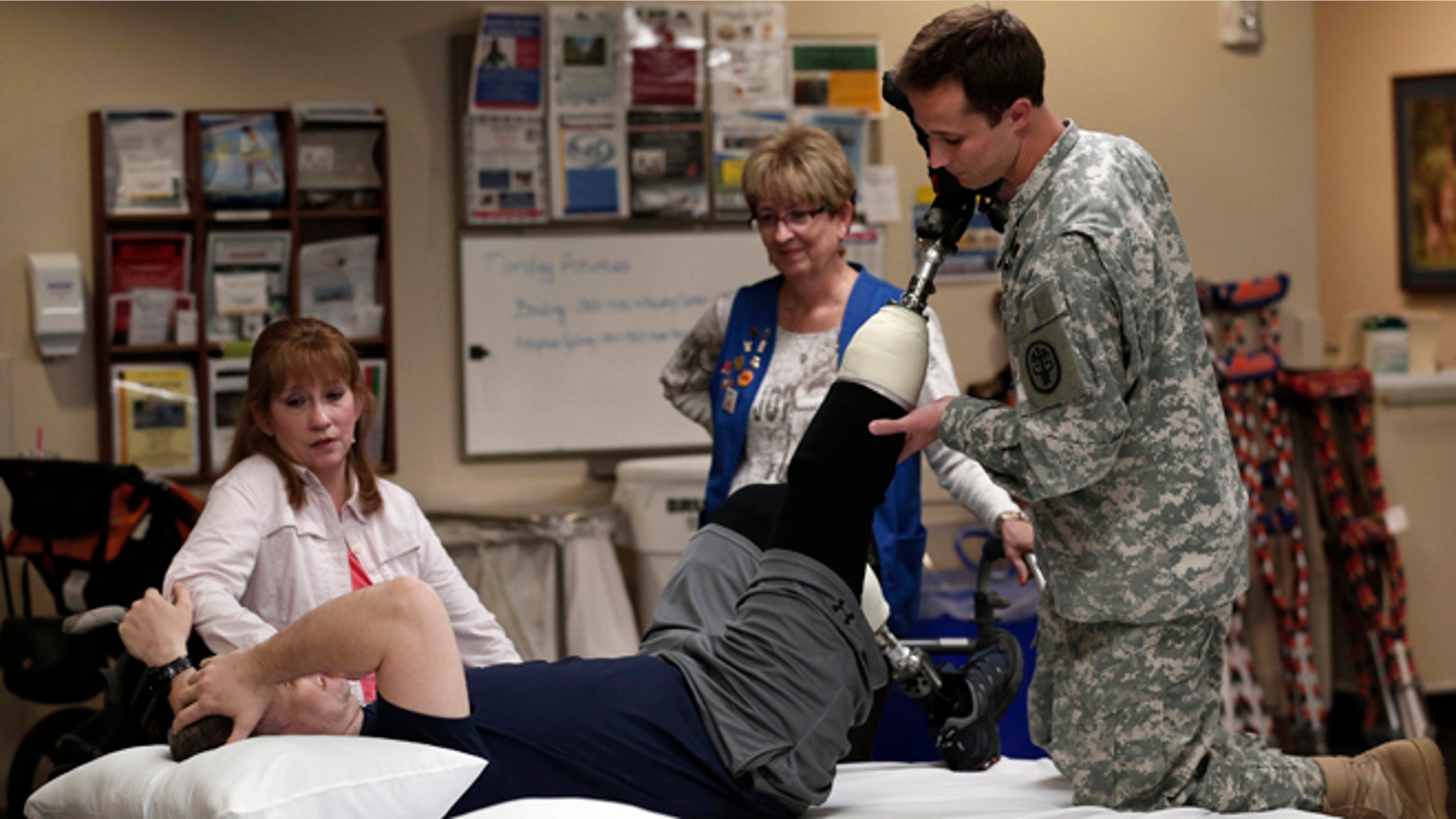 Thousands of civilian workers at the Walter Reed National Military Medical Center -- the country's top facility for wounded combat soldiers -- are facing furloughs this summer, as a result of sequester and other federal budget problems, according to the Defense Department.
Roughly 2,400 workers at the suburban Washington facility were recently notified by letter that the department needs them to take off as many as 11 days without pay this summer to help with "extraordinary and serious budgets challenges."
The furloughs target a wide scope of non-combat facilities and civilian workers to "provide the war-fighters with what they need to protect national security," states the May 28 letter, first obtained by Federal News Radio.
In a development that worries advocacy groups, the furloughs will impact about 94 percent of the Walter Reed civilian staff including doctors, nurses, lab technicians and physical therapists.
However, officials insisted Monday that the quality of care, particularly for wounded soldiers, will not suffer and that they continue to assess the situation including appeals from workers saying their jobs are too critical for them to be furloughed.
"Wounded warrior care is our top priority and will not be compromised," Louise Cooper, spokeswoman for National Capital Regional Medical, told FoxNews.com on Tuesday. "Exemptions were targeted to those individuals needed for warrior care and other critical services."
Right now, at least 163 workers have been exempted. And none of the facility's roughly 4,500 contractors or military employees is scheduled for staying home without pay.
Officials also acknowledged the furloughs come as the number of severely injured soldiers continues to decline from the height of the wars in Iraq and Afghanistan – and even from last year – while Walter Reed continues to maintain a staff "consistent with peak levels."
Still, the impending furloughs worry groups that advocate for the military community.
"We're very concerned," said Joyce Raezer, executive director of the National Military Family Association. "And it's not just Walter Reed. It's all of our military medical facilities. They are very important to our service members."
Walter Reed is essentially the first stop for every soldier wounded in overseas combat.
The facility first evaluates the wounded, then either sends them elsewhere or admits those who need its world-class recovery and rehabilitation services.
The massive federal budget cuts known as sequester have caused a number of other spending decisions to be called into question. Among them are plans for President Obama and the first family to take an eight-day trip to Africa that is projected to cost as much as $100 million.
Walter Reed's Department of Orthopedics and Rehabilitation is the largest of its type within the Defense Department and is made up of seven specialty-services clinics including one for traumatic brain injuries.
Raezer fears the situation at the flagship facility will unfold like many others.
"It starts as an access issue and goes to a quality of care issue," she told FoxNews.com.
Soldiers needing expert care, for example, might have to wait, which could exacerbate problems and make them more expensive to treat. And those who cannot wait will go to non-military medical facilities, which will drive up the taxpayer-funded cost of care, she said.
The Bethesda, Md., facility is a merger of the National Naval Medical Center and the 110-year-old Walter Reed Army Medical Center, consolidated as part of the 2005 Base Realignment and Closure Act.
The Naval center alone treated more than 1,500 service members, contract civilians and media personnel wounded in Operations Iraqi Freedom/Enduring Freedom.
President Dwight Eisenhower and Gen. Douglas MacArthur were among those treated at the original Walter Reed facility.