Virginia Attorney General Offers Legal Opinion That Could Expand State Oversight of Abortion Clinics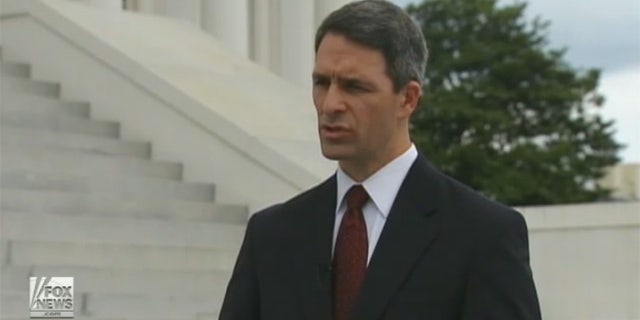 Virginia Attorney General Ken Cuccinelli issued a legal opinion Monday that could pave the way for greater restrictions on the state's abortion clinics.
The opinion, which is an evaluation of existing law and court decision, concludes that the "the commonwealth has the authority to regulate (abortion clinics) so long as the regulations adhere to constitutional limitations," Brian Gottstein, Cuccinelli's director of communications, told Fox News.
Cuccinnelli concluded that a federal court's ruling in a case against the state allowed for regulations that do not "interfere with the woman's status as the ultimate decision-maker, that serve 'a valid purpose,' and that do not 'strike at the (abortion) right itself,'" Gottstein said.
"The state has long regulated outpatient surgical facilities and personnel to ensure a certain level of protection for patients. There is no reason to hold facilities providing abortion services to any lesser standard for their patients. Even pharmacies, funeral homes, and veterinary clinics are regulated by the state," he said.
State Rep. Bob Marshall is one of two Virginia lawmakers who asked Cuccinelli to weigh in on the abortion clinics. Marshall has already sent a letter to Gov. Bob McDonnell asking him to implement the abortion clinic regulations outlined in the legal opinion.
"This means fewer women are going to be injured and fewer children in future childbirths will be injured. that's what it means," Marshall said.
But Terina Keen of Naral-Pro Choice America, said Cuccinelli's opinion will require Virginia's 21 clinics to meet the same standards as hospitals and that will make about 17 of them financially unable to make the changes. That means valuable services will be lost.
"This is a continuation of the attorney general's crusade to ban abortion," Keen said.
She added that clinics don't just perform abortions, they do family planning services as well.
"They're doing biopsies for cancer. They're doing (sexually transmitted disease) testing and also treatment services so there's a lot of things that women would start to miss out," she said.
The legal opinion does not require action by Virginia's Legislature, where analysts say it had no hope of passing because the Legislature is split -- Republicans control the House while Democrats control the Senate.
Instead, the pressure is on McDonnell to back up his attorney general and enforce new regulations on abortion clinics. But that could be problematic.
"Gov. McDonnell is dealing with the same thing all other governors are dealing with, a very tough economic situation. That's his highest priority and he doesn't want to get into controversial social issues. But he may have to because of this decision," said Larry Sabato, director of the Center for Politics at the University of Virginia.
The governor's office has not yet responded to Marshall's request for action.
Click here to read Cuccinelli's legal opinion.
Fox News' Catherine Herridge contributed to this report.